17 of the Best Plus Size Workout Clothes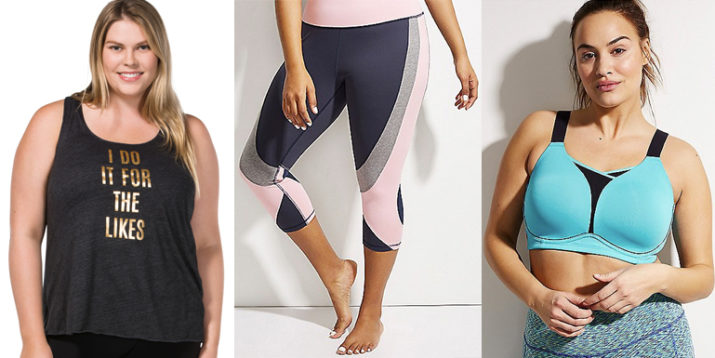 Society (and the fashion industry) is finally catching up to what we've known for years: Exercisers come in all shapes and sizes. For a long time, cute, trendy, workout wear was reserved only for those who wear straight sizes, while plus size workout clothes were frumpy, boring, and not designed with active bodies in mind (hello, falling waistbands and unsupportive sports bras).
But with the rising trend of athleisure (yes, that's a real word), more and more companies are designing plus size workout clothes that have both style and function – they'll stay put while you're doing your HIIT workouts, and they're perfect weekend brunch attire. No matter how or where you want to wear your workout clothes, we've rounded up a few of the best plus size pieces to outfit you for all types of activities.
17 of the Best Plus Size Workout Clothes
Plus Size Tops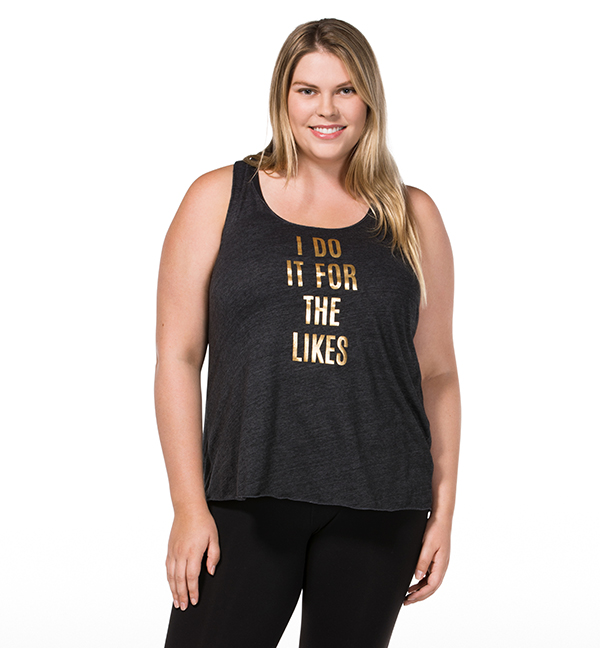 Let's be honest: we all do it for the 'gram sometimes. Show off your sweaty selfies and get some social media love with this gold foil printed tank that declares exactly why you're working out. #sorrynotsorry

When you're working on your fitness, you become a little bit stronger every day—and a whole lot more confident. Give yourself a constant reminder of this awesome fact by grabbing this versatile tee that works for everything from to lunch with friends to a fun dance workout.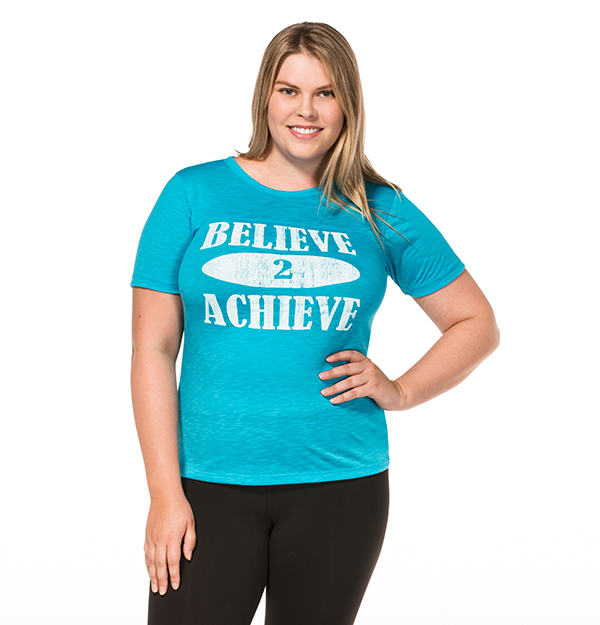 Not feeling your workout? Throw on this motivational t-shirt to help you get in the mood. It's chic enough to wear before you start exercising, and it's relaxed fit works with your body once you start the workout of your choice.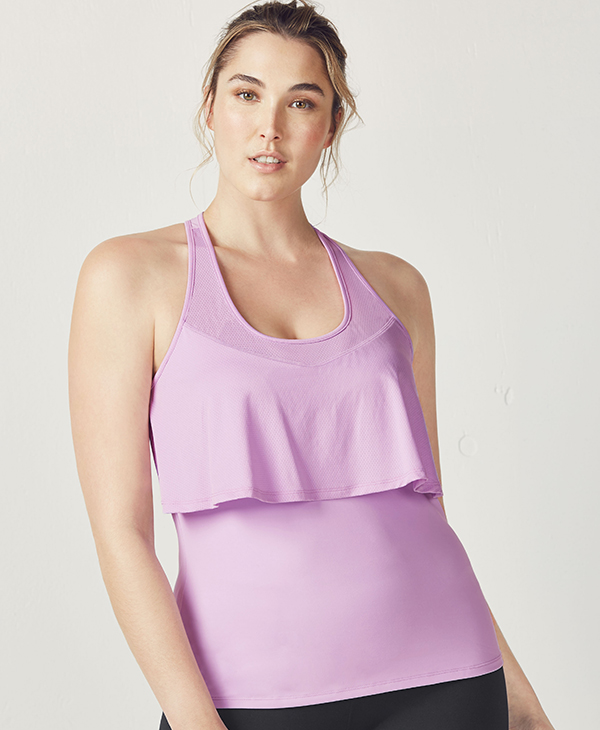 Show off your feminine side with this flirty layered tank, from Fabletics which has an entire section of plus size workout clothes in their site. The meshed cropped shell will keep you cool, while the built in bra provides the support you need to move with confidence. And since style is as important as function, you can choose between the subtly sexy black and the playful lilac options.
Plus Size Bottoms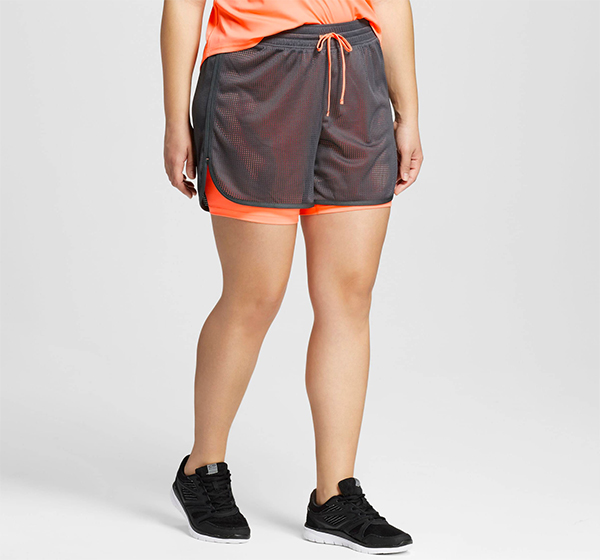 These shorts do it all: loose mesh on the top with a built-in liner, and material that wicks away sweat to allow maximal hard work while keeping you dry. Sometimes finding comfortable, practical shorts is difficult, but this pair checks all the boxes, with a great price tag, too.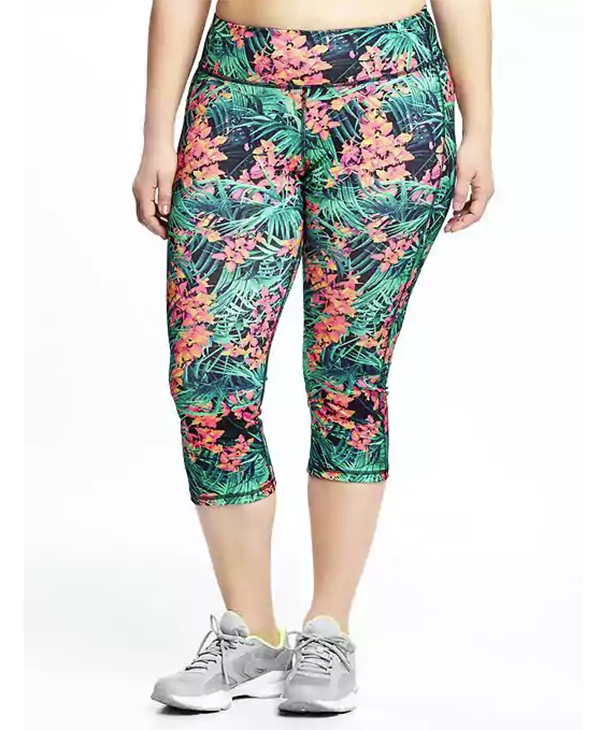 Take your workout to the islands (if only in your mind) with these colorful floral capris. The high rise and wide waistband gives you maximum support to keep everything in place instead of sliding down.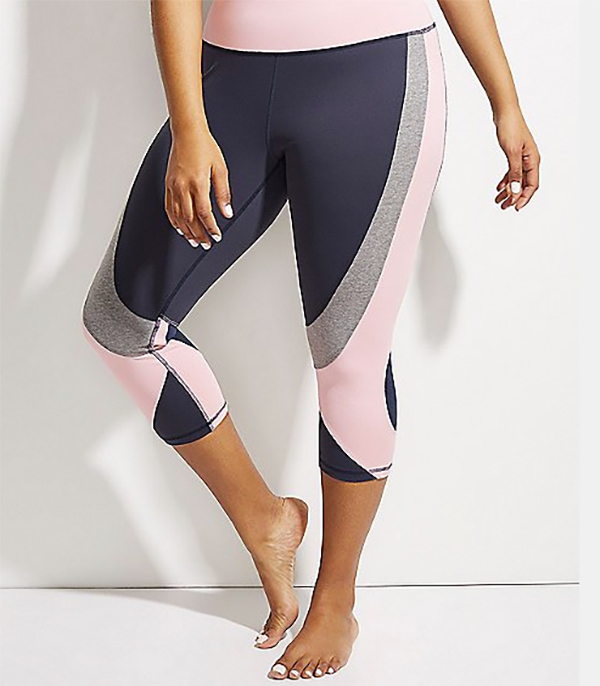 Show off your style (and a little leg) with these super comfy capris. They're made out of an airy polyester /spandex blend, and have a mesh panel strategically placed on the back of the leg to let in a cooling air flow.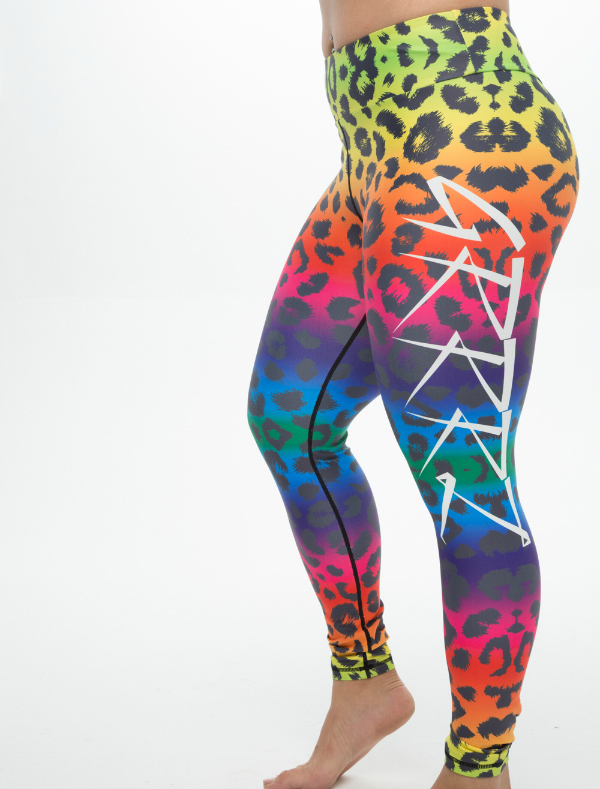 These bright multicolored leggings, from a plus size workout clothes company that celebrates bodies of all sizes, tell everyone that you've arrived and you're ready to kick some butt. The two-inch waistband keeps your pants in place as you power through intense moves, while the spandex/polyester combo stretches up to seven times its original size, making it easy for all body types to rock without worry.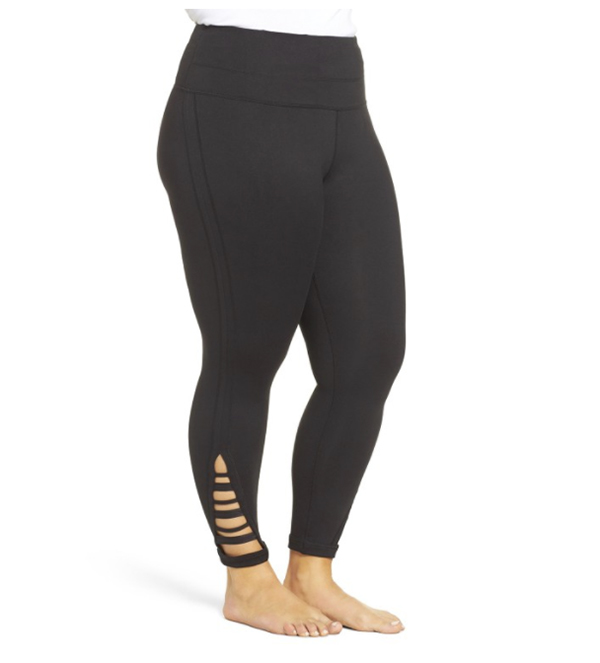 At first glance, this just looks like an average pair of pants…until you get to the sassy, strappy cutouts at the ankles. They're perfect for when you want to show a little flair without straying too far from classic black leggings. And they have the added plus of moisture-wicking material and a no-slip waistband.
Plus Size Sports Bras
Sometimes peeling off a sweaty sports bra after an intense cardio session is as tough as the workout itself. This reasonably priced option from Target makes that a thing of the past with a plus size sports bra that zips up in the front.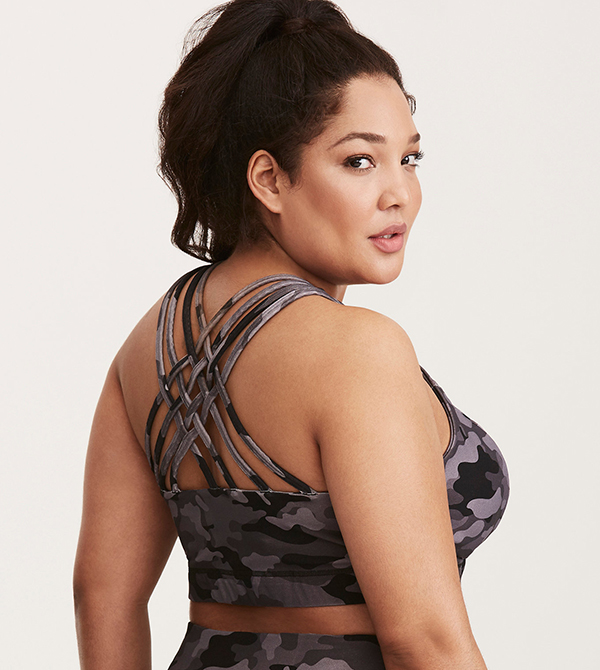 Strappy sports bras might not provide the most support for higher-impact activities, but this crisscross back is both edgy and adorable, and great for low-impact workouts. Wear it while you're doing PiYo, then throw on a jacket to transform it into a cute top for brunch or errands.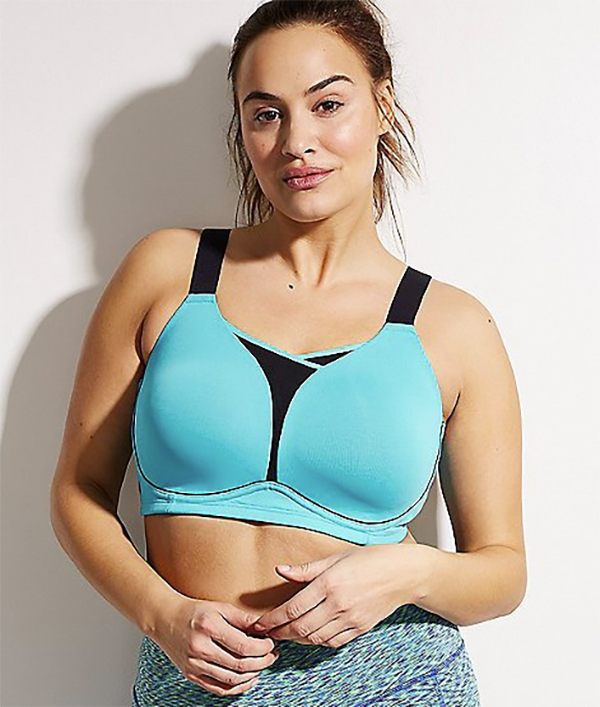 Comfort is the key to this sports bra that supports and wicks away moisture in sizes up to 46DDD. In addition to the traditional gray and black shades, this bra also comes in vibrant aqua, orchid, blue, and pink colors for when you really want to stand out.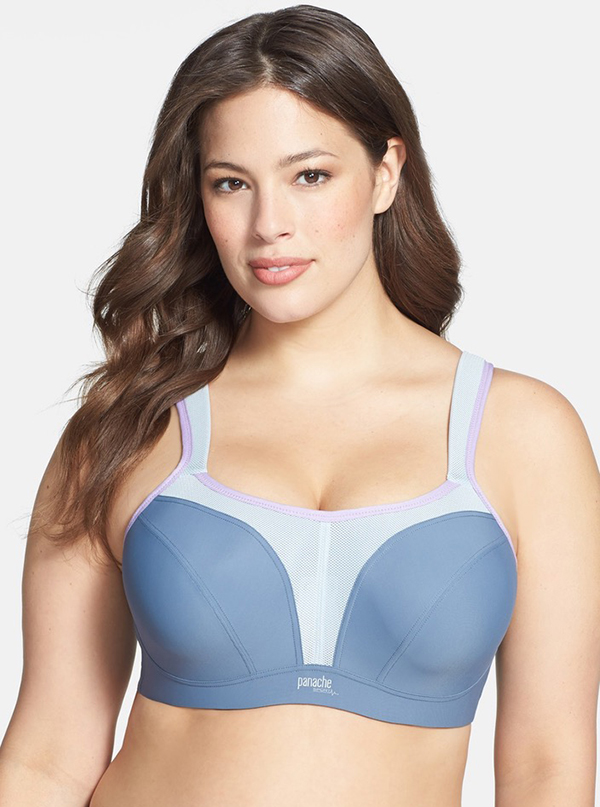 Function meets style with this ultra-supportive sports bra that provides enough coverage for high-impact workouts without that suffocating feeling. Because plus size workout clothes should be comfortable, right?  The straps are adjustable, going from the traditional over-the-shoulder style to racerback in seconds.
Plus Size Jackets and Long Sleeves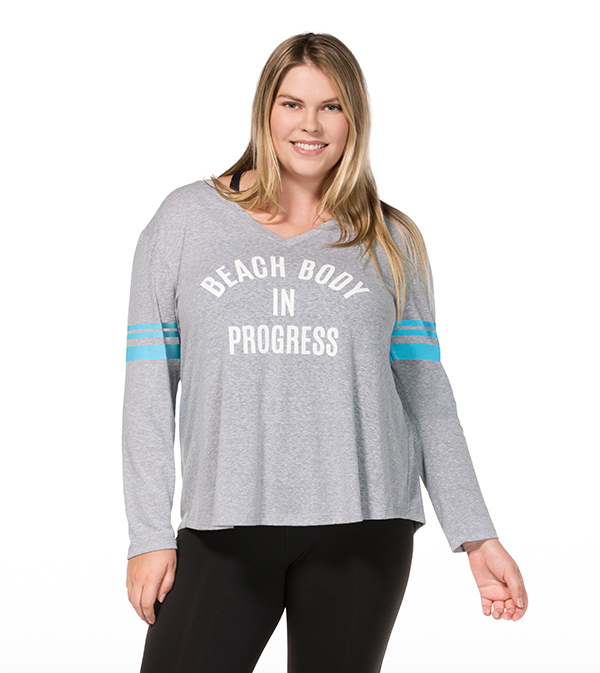 Every body is a beach body, they're all just at different stages of their journey. Stay cozy with this relaxed-fit, super soft long sleeve shirt that's a constant reminder to stay positive and keep working towards your goals.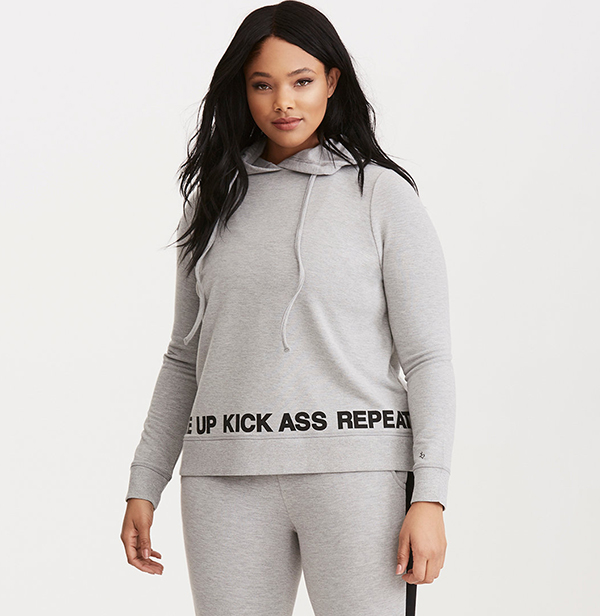 Wake up. Kick ass. Repeat. With that motto lining the bottom of the cropped hoodie, how could you not be motivated every time you wear it? This sweatshirt has a a slimmer fit to show off your physique while staying covered, and it's stretchy enough so it doesn't limit your motion as you go about your day or workout.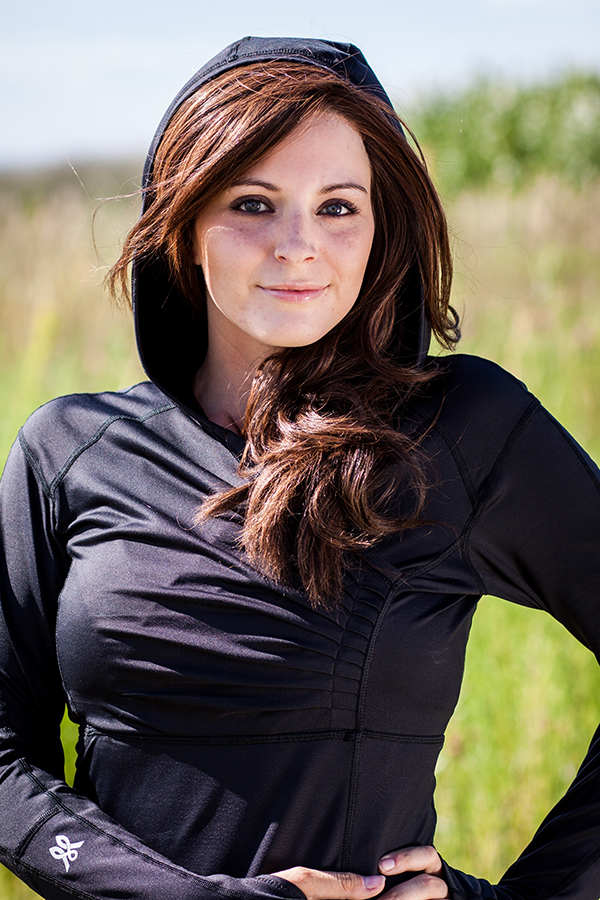 Scrunchies never looked so cool! This pullover jacket has an asymmetrical ruched front, giving it a very on-trend look. The light fabric makes it perfect for a slower yoga or Pilates class, with sizing up to 4X.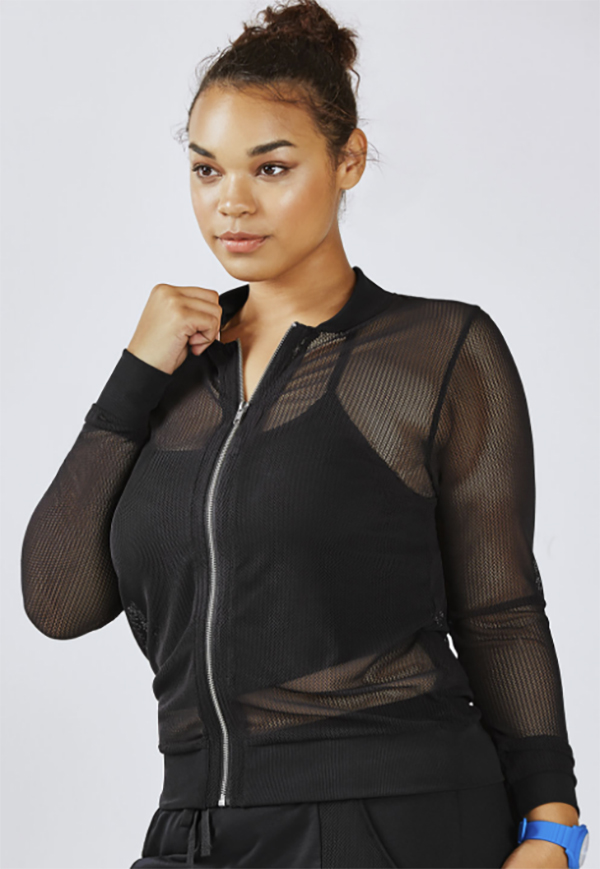 When the temperature is warmer but you still want to cover up, reach for this sheer bomber from Fabletics, sizes going up to 3X. The breathable mesh lets you show off some skin while still protecting you from any chill that might come your way, giving you a look that's just a little edgy and super cool.