Chocolate Caramel Brownie Shakeology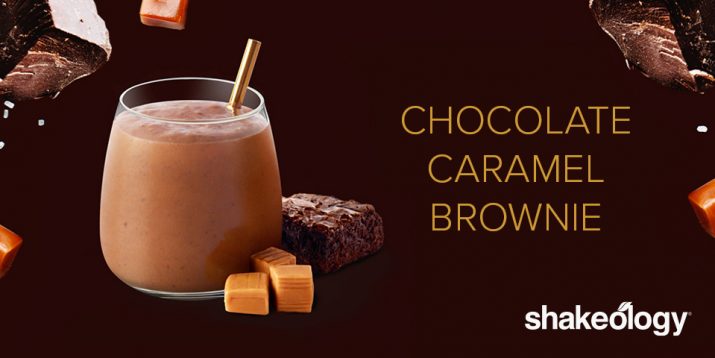 *Update October 2023: Chocolate Caramel Brownie Shakeology is no longer available, but check back to see what seasonal flavor we have in store for you!
---
The first snowfall. A crackling fire. Before you know it, the holidays will soon be upon us.
Get ready to delight in our newest seasonal superfood shake flavor, Chocolate Caramel Brownie Plant-Based Vegan Shakeology!
This irresistible, limited-edition flavor is everything you want in a holiday treat.
With the flavors of luscious, buttery caramel, rich, velvety chocolate, and a hint of salt, Chocolate Caramel Brownie Shakeology lets you indulge your senses while filling your body with high-quality, powerful, and necessary nutrition.
Who says making healthy choices means making sacrifices?
The Nutrition You Need in the Flavor You Crave
Chocolate Caramel Brownie Shakeology delivers so many more benefits than a barista-blended drink, a cup of eggnog, and even a ready-to-drink protein shake.
It's Your Daily Dose of Dense Nutrition® — the nutrients your body loves, wrapped in a sumptuous experience.
We meticulously source every ingredient to deliver premium, whole-food-based nutrition, and it provides clinically tested health benefits, all to help you feel your best.
Drinking Shakeology every day can help:*
Support energy: Tired and feel like you're running on fumes? Shakeology is formulated with a nourishing blend of vitamins and nutrients that help provide the healthy energy you need to take on a marathon shopping expedition or an extra-long workday.
Promote overall well-being: Feeling stressed or overwhelmed? Shakeology contains a harmonizing blend of adaptogens and mushrooms traditionally used to help the body adapt and respond to the effects of stress. It's the perfect antidote to the holiday hustle and bustle.
Reduce appetite and cravings: With 16g of plant protein, 6g of fiber, and a certified low-glycemic index, Shakeology helps satisfy hunger, reduce the urge to snack, and curb junk food cravings. And with its tantalizing new Chocolate Caramel Brownie flavor, you can treat your sweet tooth any time of day.
Foster healthy digestion: Occasional tummy troubles can be embarrassing and uncomfortable. Shakeology contains a supportive blend of probiotics, prebiotics, fiber, and digestive enzymes to help keep your system running the way you want it to.
Maintain overall health: With premium ingredients including plant-based superfoods, vitamins, minerals, and antioxidants, Shakeology helps provide a healthy nutritional foundation. With holiday schedules and travel running you ragged, it's the extra nutritional security you need.
As festive as it is nutritious, Chocolate Caramel Brownie Plant-Based Vegan Shakeology gives you all the happy holiday vibes to carry you from Thanksgiving into the new year and beyond.
*These statements have not been evaluated by the Food and Drug Administration. This product is not intended to diagnose, treat, cure, or prevent any disease.