The Health Benefits of Butternut Squash
Pumpkin may be the star of the fall and winter seasons, but there's another type of squash that deserves equal — if not more — attention: butternut squash.
It might look a little intimidating, but adding butternut squash to a healthy meal plan is a delicious way to power up your nutrition with vitamins, minerals, and fiber.
Keep reading to learn everything you need to know about this mighty squash.
What Is Butternut Squash?
Butternut squash is a winter squash that grows on a vine and is in season during the fall and winter.
It grows with a tough, thick skin on the outside, but inside, the dense orange flesh has a potato-like texture and a nutty, sweet taste.
Though it's typically the star of hearty and savory dishes, butternut squash is "technically a fruit," says Sandy Cortez, M.S., R.D.N., registered dietitian and owner of InVita Wellness. "All types of winter squash — including butternut squash and pumpkins — are fruits because they have seeds, but they are considered vegetables for culinary purposes."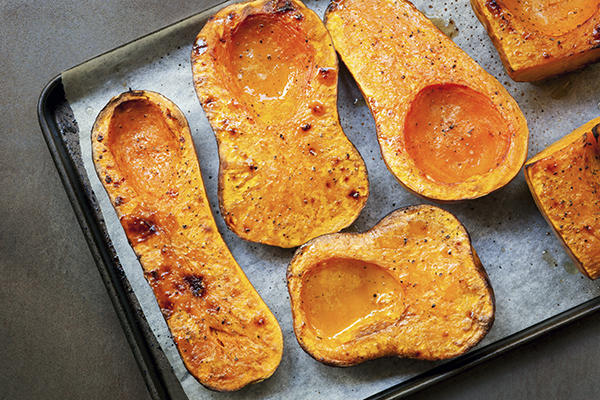 Is Butternut Squash Healthy?
Butternut squash is "a nutritional powerhouse," says Megan Wong, R.D.
Every serving packs in a hefty dose of vitamins. It provides more than the daily recommended amount of vitamin A, vitamin C, vitamin B6, magnesium, and potassium.
It's also a naturally low-calorie food. According to the USDA, one cup of butternut squash contains:
Calories: 82
Fat: 0.2g
Sodium: 8mg
Carbohydrates: 21.5g
Fiber: 6.6g
Sugars: 4g
Protein 1.8g
What are the Health Benefits of Butternut Squash?
May Help Maintain Eye Health
Butternut squash contains beta-carotene, a type of vitamin A that's vital for eye health. It also contains vitamins C and E.
One study shows that those who consumed higher-than-average amounts of these vitamins help support eye health as we age.
May Help Improve Skin Health
One serving of butternut squash contains more than one-third of your daily needs for vitamin C.
This vitamin is essential for numerous functions in the body, including collagen production. Collagen is the main protein in bones, hair, muscles, tendons, and ligaments.
It breaks down over time, so having a diet high in vitamin C can help the body produce collagen, protect against the free radicals and support skin health.
Can Butternut Squash Help With Weight Loss?
Butternut squash is a complex carb with high soluble fiber levels that aids digestion and keeps blood sugar levels steady.
"By slowing down digestion, the soluble fiber in pumpkin prevents blood sugar spikes," says Wong.
Eating foods with soluble fiber can help you feel fuller for longer; studies show that high-fiber, low-glycemic-load foods can help with weight management.
Carbohydrates are one of the macronutrients — along with fat and protein — that our bodies need to function.
While there aren't such things as good or bad carbs, they can affect our bodies in different ways.
For example, carbs like white bread, soda, and candy, can spike blood sugar, leading to the inevitable crash (and feeling of hunger) soon afterward.
How to Select a Butternut Squash
While butternut squash is available all year, it's best to pick one up when it's in season during the fall and winter months.
And when choosing your squash, make sure you're picking the right one.
They tend to all look the same, but small signs can help you tell the difference between ripe butternut squash and one with mushy or stringy flesh inside.
First, look at the skin. Skip a squash if it has any cuts or soft spots because this can speed up spoiling.
Also, move on if the skin is shiny — this is a signal that it was picked too early in the season.
A heavy butternut squash with a firm stem means it has plenty of water inside and is ready for roasting.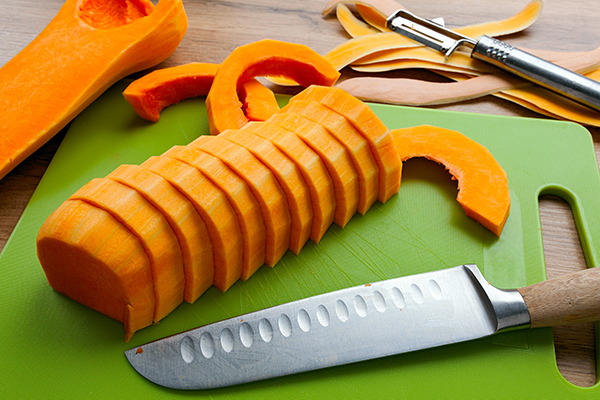 How to Peel and Cut a Butternut Squash
Peeling a butternut squash might be the most difficult part of preparing it.
"A dull knife is a more dangerous knife, so if you're tackling this task, be sure to use a well-sharpened chef's knife to cut the squash in half," says Cara Harbstreet, M.S., R.D., registered dietitian, and owner of Street Smart Nutrition.
Use a spoon to scoop out the seeds and membranes, then slice the rind away from the flesh of the squash, then cube, slice, or dice it into the size you need.
"If this is difficult, you can microwave the butternut squash for about a minute before peeling," adds Harbstreet.
Be sure to keep the rind. "You can use it with other vegetables to make stock for other recipes," recommends Cortez.
If your knife skills aren't up to snuff, most grocery stores carry pre-peeled and chopped butternut squash, so you can skip the prep altogether and just get down to cooking!
Enjoy These Delish Butternut Squash Recipes
Winter squash is versatile and retains its flavor whether you roast it, steam it or simmer in a stew.
"Roasting is the most popular way to prepare a butternut squash because the dry heat helps to caramelize the natural sugars in it," says Cortez.
But that's not the only way to prepare it.
Take the taste to the next level by trying out these healthy butternut squash recipes!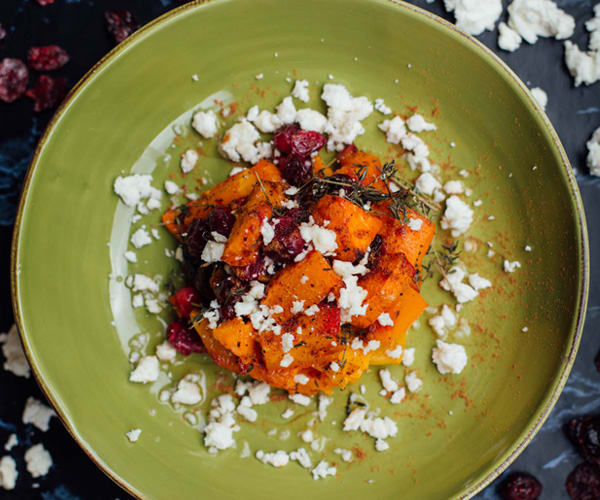 Roasted Butternut Squash with Cranberries and Feta
Whether as a side dish for a full Thanksgiving dinner or a midweek treat, this butternut squash dish is salty and sweet with feta cheese, cinnamon, and cranberries.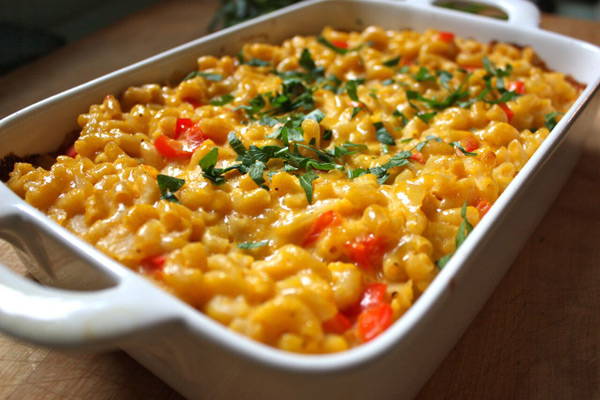 Butternut Squash Mac and Cheese
Keep up your healthy eating plan and enjoy the comfort of a heaping bowl of macaroni and cheese with this dish that includes both butternut squash and two kinds of cheese — all for under 300 calories per serving.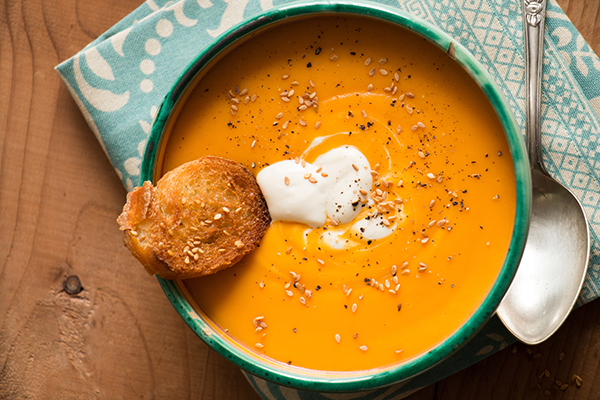 Butternut Squash Soup With Ginger
Warm up on a cold day with this creamy soup that combines the nutritional power of butternut squash with ginger, curry, and coconut milk.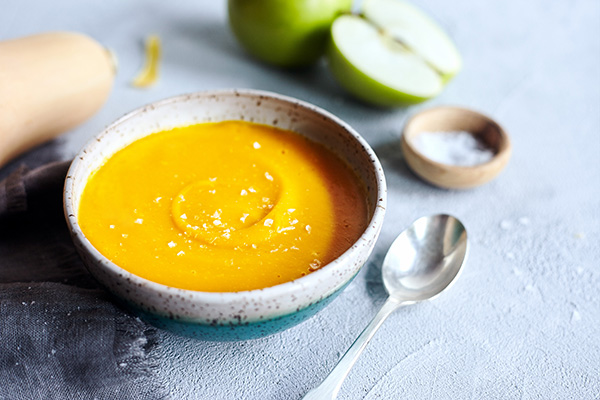 Apple Butternut Squash Soup
Granny Smith apples add a delightful tart taste to this hearty soup, while butternut squash, ginger, and milk give it the creamy texture that's as delicious as it is nutritious.