Body Beast Meal Prep for the 2,200–2,399 Calorie Level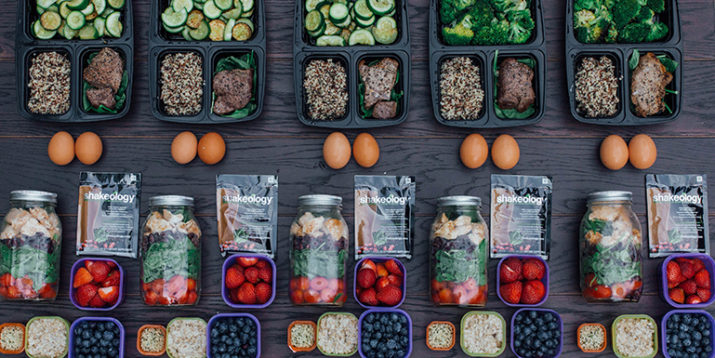 If you've just completed Body Beast's Bulk and Build phases and you followed the meal plan correctly, you should be seeing some pretty significant mass gains.
Now it's time the get shredded with the Beast Phase of the program, where the goal is to reduce body-fat percentage while maintaining muscle mass.
This is achieved by drastically reducing the amount of carbs and increasing the percentage of your calories coming from protein sources.
Why Do I Have to Cut Carbs?
With this plan, you're still allowed some carbs and fruit to maintain those gains you've earned from months of intense training.
However, the reduction of carbs and proper meal timing are necessary if you want to look shredded and really show off your results. This is because your body will not burn stored fat if there's a constant supply of glucose in the blood to burn for energy, so you must make sure you eat at the right time for maximum results.
This phase of the diet plan may take a bit more discipline, since you're consuming less calories and carbs, but discipline is part of creating healthy habits.
So, a quick tip for cutting is to time your carbs strategically: Avoid eating your carbs (yellow containers) before your workout.
Try to stick with protein (red), vegetables (green), and healthy fats (blue) for your pre-workout meals and snacks. This ensures that there isn't excess sugar in your blood so you maximize fat loss during your workout.
Tips to Save Time During Meal Prep
Write out your plan for the week before you go to the store to save you time and money. (The grocery list for this meal prep is below.)
Cook everything in bulk. (I try to bake as many things as possible at the same time.)
Make sure you have enough containers and refrigerator space to accommodate such a big prep. You can't go wrong with reusable, BPA-free meal prep containers and mason jars as storage containers.
You'll need to fill the following portion-control containers every day during this phase of the Body Beast diet, but adjust the numbers to fit your caloric needs.
(Not sure what level you should be at? Take a look at your printed copy of the Book of Beast or in the Body Beast program materials on Beachbody On Demand.)
4 Green containers (vegetables)
3 Purple containers (fruit)
9 Red containers (protein)
3 Yellow containers (carbs)
1 Blue container (healthy fats)
1 Orange container (seeds/dressings)
2 tsp. (teaspoons of oil)
Beast (Cutting) Phase Meal Plan Example Day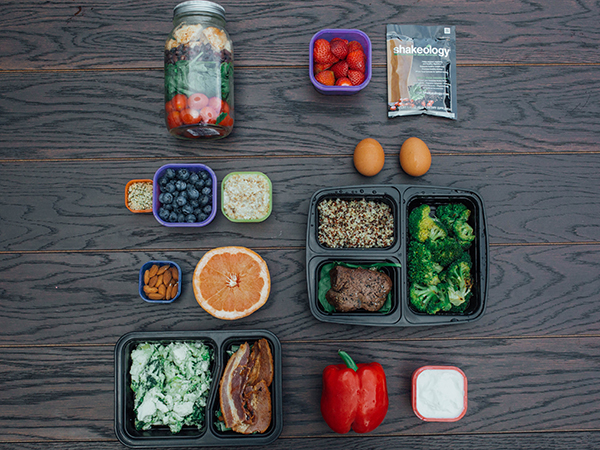 Breakfast (½ Green, 1 Purple, 2 Red, 1 Blue, ½ tsp. Oil):
4 slices turkey bacon
8 egg whites
½ cup spinach
1 cup grapefruit
12 almonds
½ tsp. extra-virgin olive oil
Snack 1 (1 Purple, 1 Yellow , ½ Orange):
½ cup cooked steel-cut oats
1 cup blueberries
1 Tbsp. chia seeds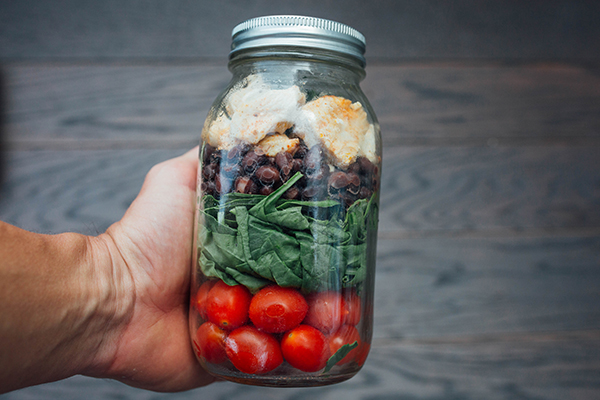 Lunch (1½ Green, 1½ Red, 1 Yellow, ½ Orange, ½ tsp. Oil):
6 oz. cubed chicken
1 cup spinach
½ cup cherry tomatoes
½ cup black beans
½ tsp. extra-virgin olive oil
1 Tbsp salad dressing
Snack 2 (1 Purple, 1 Red):
1 serving Shakeology
1 cup strawberries
Snack 3 (1 Red, ½ tsp. Oil):
2 whole hard- or medium-boiled eggs
Dinner (1 Green, 1½ Red, 1 Yellow, ½ tsp. Oil):
6 oz. beef or bison steak
½ cup cooked quinoa
1 cup zucchini or broccoli
½ tsp. extra-virgin olive oil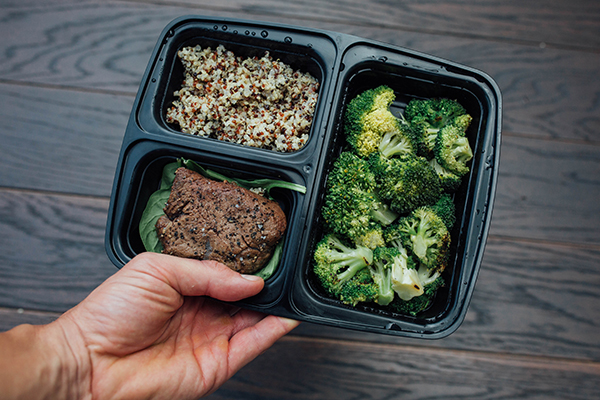 Snack 4 (1 Red):
Snack 5 (1 Green, 1 Red, 1 Free Food):
¾ Greek Yogurt, plain unsweetened 2%
1 cup red bell pepper
Cinnamon
Quick Tips for Preparing Food
Chicken Breast
Season the chicken breast, place in a pan and cover with aluminum foil. Bake for 25 minutes at 425 degrees Farenheit.
Bison or Beef Steak
Broil: Place in a pan under the broiler for 7 to 9 minutes on each side.
Grill: Cook until golden brown, about 4 to 5 minutes, then turn steak over and cook for another 3 to 5 minutes for medium-rare, or 5 to 7 minutes for medium.
Vegetables
When sautéing, cook on low to medium heat so as to not cook nutrients out of vegetables. For maximum nutrients, steam your veggies.
20 slices turkey bacon
23 oz. steak (bison or beef)
23 oz. chicken breast
1 dozen eggs
40 egg whites
5 cups plain Greek yogurt
5 cups grapefruit
5 large tomatoes
5 cups blackberries
Spinach, enough to make 5 cups of lightly sautéed spinach
3 cups zucchini
2 cups broccoli
5 large red bell peppers
1 pack steel-cut oatmeal
2.5 cups black beans
1 bag chia seeds
36 almonds
16 cashews
1 pack quinoa
1 bottle olive oil