Easy Meal Prep for Bulking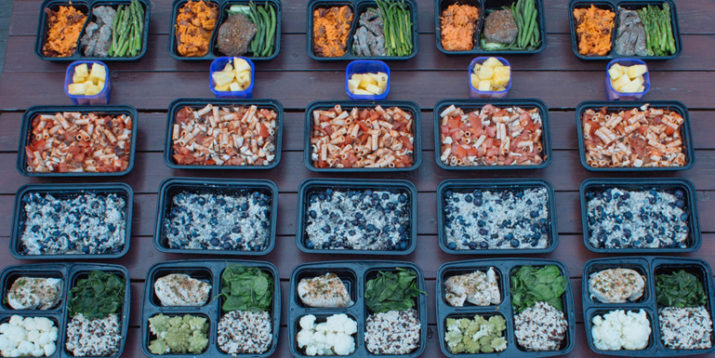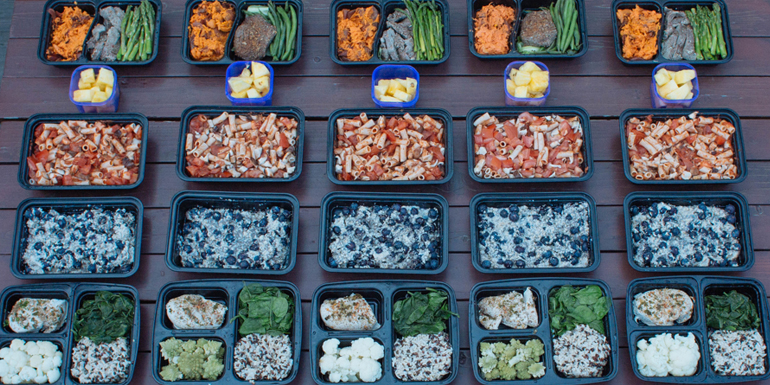 If you're bodybuilding, or looking for a healthy bulking diet that you can use to pack on muscle, this bodybuilding meal prep can help you achieve your goals.
This easy meal prep is meant for bodybuilders or those looking to bulk up.
When you're in the Bulk & Build phase of Body Beast, your goal is to have a caloric surplus.
This means you need to consume more energy than you exert and give your body enough carbs to ensure you have enough energy to both fuel your workouts and replenish the glycogen you torched during it.
For this reason, you may find you're eating more carbs than you're probably used to, but, then again, with Body Beast, you'll probably also be training harder than you're used to.
On the bodybuilding meal plan below, you'll be eating between 2,600 and 2,799 calories.
This meal prep is easy as we've laid out all your meal prep portions, but this bulking meal plan does require some organization.
And, it may take you a few times until you can make it as quickly and efficiently as possible.
A few tips to help you save time during your weekly meal prep:
1. Write out your plan for the week before you go to the store (you can see the grocery list for this meal prep below). This will save you time and money.
2. Second, cook everything in bulk (I try to bake as many things as possible at the same time).
3. Make sure you have enough containers and refrigerator space to accommodate such a big prep. You can't go wrong with reusable, BPA-free meal prep containers and mason jars as storage containers.
You'll need to fill the following portion-control containers every day during this phase of the Body Beast diet, but adjust the numbers to fit your caloric needs.
Not sure what level you should be at?
Take a look within your printed copy of the Book of Beast or within the Body Beast program materials on Beachbody On Demand.
• 5 Green Containers (Vegetables)
• 7 Purple Containers (Fruit)
• 5 Red Containers (Protein)
• 10 Yellow Containers (Carbs)
• 1 Blue Container (Healthy Fats)
• 1 Orange (Seeds/Dressings)
• 5 tsp. (teaspoons)
Bulking Meal Plan Example Day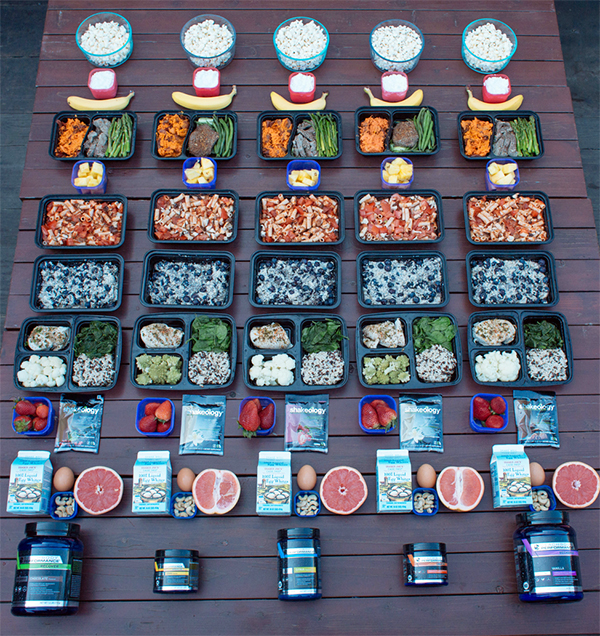 To make this meal plan very easy to make and follow — which is helpful if you're new to cooking or to prepping this much food — the meals are the same every day.
But it's OK to adjust it to fit your tastes.
As long as your portion-control containers match what's above and the foods are permitted on the Body Beast diet, go ahead and swap recipes and foods.
Breakfast (1 Red, 1 Purple, 1 Blue, ½ tsp.):
1 whole egg + 4 large egg whites
8 cashews
1 cup grapefruit
½ tsp. extra virgin olive oil (for cooking eggs)
Apple cider vinegar (to aid digestion)
Snack 1 (1 Red, 1 Purple, 2 tsp.):
Shakeology blended with strawberries and 2 tsp. peanut butter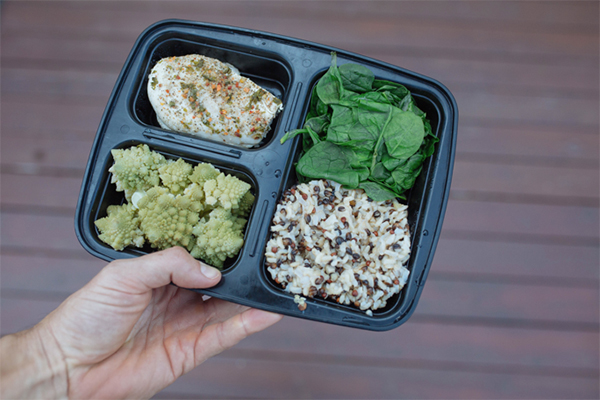 Lunch (1 Red, 2 Yellow, 2 Green, ½ tsp.):
¾ cup chicken
1 cup brown rice
1 cup sautéed or steamed spinach
1 cup cauliflower
Snack 2 (2 Yellow, 1 Purple, 1 Orange): 
1 cup cooked steel-cut oatmeal
1 cup blueberries
4 tsp. chia seeds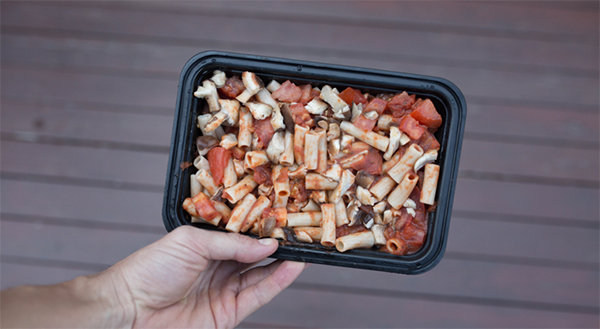 Snack 3 (2 Yellow, 2 Green, 1 Purple):
1 cup pasta
1 cup marinara sauce
1 cup tomatoes
1 cup mushrooms
Pre-Workout: Beachbody Performance Energize
During Workout: Beachbody Performance Hydrate
Post-Workout (1 Purple, 2 tsp.):
Beachbody Performance Recovery blended with 2 tsp. almond butter
1 cup pineapple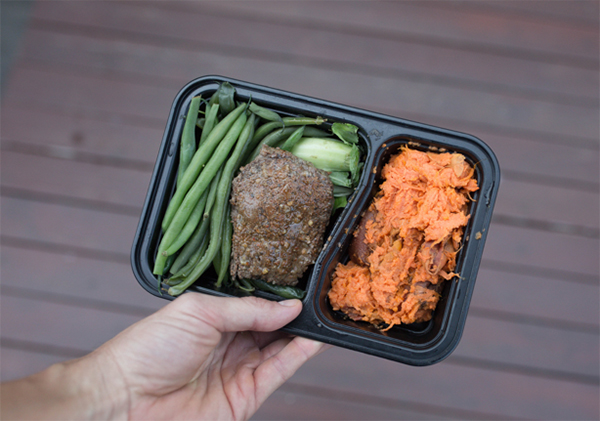 Dinner (1 Red, 2 Yellow, 1 Green):
¾ cup beef or bison
1 cup sweet potatoes or yams
10 large asparagus spears or green beans
Snack 4 (2 Yellow):
6 cups popcorn, air-popped
Snack 5 (1 Red, 2 Purple):
¾ cup cottage cheese
1 cup banana
Cooking Tips for This Bulking Meal Prep
Don't be deterred if you have little to no experience in the kitchen.
While the bulking meal plan outlined below may have a lot of food, the preparation is far from difficult.
Below are some quick instructions and tips for cooking the dishes we've laid out in this meal plan.
Chicken Breast
After you season the chicken breast, put in pan with aluminum foil cover and bake for 25 min at 425 degrees. Here's a full step-by-step on how to cook chicken breast you may find helpful.
Bison or Beef Steak
Broiler – Cook for 7–9 minutes on each side
Grill – Cook until golden brown about 4–5 minutes, then turn steak over and cook for another 3–5 minutes for medium rare or 5 to 7 minutes for medium.
Vegetables
When sautéing vegetables, cook them on low to medium heat. To retain the most nutrients, consider steaming them.
Vegetables
• 3 cups cauliflower
• 2 cups broccoli
• 5 cups spinach
• 5 large tomatoes
• 5 cups mushrooms
• 5 large sweet potatoes or yams
• 2 bunches asparagus
• 2 cups green beans
Fruit
• 4 large or 5 medium grapefruit
• 5 cups strawberries
• 5 cups blueberries
• 1 large pineapple
• 5 medium bananas
Protein
• 25 eggs (or 5 whole eggs and 20 egg whites)
• 20 oz. chicken breast, boneless, skinless
• 12 oz. steak
• 8 oz. bison
• 32 oz. cottage cheese
Dry Goods
• 1 pound pasta
• Raw cashews
• All-natural peanut butter
• Almond butter
• Chia seeds
• Brown rice
• Steel cut oatmeal
• 40 oz. marinara sauce
• 1 bag popcorn kernels
Pantry
• Extra virgin olive oil
• Apple cider vinegar
• 5 servings Shakeology
• Beachbody Performance – Energize, Hydrate, and Recover.