The Best Stretching Equipment to Boost Your Flexibility in 2024
Stretching shouldn't be an afterthought. When done regularly, it can improve your posture and ease muscle soreness.
And if you've been spending hours hunched over a laptop (or working from your couch), there's no feeling quite like a good stretch.
The easiest way to work stretching into your workout routine is with our new XB Stretch program, with short routines that take just 5 to 15 minutes.
Andrea Rogers (creator of Xtend Barre and XB Pilates) designed XB Stretch to help prevent injury, combat aches and pains, reduce stress, and just feel good!
If your flexibility is still a work in progress, some stretches can feel unattainable. That's where stretching equipment comes in.
These pieces help you safely challenge your range of motion to build flexibility.
Check out our list of the best stretching equipment of 2024 to help make your goal of being more flexible a reality!
1. Stretch Out Strap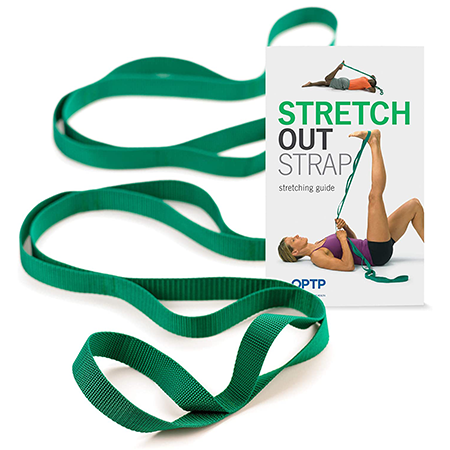 This durable strap helps you control your stretching better. You can use this piece of stretching equipment to (gently) pull yourself into a position little by little.
It's a handy tool for these full-body stretches. Plus, it allows you to measure your progress by seeing how your hands reach farther and farther on the strap for each stretch.
Get it on Amazon.
2. Home Workout Mat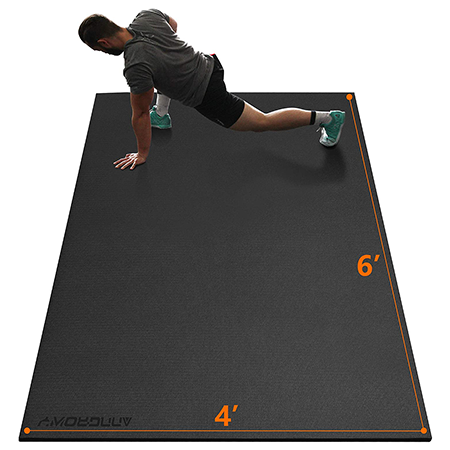 Upgrade your home gym with this large mat that's perfect for stretching and exercising.
It's much more comfortable than the floor, so your joints will thank you.
The mat is four feet by six feet, so you have plenty of room to stretch out.
Get it on Amazon.
3. DMoose Fitness Foot and Leg Stretcher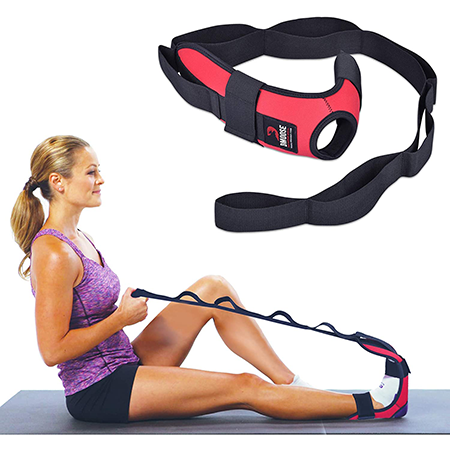 If tight hamstrings and calves are limiting your movement, this little gadget might help.
It's also a good option for alleviating soreness in your feet, shins, and ankles, including plantar fasciitis and Achilles tendonitis.
(If you have one of those conditions, do talk to a health pro first.)
Get it on Amazon.
4. NitroFit Limber Pro Stretch Machine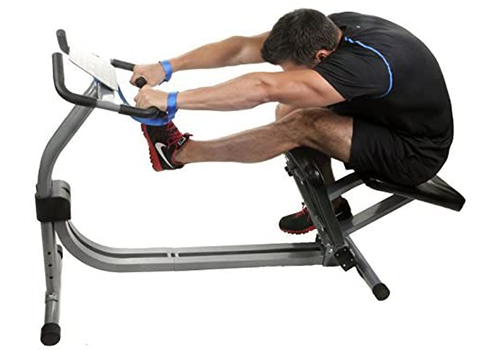 This is an investment piece for people who are serious about boosting their flexibility.
It comes with instructions for nine easily modifiable exercises and offers seven seat positions, as well as three angles for stretching your calves.
Get it on Amazon.
5. URBNFit Yoga Block with Strap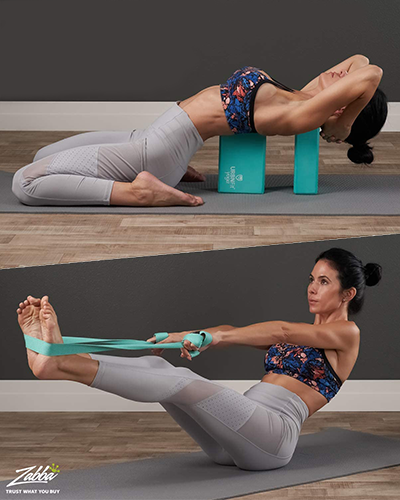 Yoga blocks help you scale the stretch you get in yoga poses and other movements. Use them on the taller sides for more assistance or on the shorter side for less.
This one comes with a strap for more stretching help.
Get it on Amazon.
6. BalanceFrom Yoga Wheel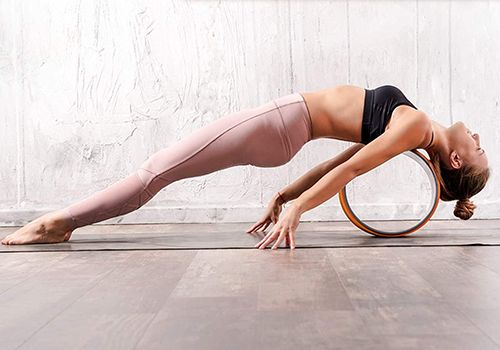 Yoga wheels provide stretching benefits similar to yoga blocks, but they give you an even deeper stretch for your back.
If you're working on yoga backbends, opt for a wheel over a block.
Get it on Amazon.
7. Vive Foot Rocker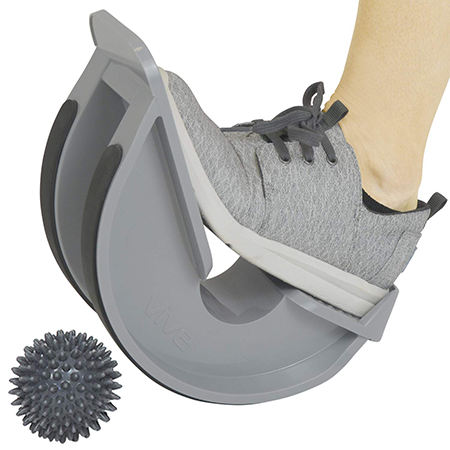 Use this easy-to-stow tool for stretching out your feet and calves. It also targets the front of your legs for shin splint relief.
Even better, you get a trigger-point therapy ball to help you get into tight muscles or give yourself a foot massage under your desk.
Get it on Amazon.
8. MINOLL Multi-Level Back Stretcher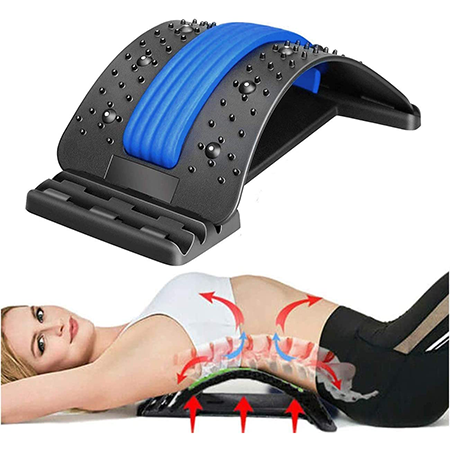 You can use this back stretcher on the ground or on your home office chair to keep your posture healthy all day.
This model supports the natural healthy curvature of the spine.
It also has different settings that allow you to work up to the full curve if you're feeling stiff.
Get it on Amazon.
9. Pricexes Yoga Stretching Strap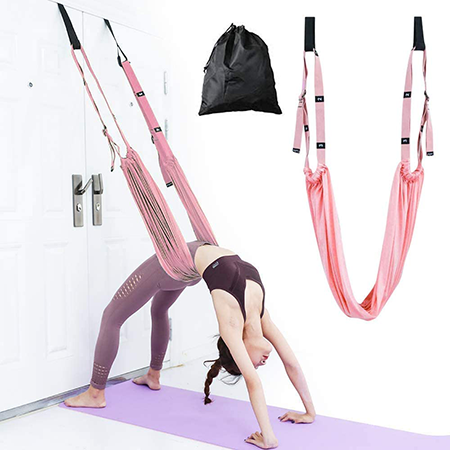 Simply anchor this flexibility trainer to a door and start stretching.
This piece of stretching equipment allows you to challenge your flexibility, work on backbends, and much more.
It can also be used similarly to a TRX to build strength.
Get it on Amazon.
10. Brazyn Morph Foam Roller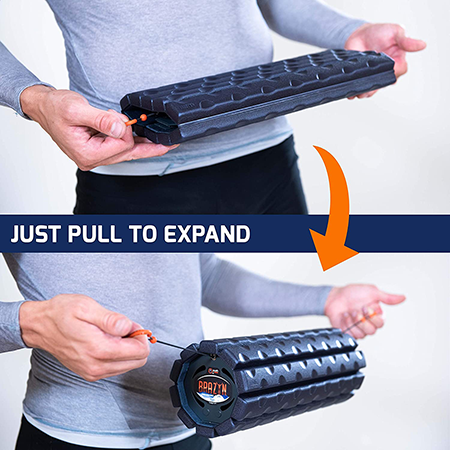 Sometimes what stands between you and your flexibility goals is sore muscles.
This foam roller features bumps that act like trigger-point therapy to help your body release knots.
And, it folds up for easy storage when you aren't using it.
Get it on Amazon.