Beachbody Results: This Mother of 5 Lost 120 Pounds in 11 Months!
Molly Elliott, age 35, lost 120 lbs in 11 months with 21 Day Fix and Country Heat. She entered her results into The Beachbody Challenge and won $1,000! You can do it too!
For a limited time, with the Spring Into Health Challenge Pack, you get a year of unlimited access to Beachbody's world-famous programs, including every program Molly used (and hundreds more!), plus a 30-day supply of Shakeology, and the support of a Team Beachbody Coach! Don't miss out on this offer! Here's her story in her own words…
Tell us about your life before you started the program. How did you feel about yourself and your body?
Before I started with Beachbody in 2016, I was run-down, tired, unhappy, and didn't like who I was. I had no energy to play with my kids, and I was so ashamed of who I was that I rarely left the house.
What inspired you to change your life and begin your transformation journey?
I was sick and tired of letting my kids down! They wanted me to lose weight so I could ride roller coasters with them. I started off strong and lost 60 pounds in my first year. I knew that if I kept it up I would be able to fit on the ride, but instead I gave up and quit! I put all the weight back on and let my kids down. That day I snapped a pic at the amusement part and I looked as miserable as I was. I'm not letting my kids down again!
What is the greatest challenge you faced before beginning the program? How did the program and Beachbody® help you overcome that challenge?
Confidence, support, motivation, and encouragement. When my Coach told me she believed in me, wow, that made a world of difference. If she believed in me than maybe I should start believing in myself! I started with 21 Day Fix for several rounds. That is how I lost the majority of my weight. I usually add in another program for fun and double up. Sometimes I even workout with my kids; we all love Country Heat! When we were done with the 30 days, they asked if we could keep doing it! They had fun and never once thought of it as exercise! That's awesome.
What in particular did you like about the program you chose?
I love 21 Day Fix because it's only 30 minutes long and has a modifier. When I first started in 2016 I couldn't even do the modifications! I had to modify them even more, but I kept moving. As the weeks went by and I just got better and better. I chose Country Heat because again only 30 minutes long and I knew it was something I could do with all my kids, ages 1-9!
Describe the results you achieved with your Beachbody program. Which achievements are you proud of?
Excited to say I'm down 120 pounds and still losing! But more so than that; I've gained confidence, self-esteem, I'm learning to love myself, and I'm no longer afraid to try new things.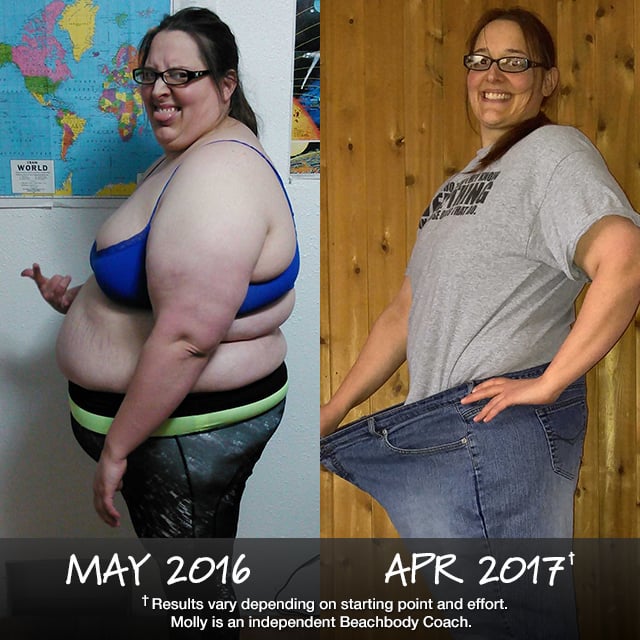 How has your life changed since completing your Beachbody program?
Oh wow, I am a mom who can get off the floor without holding onto a piece of furniture. I can actually do jumping jacks, squats, and lunges. I'm not ashamed of who I am. I am a work in progress but I want to tell others how great Beachbody is. These programs work wonders and I became a Coach so I could help others gain what I have gained and lose what I have lost.
How did participating in a Challenge Group help you reach your goals? How did your group support you and keep you accountable?
We had to check in daily so I couldn't let them down! Total accountability! I could vent or ask questions. I felt good knowing that others were doing it with me; I love them!
How did your Team Beachbody Coach support you on your journey?
She was/is always there no matter what time of day it is. She supports, encourages, and believes in me. She believes in me! She knows I can do it, so I need to believe that and keep pushing forward! Once I didn't check in because I was having a hard time following the program. The very next day she asked if I was okay and what she could do because it wasn't like me not to check in. She has my back and cares.
How did a Beachbody Supplement or Nutritional Product or Program (such as Shakeology or Beachbody Ultimate Reset) support your transformation? What are the greatest benefits you gained? Did you see benefits to your energy, sleep, mood/mental clarity, digestion/regularity?
Man, I can say I love my Shakeology! It gives me energy, curbs my hunger, and I don't crave junk food at all. I look forward to it everyday!2
Tell us about your experience with Beachbody On Demand. If applicable, how has it helped you achieve your goals?
I use it daily, and I truly love it! It's so fast and easy and convenient!
You can change your life, too. Take the Beachbody Challenge for the tools you need to Decide, Commit, and Succeed! Complete any Beachbody program, and enter your results for a free gift and a chance to win cash and prizes. What program are you committing to next?

†Results vary depending on starting point, goals, and effort.
2These statements have not been evaluated by the Food and Drug Administration. This product is not intended to diagnose, treat, cure, or prevent any disease.