Beachbody Results: Sara Lost 115 Pounds Using Various Programs on BOD and Won $27,500!
Sara Hohensee lost 115 lbs. with various Beachbody fitness programs on BOD, Shakeology, and the Beachbody Performance supplements. She entered her results into the Beachbody Challenge and won $27,500!
Tell us about your life before you started the program. How did you feel about yourself and your body?
Before my journey with Beachbody, I was an obese, 22-year-old physical therapy student. I was ashamed of my body and I self-sabotaged constantly. I was always the "fat kid of the family" and grew up with two siblings who were thin and athletic. I had sky-high cholesterol, triglycerides, blood pressure, and I was most likely borderline type 2 diabetic. I hated myself but I never had enough motivation or drive to commit myself to changing my body. I would climb the stairs to buildings on my school's campus and have to wait 2 minutes before entering the classroom so people wouldn't see how winded I was. Because I am a physical therapy student, we were required to wear sports bras and tank tops to our lab classes so we were able to observe joints, bones and muscles looking directly at the skin. Afterwards, I would come home and cry because I was so ashamed of myself and my body.
What inspired you to change your life and begin your transformation journey?
I got engaged in April of 2014. When I was home from school over Christmas break, I went dress shopping with family. Instead of being all I dreamt it would be, it turned out to be one of the worst days of my life. I went to a boutique that I had always wanted to get my dress from, and literally nothing fit. I even couldn't get the biggest dress over my head. I sat in the dressing room with my mom and cried. I went to another bridal dress shop and without second-guessing, the lady brought me a stack of plus-size dresses. I could get them over my head and on my body, but made sure that all pictures that were taken were from the front because I couldn't zip the back because I was too big. I looked in the mirror at myself, ashamed, unhappy and knew it was time for change. Later that night, Ashton (my Coach) reached out to me about joining her team and trying the Beachbody Challenge. At that point, I was up for anything and took the leap of faith and joined Beachbody… Best decision of my life!

What is the greatest challenge you faced before beginning the program? How did the program and Beachbody help you overcome that challenge?
Self-confidence. I was a self-sabotager. Thinking back to what I was like before Beachbody, it makes me so sad that I allowed myself to hate myself as much as I did. I never believed I could lose the weight, so I just let it continue piling on. I began T25 in January of 2015. I chose this program because it was short, simple, and to the point. I'll never forget the first time I did it… I had to take a break within the first five minutes and I got sick during every workout in the first two weeks! However, within the first month of T25 and Shakeology, I lost 10+ lbs. I had never lost 10 lbs. before in my life. That's when I knew Beachbody was special. I saw results! As the weight came off, my friends and my family noticed. While receiving outside attention was great and motivating, it was how I saw myself and how I felt that truly kept me going. For the first time in my life, I didn't hate myself because I saw results. Beachbody, my Coach, and self-motivation were all that I needed for success!
What in particular did you like about the program you chose?
I've completed T25, CIZE, MAX:30, Hammer and Chisel, INSANITY, and CORE DE FORCE to help me achieve my 105 lb. weight loss. Out of all of these programs, my absolute favorite is INSANITY. When I am doing INSANITY, as cheesy as it sounds, I feel like I can take on the world! It is the hardest workout program I've ever done, but the way I feel when I get done with a workout is amazing. What I love about INSANITY is its difficulty level. No matter how many times I repeat the workouts, they are always hard and leave me in a breathless pile of sweat. Doing these workouts is a way that I measure my progress. I measure progress by how much more "full out" I can do the moves, how much less I need to modify, and how many repetitions I can perform. Shaun T is my favorite Master Trainer and motivates me like no one I've ever met or worked out with, so he helps me through every INSANITY workout every time. I'm even planning on getting INSANITY certified in the near future!
Describe the results you achieved with your Beachbody program. Which achievements are you proud of?
With my first round of INSANITY, I lost about 15 lbs.; however, I am writing this submission as a whole overview of my Beachbody journey so far. In less than 2 years. I've lost 115 lbs. thanks to Beachbody (and I'm not done!). This achievement is easily the proudest achievement of my life. My biggest achievement isn't the pounds I've lost. It's the confidence that I've gained! I'm not ashamed of myself anymore. I don't flock to the back row of every photo in hopes that my body is covered up. I don't shy away from public workouts. In fact, I just did Shaun T's Hangover Hangout in CA and I got as close to the stage as possible so that Shaun and others around me could see me slaying his workout! (Just kidding — but I felt like a million bucks!) If you told me two years ago that I would one day have enough self-confidence to do a live Shaun T workout 20 feet away from Shaun T, I would have called you insane! Now, it's another check off of my bucket list and one my proudest life moments!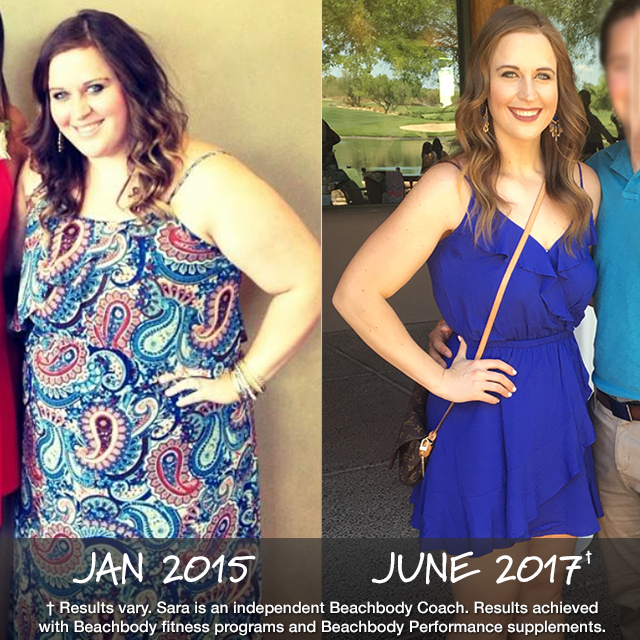 How has your life changed since completing your Beachbody program?
Confidence. After working out with and meeting the most inspirational and motivating idol I've ever had, I realized that I didn't lose this weight for myself and myself only. I realized that physical therapy is not my only purpose in life. As I approached my car after the event, I found myself overwhelmed with emotion. I sat and sobbed for a solid 30 minutes just realizing how blessed I was to be given the opportunity to be a part of the Beachbody world and how amazing and life-changing this company has been for me. Having that said, this newly-found purpose in life is to help others. I am using my journey as a way to help others because I know what it's like to be obese, self-sabotaging, and constantly ashamed of my body. It doesn't have to be this way!… and it is my new mission to help people realize that!
How did participating in a Challenge Group help you reach your goals? How did your group support you and keep you accountable?
Throughout my entire weight-loss journey with Beachbody, I have been in many Challenge Groups, thanks to my Coach, Ashton. Being in Challenge Groups not only motivated me, but held me accountable by making sure I posted my daily Shakeology and workouts. Seeing ladies of all backgrounds, shapes, and sizes conquer their fitness goals was truly inspiring to me, and makes me want to keep improving myself. I was also selected to join Shaun T's February CIZE Challenge Group with hundreds of other women, so that was a truly inspiring experience. It was really fun to see all of the posts from women around the world performing CIZE routines and having a blast while doing it! Challenge Groups are also perfect ways to communicate with other people, as well as being able to post and share recipes. I definitely would not be anywhere near where I am today without my involvement in Challenge Groups.
How did your Team Beachbody Coach support you on your journey?
I honestly don't think I could have a better Beachbody Coach. Ashton has been amazing from day one. She constantly checks up on me to make sure I'm doing okay, makes sure I am invited to basically every Challenge Group she is involved in, and is always there for me if I have questions regarding anything at all. She is never pushy when it comes to promoting programs and products, and I never feel like she judges me or thinks negatively about me at all. She is always the first one to congratulate me when I hit weight-loss milestones, and even sends me cards and gifts from states away when I hit these weight-loss milestones.
How did a Beachbody Supplement or Nutritional Product or Program (such as Shakeology or Beachbody Ultimate Reset) support your transformation? What are the greatest benefits you gained? Did you see benefits to your energy, sleep, mood/mental clarity, digestion/regularity?
I've been drinking Shakeology for 2 years now and it really has changed my life. I drink it every single day. I immediately saw improvements in energy levels. Before Shakeology, my breakfast normally consisted of a piece of toast and a piece of fruit, or a granola bar. These things never ever filled me up, and I would sit through class tired and hungry, counting down the minutes until lunch. Now, I make my shake, take it on-the-go, drink it in class, and I am easily full until lunch.2 I have also recently incorporated Shakeology into energy bites, cookies, and brownies — thanks to amazing recipes from Danielle Natoni and Tania Baron!
Tell us about your experience with Beachbody On Demand. If applicable, how has it helped you achieve your goals?
BOD is incredible! Because I am a physical therapy student that moves from place-to-place on clinical rotations, visits home, etc., I don't always have resources available to play a DVD. BOD makes working out easy and it makes me realize that just because I'm always on-the-go or traveling places, there really isn't an excuse not to work out. Being able to download the workouts on my phone makes it possible for me to work out in places where WiFi isn't available, and that's been extremely nice. In between workout programs, I enjoy switching things up and trying new workouts with trainers I haven't worked out with before. To be honest, I don't think I would have ever tried my favorite workout (INSANITY) if I didn't have access to it through BOD! Eek! I also enjoyed watching "THE 20s" as well as Fixate, Autumn's cooking show. I use BOD every single day and I know there is no way I would be where I am today without the easy accessibility and its amazing variety and I'm so grateful for it! Thanks, BOD!
You can change your life, too. Take the Beachbody Challenge for the tools you need to Decide, Commit, and Succeed! Complete any Beachbody program, and enter your results for a free gift and a chance to win cash and prizes. What program are you committing to next?

†Results vary depending on starting point and effort.
2These statements have not been evaluated by the Food and Drug Administration. This product is not intended to diagnose, treat, cure, or prevent any disease.