Beachbody Results: Daniel Lost Over 180 Pounds and Won $1,000!
Daniel Pena, age 46, lost 181 lbs with P90X3, FOCUS T25, P90X, 22 Minute Hard Corps, P90X2, and INSANITY. He entered his results into The Beachbody Challenge and won $1,000!
Tell us about your life before you started the program. How did you feel about yourself and your body?
I didn't start out obese but slowly worked my up to it over 10 years. I was almost 200 pounds overweight and at some point I no longer cared. I basically gave up on trying fad and crash diets. I then stared using the excuse that it was my genes and/or I had a thyroid problem and losing weight was out of my control. I kept having to buy bigger and bigger clothes. I knew I was morbidly obese, but just gave up.
What inspired you to change your life and begin your transformation journey?
I kept seeing commercials for P90X3 and it sparked something within me. I said "If they could do, so can I". I took a chance on the program and it paid off big time.
What is the greatest challenge you faced before beginning the program? How did the program and Beachbody® help you overcome that challenge?
What I ate and the quantities I ate was always my biggest problem. Seeing results with P90X3 and then other Beachbody programs I've done like T25, P90X and now INSANITY, inspired me to change my eating habits. I now eat to live instead of living to eat. I journal my calories consistently. My health is no longer a mystery to me and is something I feigned ignorance before Beachbody. Not any longer!
What in particular did you like about the program you chose?
P90X3 was only 30 minutes a day! I could commit to that as I did not want to "be in the gym" for hours at a time. It was a great way to ease myself into getting in shape.There was also ways to modify the routine which I did in the beginning. It was great for anyone at any fitness level. It gave me the courage to try other things like T25, another great program with a short time commitment. I then had the courage to do the original P90X as well as INSANITY.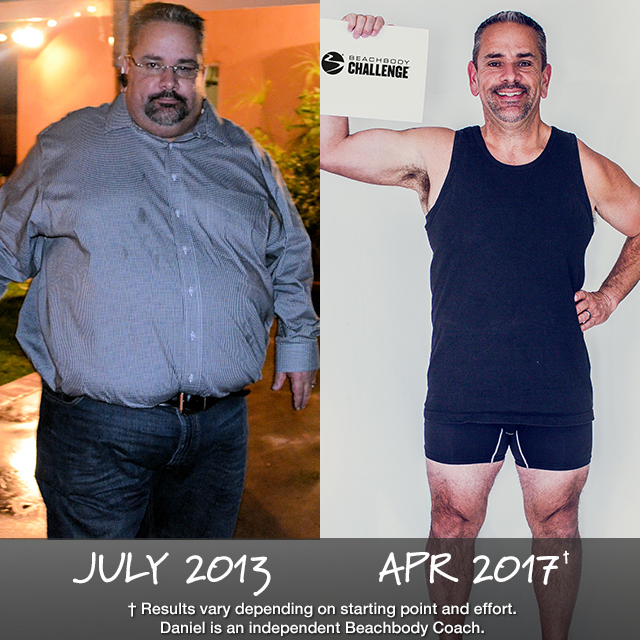 Describe the results you achieved with your Beachbody program. Which achievements are you proud of?
I'm proud that I finished X3! Then I went on to repeat the program 4 more times. I lost 100 pounds in the first year. Overall, Beachbody programs aided me in losing over 180 pounds. I'm proud I can say I lost more weight than I weigh. I went from a shirt size of 4XL to a large and a pants size of 56 to 34. Beachbody programs made it possible for me to regain my health. These programs made me want to eat healthy such as not to undo my hard work. Beachbody programs have saved my life, and I'm fairly positive have added years back to my life. Additional years so that I can see my two daughters get married. Additional years to be alive for when/if I have grandchildren. Additional years for my wife of 23 years and I to continue growing older together.
How has your life changed since completing your Beachbody program?
The Beachbody programs continue to inspire me to do my best, focus, and keep going hard. At over 350 pounds, my main focus was to lose weight. Now, I continue to utilize the suite of Beachbody programs to gain more lean muscle mass and lower my body fat percentage. On my way to losing over 180 pounds I started running again and have competed in 10ks and 1/2 marathons. My next goal is to do a full marathon in 2017. I am in the best shape of my entire life. All of this because of Beachbody!
You can change your life, too. Take the Beachbody Challenge for the tools you need to Decide, Commit, and Succeed! Complete any Beachbody program, and enter your results for a free gift and a chance to win cash and prizes.

Results vary depending on starting point, goals, and effort.