Beachbody Results: Brooke Lost 73 Pounds and Won $1,000!
Brooke Forystek, age 23, lost 73 lbs in just over a year with a variety of Beachbody fitness programs and Shakeology. She entered her results into The Beachbody Challenge and won $1,000! You can do it too!
For a limited time, with the Spring Into Health Challenge Pack, you get a year of unlimited access to Beachbody's world-famous programs, including every program Brooke used, like 21 Day FIX®, CORE DE FORCE®, INSANITY® (and more!), plus a 30-day supply of Shakeology, and the support of a Team Beachbody Coach! Don't miss out on this offer! Here's her story in her own words…
Tell us about your life before you started the program. How did you feel about yourself and your body?
Before I started this program, I was at my absolute lowest. In just 5 years, I had gained 60 pounds while away at college, then getting married and starting my career. I had zero confidence, had no clue how to eat healthy, and had no motivation to work out or stay in shape. In high school I was super active; I played 2 sports year-round. Before beginning this challenge, however, I had no interest in being active, and I couldn't even get up the energy to enjoy playing the sports I had once loved. I honestly didn't even believe it was possible for me to lose the weight/become healthy and active, and gave up completely. I let myself go.
What inspired you to change your life and begin your transformation journey?
I felt awful. I had no energy and was completely inactive. I found myself not able to enjoy the life around me because of my lack of fitness and confidence. I was embarrassed by the way I looked, the way I felt, and by how limited I was in the activities I could do with my friends. I was sick and tired of being embarrassed of myself and tired all the time. I was sick of not being able to do the things I loved, and I was sick of hating myself every time I looked into a mirror.
What is the greatest challenge you faced before beginning the program? How did the program and Beachbody® help you overcome that challenge?
My biggest challenge was that I had no motivation, no energy to try to even find motivation, and I really didn't know how to eat healthy or work out in a way that would help my body get where it needs to be. I also had no confidence that it was even possible. Beachbody helped me to tremendously; it taught me how to eat healthy in a simple, doable way, and it provided me with a wonderful Coach who put me in a Challenge Group that pushed me every single day to find my own willpower. It taught me that I am worth taking an extra 30 minutes a day to work out, and it taught me that my body is worth fueling properly. It pushed my to my limits and further, giving me a confidence I have never felt before in my life.
What in particular did you like about the program you chose?
I love everything about the 21 Day Fix, which is where my journey began. The portion control containers and the way the nutrition is explained made the "how" of healthy eating click for me. Something changed in my mind when I did this program; I saw it as something doable, enjoyable, and life-changing. I love the workouts, love that I am able to enjoy the foods I love, love Autumn as a trainer, and love the people in her workout videos! My most recent program, PiYo, was a brand new type of challenge for me! I've been a cardio junkie since I started my journey a little over a year ago, so it took some "convincing myself" to slow it down with PiYo. It was still such a great workout, a burner, and one of the toughest booty workouts I've ever done! My body definitely needed the stretching and flexibility that this program encouraged, and I loved Chalene's energy and personality!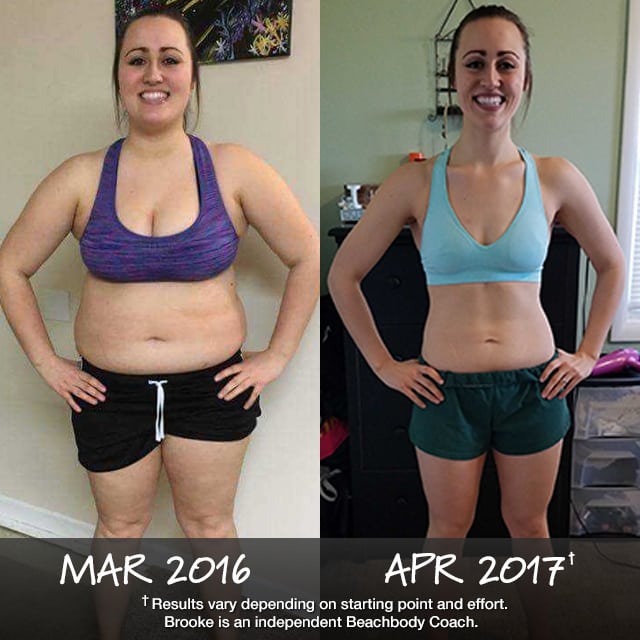 Describe the results you achieved with your Beachbody program. Which achievements are you proud of?
I have lost just over 70 pounds and almost 40 inches – over 10 inches in my waist alone! I eat healthy and exercise daily, I have an incredible amount of energy, and I have confidence for the very first time in my entire life! This journey with Beachbody has also helped to minimize my anxiety levels! I am super proud of every single one of these things but mostly, I am proud that I finally have the willpower and knowledge to make smart choices. It is incredibly empowering to know that every single day, I choose to fuel my body properly, and every single day I choose to exercise for my own fitness. I am not doing this for the people around me, but for myself, my health and my happiness. Just knowing the difference this has made in my life is absolutely incredible. I have Beachbody to thank for completely changing my life.
How has your life changed since completing your Beachbody program?
My life has changed immensely since completing the 21 Day Fix, 22 Minute Hard Corps, 21 Day Fix EXTREME, INSANITY, CORE DE FORCE, INSANITY MAX:30, and PiYo. Before I started Beachbody, my life was full of anxiety, self-hatred, laziness, and binge-eating. Now, my anxiety is completely gone, I have more energy and am able to sleep better. I enjoy being active every single day and can enjoy my favorite things like sports without being tired and miserable. I understand what it means to eat healthy and live healthy (and enjoy it), and my confidence level is higher than it ever has been. I can do things like hike, go on runs, complete fitness challenges, play volleyball and softball, and just have fun in my own skin without feeling embarrassed, overwhelmed, or tired!
How did participating in a Challenge Group help you reach your goals? How did your group support you and keep you accountable?
The Challenge Group made all the difference for me! It was amazing being surrounded by motivating people going through the exact same thing as I was. The group supported me and held me accountable by asking me to post my ratings every single day, which I vowed to do honestly every single day.
How did your Team Beachbody® Coach support you on your journey?
I asked her many questions she was able to help with!
How did a Beachbody Supplement or Nutritional Product or Program (such as Shakeology® or Beachbody Ultimate Reset®) support your transformation? What are the greatest benefits you gained? Did you see benefits to your energy, sleep, mood/mental clarity, digestion/regularity?
Shakeology is wonderful. I stay more energized2 and it's an easy way for me to get in more fruits and veggies! It tastes so delicious and helps to fulfill my sweet cravings!2
Tell us about your experience with Beachbody On Demand. If applicable, how has it helped you achieve your goals?
I just recently signed up with Beachbody on Demand and wow! It has made my fitness goals so much easier to reach! Wherever I go, I know I can easily bring my workouts along with me on my iPad; I don't have to worry about breaking a disc, bringing along a dvd player, or any other hassles. I am also able to pick and choose any workout! I consistently finish one program and enjoy starting a brand new one right away – Beachbody on Demand has been a perfect fit for me. I also love the Challenge Du Jour option on those days I feel like mixing it up!
You can change your life, too. Take the Beachbody Challenge for the tools you need to Decide, Commit, and Succeed! Complete any Beachbody program, and enter your results for a free gift and a chance to win cash and prizes. What program are you committing to next?

†Results vary depending on starting point, goals, and effort.
2These statements have not been evaluated by the Food and Drug Administration. This product is not intended to diagnose, treat, cure, or prevent any disease.