Beachbody Results: Andrea Lost 165 Pounds and Won $6,000!
Andrea Barlow, age 31, lost 165 lbs with Beachbody fitness programs and the Beachbody Performance supplements. She entered her results into The Beachbody Challenge and won $6,000!
Tell us about your life before you started the program. How did you feel about yourself and your body?
All of my life I felt like an outcast because of my weight. I felt limited in what I could do, wear, and where I could go. I felt ashamed of how I looked and avoided certain social situations like missing my senior prom because I was too ashamed to wear a dress. I avoided certain restaurants, movie theaters, and amusement parks in fear of not being able to fit into the seats. I felt helpless and hopeless when the day arrived that I couldn't fit into the driver's seat of my own car. I became very unhappy, sluggish, and short of breath every day. I was always on some kind of diet,continuously seeking for something to work; repeatedly losing the same 25-50 lbs. I felt as though it was impossible for someone like me with so much weight to lose, capable of sticking with something long enough to lose all of the weight. It was easier for me to deem my circumstances as final and believe that life was just meant to be riddled with obstacles and limitations.
What inspired you to change your life and begin your transformation journey?
Every year we take our son to Christmas in Hershey Park for his birthday. I always occupied myself with taking pictures of him and his father, capturing all of the fun they were having together. On our way home from Kyle's fourth birthday in Hershey, he asks"Mommy why don't you ever get on the rides with me like daddy does? I want to get on the rides with you too". I felt like I let my son down, and instead of responding with an answer that had another excuse. I told him "I'm sorry Mommy hasn't ever gotten on the rides with you, but next year I promise I will". The last day I spent trapped as my morbidly obese self, I sat in the room next to where my newborn daughter was sleeping, contemplating to end my life or not. I loved my family too much to leave them that way. In that moment I only had 2 choices; do nothing and continue to miss moments with my children, remaining miserable and trapped or do something about my situation once and for all. My family needed me to be stronger and healthier, and there was no reason I couldn't give them that other than doubt.
What is the greatest challenge you faced before beginning the program? How did the program and Beachbody® help you overcome that challenge?
I've battled an eating disorder since I was 13. Trapped in a vicious cycle of feeling unhappy, anxious and helpless; binging on a lot of food to quickly fill myself with 'pleasure', feeling guilty for overeating and then purging as a solution to feel better, leaving me to feel extremely depressed. Every tragedy, adversity, failure, bored, and stressful moment was my reason to binge eat. A decade of working as a CNA caused significant disk degeneration in my back. At 28 I was diagnosed with hypothyroidism. My feet were ridden with deep fissures making walking and standing debilitating.3 Beachbody workouts gave me a chance to break my vicious cycle by providing me an outlet to relieve stress. Everyday that I pushed play through my adversities, I learned how to be stronger mentally and in charge of my choices. I desperately needed the support provided by my Beachbody team to reach victories through adversity. My journey with Beachbody has taught me how to feel empowered and not powerless.
What in particular did you like about the program you chose?
I had a very hectic schedule at times and working out at home was more convenient. 21 Day Fix helped me become successful at completing something since it only took 3 weeks to finish each round. The modified move options in 21 Day Fix made exercising at my heaviest less intimidating and doable. 21 Day Fix helped my back feel stronger to handle some of the more advanced programs. The Fix meal plan gave me structure in my unbalanced diet and helped me learn how to make smarter food choices. I began seeing food for what it could do for my body instead of how it could please me. In times of stress Body Beast helped me feel powerful again. 21 Day Fix EXTREME helped me push progress to a higher level by intensifying a lot of the moves I had been doing in 21 Day Fix. These programs helped me build consistency in my exercise routine; something I previously lacked.
Describe the results you achieved with your Beachbody program. Which achievements are you proud of?
I faced a lot of adversity during my journey and could have reciprocated with giving up and starting over like I always did before. When my hypothyroidism stalled progress I could have convinced myself the program wasn't working and gave up. When my infant daughter developed GI issues and surgery was a possibility I could have turned to my eating disorder to cope with stress. When my fiancé's mom was hospitalized and diagnosed with end stage CHF and we had to renovate her home; discovering she became a hoarder, I could have turned to fast food and quit exercising. When my mom was rushed off for emergency surgery for a brain tumor, I could have used food to comfort my pain. I achieved losing 165 pounds through adversities that had the power to impede my journey. I did the hard through the hard. The mental and emotional strength I gained from using my program as an outlet to cope helped me break a lifetime of habits. The result is a new life, ability to overcome hardship, and achieve power over my life.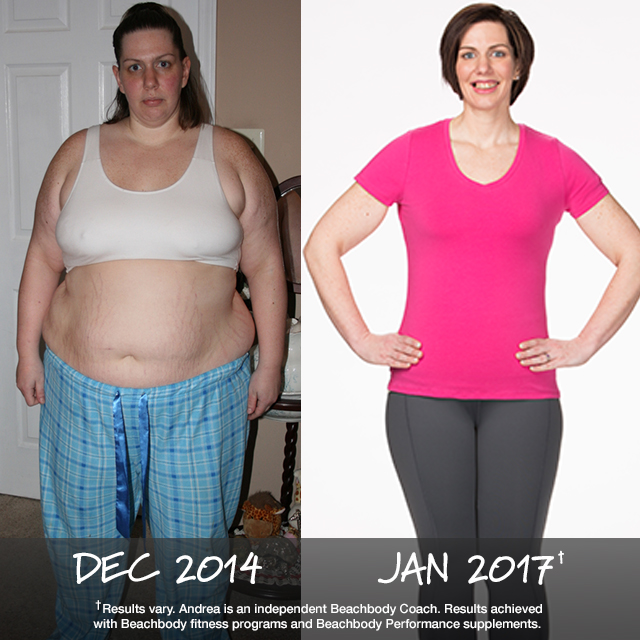 How has your life changed since completing your Beachbody program?
My life has been renewed. I don't go to bed wishing I would die in my sleep anymore. I go to bed feeling excited and accomplished. My life has become one that's filled with first time experiences. I'm no longer trapped in what I can't do. I faced my fear of running on my third round of 21 Day Fix and ran my 1st 5k. I ran my 1st 10 mile race a year later, and am running my 1st half marathon this fall. I'm on a mission to live limitless. These programs are giving me the fitness conditioning and mental stamina to achieve the athletic goals and dreams I have in place for myself. I fulfilled my sons promise to get on rides with him one year into my journey and never have to be excluded again. I'm no longer afraid of life. I broke a lifetime of habits and my family broke habits in the process. I no longer let life's storm wreak havoc on my circumstances, I became the storm and took control of my circumstances. I unearthed the athlete I always wished to become. I became the role model my children deserved.
How did participating in a Challenge Group help you reach your goals? How did your group support you and keep you accountable?
My first challenge group was for 21 Day Fix. The group helped me understand my program as I journeyed through the first round. I used the group as a place to keep myself on track, leaning on it for support during moments of temptation. There were times I began missing workouts and benefited from someone in the group calling me out because I hadn't checked in with my workouts. Seeing the consistency of others through their rounds inspired me to stay consistent and committed. I became consistent and confident enough in my program and routine that I went on to lead my own Challenge Groups as Coach. Leading Challenge Groups inspired me to become the strongest example I could be. I learned tips and tricks for faster food prep and meal planning from others in the group. I was able to get advice and support from multiple views which helped me see clearer solutions for my own situations. Challenge Groups became my safe haven to be 100% honest and 100% supported by others on the same mission.
How did your Team Beachbody® Coach support you on your journey?
From day one Krystle believed I would reach all of my goals. The times I felt like giving up, she reminded me what I was fighting for. She always knew when I needed a dose of encouragement or a dose of honesty and helped me see my habits and actions from a perspective that helped my personal growth exponentially. She always challenges me to keep striving to the next level and goal. She placed me into a team page that's purpose was to serve as an additional support community. That team support combined with hers became instrumental in my journey. When my mom was rushed off to surgery, I felt helpless again for the first time since the start of my journey. Krystle and the team were the anchor of support and encouragement I needed to get through my mom's surgery and all the other adversities I faced. Support provided by her and the team became one of the reasons this time to get healthy was successful where my previous attempts had failed.
How did a Beachbody Supplement or Nutritional Product or Program (such as Shakeology® or Beachbody Ultimate Reset®) support your transformation? What are the greatest benefits you gained? Did you see benefits to your energy, sleep, mood/mental clarity, digestion/regularity?
Initially I was afraid of doing Ultimate Reset. It ended up being one of my favorite programs. It helped me uncover the emotional connection I had with food. During the Reset I became efficient in food prep and saw the benefit in it. I discovered how certain foods provided increased energy and mental clarity. I discovered a lot of new foods I liked and some became staples post reset. Doing reset through Christmas time helped me find the joy in moments and not food. I've been drinking Shakeology since February of 2015. After the first week of drinking it I noticed a significant difference in my energy levels, and reduction of cravings.2 I quit smoking April 2015, with intentions to free up money to afford Shakeology. I ended up saving money I didn't before because affording it forced me to see how costly some of my habits were.
You can change your life, too. Take the Beachbody Challenge for the tools you need to Decide, Commit, and Succeed! Complete any Beachbody program, and enter your results for a free gift and a chance to win cash and prizes. What program are you committing to next?

†Results vary depending on starting point, goals, and effort.
3Always consult with your physician about your unique medical needs before starting any fitness program or nutrition product.
2These statements have not been evaluated by the Food and Drug Administration. This product is not intended to diagnose, treat, cure, or prevent any disease.