Crystal Got a Flat Stomach and Lost 12 Pounds With Beachbody!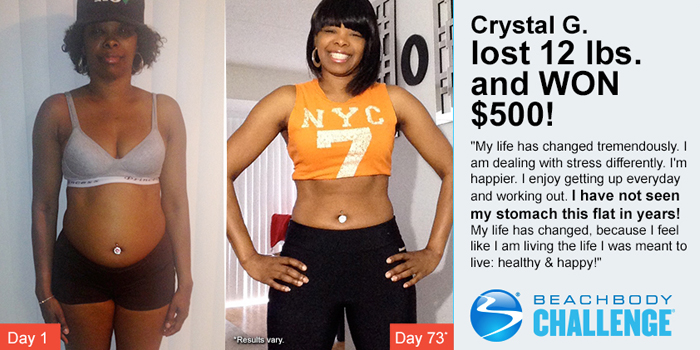 †Results vary depending on starting point and effort. Crystal is an independent Beachbody Coach.
Meet Crystal. She participated in The Beachbody Challenge® and won the $500 Daily Prize for February 2nd!
Tell us about your life before you started the program. How did you feel about yourself and your body?
Before Beachbody, I was depressed from the death of my brother. I began to eat my emotions as I did not have the energy to do anything else. To most, I was not "big" at all, but I say an extra 10-20 pounds on your body can affect anyone. No matter your starting weight. I had gained 20 pounds, weighing in at my heaviest 154 pounds. I was tired all the time. I would get winded from a flight of stairs. I was not happy with myself or my body, which triggered more emotional eating.
What inspired you to change your life and begin your transformation journey?
There were two things that changed my life. One day the elevator wasn't working, and I had to walk up 5 flights of stairs. I thought "no problem." I got to the second floor and thought my chest was going to cave in. I could not believe it. I was frustrated, but I didn't know what to do about it. So I did nothing. A couple of weeks later, a friend invited me to her house to work out with her cousin from Florida who was in town. She was a Beachbody Coach, and we talked for a minute, and in those 60 seconds, she had me in tears. She had pulled out my "Why," and I was amazed. She changed my life in that moment. We went on to work out to 21 Day Fix (remember the flight of stairs). Yes, I was again feeling death coming on, but that single workout changed my mindset and life. The icing on the cake was they also introduced me to Shakeology.
What is the greatest challenge you faced before beginning the program? How did the program and Beachbody® help you overcome that challenge?
My biggest challenge before starting the program was eating. Throughout my life, I picked up very poor eating habits. I was no longer eating to live but living to eat. Fast forward to Beachbody. . . I incorporated Shakeology into my diet. Shakeology helped with my sweets cravings. I started to see and feel results, and I was addicted.2
What in particular did you like about the program you chose?
I started with Focus T25 and liked that it was only 25 minutes and it went by pretty fast (some days). I completed the Alpha phase and was still struggling with my diet. I purchased 21 Day Fix, as I thought it would help with my eating, and I was right! The meal plan and portions worked for me. The only thing was, I was missing Shaun T. So I decided to go back to where I was comfortable and "Focus on T25." I just think Shaun T and I have a bond for life!
Describe the results you achieved with your Beachbody program. Which achievements are you proud of?
I feel good about myself. I enjoy being able to poke my chest out and say "I completed Focus T25!" I am proud of my body and overall health. I am proud that because I took this leap of faith, I am now in a position to help others. I still can't believe that I went from not being able to walk five flights of stairs to completing 10 weeks of T25. I have not seen my stomach this flat in years!
How has your life changed since completing your Beachbody program?
My life has changed tremendously. I am dealing with stress differently. I'm happier. I enjoy getting up every day and working out. I enjoy the encouragement and motivation from others via social media who push me to continue my journey. I love that I can look at my family and say, "Yes, I am breaking the cycle of obesity, high blood pressure, and unhealthy lifestyle." I can grab them by the hands and say,"I'm not doing this alone. I'm taking you with me." My life has changed because I feel like I am living the life I was meant to live.
How did participating in a Challenge Group help you reach your goals? How did your group support you and keep you accountable?
The Challenge Group placed me with like-minded people. I was with a group that had the same struggles as I did. Who, no matter what, continued to motivate others. The support from the Challenge Groups are just amazing. I was new to this world, and I must say it welcomed me with open arms. I can still remember I was struggling with drinking more water. I posted in the challenge group, and the support, suggestions, and motivation was great. I do not think I would be here today had it not been for the Challenge Group/social media. They keep you focused and accountable.
How did your Team Beachbody® Coach support you on your journey?
My Team Beachbody Coach(es) were the reason for my journey. It was more about love than support. They loved me enough to push me and never allow me to give up. They were able to see something in me that took me months to see. I am forever grateful to my Coaches Yocasta and Lina. The great thing is they are going through the journey with you. They are at different points but in the same fight. I could not have done this alone.
How did a Beachbody Supplement or Nutritional Product or Program (such as Shakeology® or Beachbody Ultimate Reset®) support your transformation? What are the greatest benefits you gained? Did you see benefits to your energy, sleep, mood/mental clarity, digestion/regularity?
Shakeology did not just save me money on meals, it saved me money on doctor's visits and testing.2 Something I thought was "too expensive" I can not see my life without. People wonder why I am so passionate about it, but it's well worth every penny. I also tried the 3-Day Refresh. I was feeling a bit sluggish as "life happens" and it happened to me. So I decided to give it a try. I lost 3 pounds and I looked an felt truly amazing. I had so much energy and clarity.2 I think I had the best sleep of my life during those three days. Another thing my body was thanking me for. It also showed me how much food I was consuming verses how much I really need. Again, eating to live vs. living to eat.
2These statements have not been evaluated by the Food and Drug Administration. This product is not intended to diagnose, treat, cure, or prevent any disease.
You can change your life too. Take the Beachbody Challenge for the tools you need to Decide, Commit, and Succeed. Complete any Beachbody program, and enter your results for a free shirt and a chance to win cash & prizes.