The Benefits of Body Beast for Women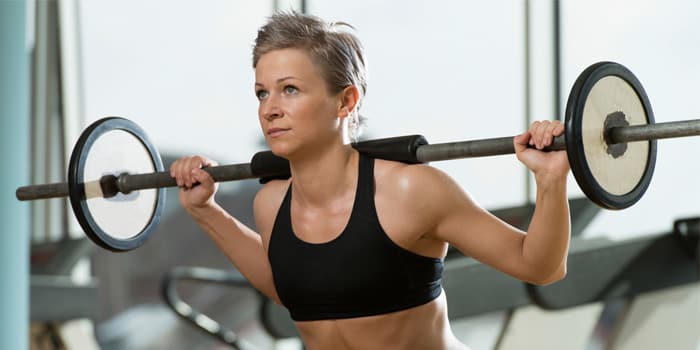 As a former female bodybuilder, I've always loved the weight room. It's my sanctuary—my place to strengthen and build the muscular temple of my dreams. Getting physically stronger makes me mentally stronger—and the aesthetic benefits aren't too shabby either.
But the thought of having a "bodybuilder" physique, complete with massive biceps and bulky thighs, sends many women running straight for the elliptical, which is sad considering how beneficial a proper lifting regime can be. In this article, I'll address the concerns you might have about weight lifting and help you answer whether or not Body Beast is the right program for you.
Q. Can women do Body Beast?
A. Absolutely. Body Beast is designed to promote muscle growth with limited cardio. That doesn't mean you won't burn calories or reduce your body fat. The program uses a technique called Dynamic Set Training™ that maximizes your muscular pump, caloric burn, and testosterone-filled hormonal cascades in order to create rapid changes in your body composition, whether you are male or female.
Q. How does a woman benefit from weight lifting?
A. As you age, you lose muscle mass. Through weight lifting, you can help offset this and increase your bone density. Women who lift weights during their teen and young adult years benefit as adults. Stronger muscles and denser bones make walking up stairs, carrying the groceries, and lifting your children easier. But that's not all. When you weight train properly, you can improve your balance and build muscles that protect your joints, which helps ward off injury.
Weight training also has a positive effect on disease control and prevention. According to the American College of Sports Medicine and the American Diabetes Association, people with diabetes can experience "improved insulin sensitivity, improved glucose tolerance… and a lower risk for heart disease." To see results, they recommend strength training at least two to 3 times a week.
Q. Will I become huge and burly?
A. No. Women simply don't have enough testosterone to build bulk like men do. If you're worried about bulking, focus on how many calories you're eating. That includes calories from protein. Contrary to another fitness myth, excess dietary protein is stored as fat. Unless you're supplementing your diet with a testosterone-enhancing hormone cocktail and overeating, it's almost impossible for a woman to get bulky.
Q. Can I use it as a weight loss program?
A. While BB is structured to help you gain lean muscle, whether this means that you ultimately gain or lose weight is reflected in your diet. Increased muscle mass speeds up your metabolism. If you don't overeat you'll burn body fat like butter. If you want to get huge, you'll need to eat and eat to support your new muscle. The Book of Beast shows how to do both.
Q. What is the difference between the Huge and the Lean Beast?
A. There are two different Beast training schedules: Huge and Lean, both of which come in the Body Beast kit. If you are solely focused on getting big, follow the Huge Beast schedule. It focuses on building muscle with heavy weights and little cardio. If you choose the Lean Beast schedule, you'll do more cardio and spend additional time shredding in the third phase of the program, the Beast phase.
Q. Why would a women need testosterone?
A. A woman's body produces testosterone, just not at the level of a man's. Testosterone strengthens the libido, provides a sense of well-being, and improves muscle tone. The training in Body Beast increases your testosterone levels so that you benefit from all of the above. Beachbody does not recommend taking synthetic forms of testosterone as these can shut down your natural testosterone production.
Q. Do I have to eat all that food?
A. If you don't want to gain mass, use a caloric calculator from a different Beachbody program: P90X, P90X2, INSANITY, THE ASYLUM, TurboFire, etc. After you've calculated your caloric content, use the portions and recipes in the Body Beast guidebook. The Beachbody Extreme nutritional supplements will also work in your favor as long as you time them correctly (see the answer to the next question). If you're looking to be a Huge Beast, stick with the Body Beast guidebook and supplements. Some women want to gain as much mass as possible, and the crux of becoming an Amazon is eating enough.
When I was bodybuilding, I wanted to add muscle to all areas of my body. I did, but I also found that I was dropping clothing sizes as I trained. My plan was similar to the Beast plan in that I ate multiple times of day and my meals were composed of complex carbohydrates, protein, and vegetables. The Beast supplements were not around when I was bodybuilding, but I did supplement with protein bars and protein shakes to help my muscles grow.
Q. Do I have to take supplements? Will they make me too big?
A. If you want to gain muscle and get big, it helps to add a little something extra to your diet. Body Beast offers four supplements to help boost your performance, your recovery, and your results: Fuel Shot, Hardcore Base Shake, M.A.X. Creatine, and Super Suma. They can work for women as well as men.
Fuel Shot and Hardcore Base Shake contain a mixture of protein and electrolytes as well as carbohydrates to restore glycogen. If you are following a nutrition guide from another program, you probably won't need to supplement with these unless you're trying to gain mass or you're a vegetarian. In the case of the latter, I recommend supplementing with Hardcore Base Shake protein to ensure you're getting enough protein.
M.A.X. Creatine isn't necessary for women looking to lose weight, but it is a great supplement if you want to increase your strength gains for short burst and explosive activities. When I've supplemented with creatine in the past, I've bloated a bit. This is a common side effect. If you're not comfortable with the extra bloat, cut back on the supplement.
Suma, also known as Brazilian ginseng, is an adaptogen that, according to the Tropical Plant Database, "increases the body's resistance to adverse influences." It also normalizes the cardiovascular system, the central nervous system, and acts as an immunostimulant. If you're a competitive athlete, suma may be on your banned substance list, so please check with your governing body before taking this supplement. Otherwise, it is completely healthy for both men and women to take.
While not all women will be interested in Body Beast, if done correctly, it can add effectiveness to almost any exercise program. But if you're someone who has always envied Xena's physique, Body Beast might just be the program to release your inner warrior princess.