Michael M. Lost 62 Pounds in 18 Months
If anyone can speak to the real-world results that are possible with proper nutrition, exercise, and support, it's Michael.
With the help of his Team Beachbody Coach (wife Kimberley!), a Challenge Group, the 2B Mindset nutrition program, Shakeology, Beachbody Performance supplements, BEACHBARs, LIIFT4, and 6 Weeks of THE WORK, Michael absolutely crushed his goals.
Read on to learn more about his journey, in his own words:
Michael's Life, Before
Before starting with Beachbody, I was tired. I was sick, and I was sick and tired of being tired. I had zero energy to help my wife with our four kids.
But in May 2018 — without my knowledge! — my wife Kim put me on 2B Mindset. Within a few weeks, and without knowing I was following a program, I lost about 21 pounds!
It inspired me to try LIIFT4 and I continued with 2B Mindset and haven't looked back!
Michael's Transformation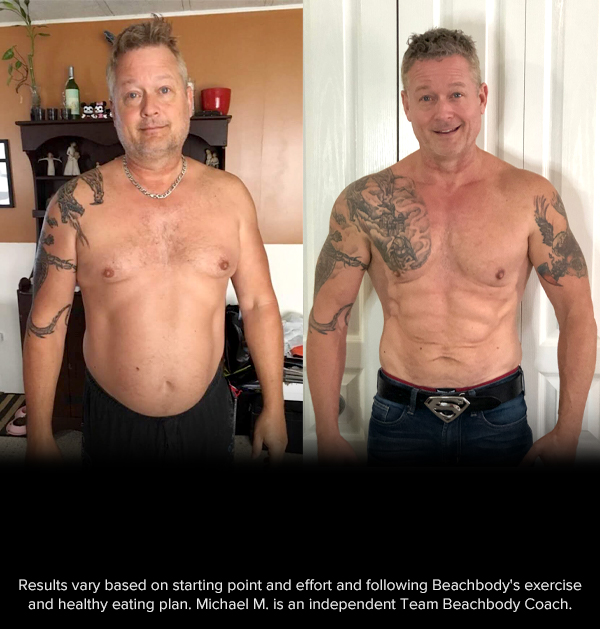 Wowza, I have ABS! Abs like when I was 18! I'm 56 years old and have never looked or felt better.
I'm stronger, fitter, I have muscle definition, and I can touch my toes! I used to have to roll around on the bed to try and get my socks on.
2B Mindset has been a game-changer for me. I could go back for seconds, I was not starving, and I was still enjoying a beer when I mowed the lawn or a glass of wine here and there. I didn't feel deprived.
BEACHBARS and Shakeology are my daily go-to snack for when I'm craving something sweet and absolutely help me stay on track with the 2B Mindset principals.
With LIIFT4, I really felt like I was getting an amazing workout. The fact that the workouts never repeat is fantastic as well. I never got bored.
I really liked the burn I got from 6 Weeks of the WORK — I sweat with this program like no other! I liked how I was able to push myself and see improvements week to week and see my strength improve.
I love the Challenge groups. I find checking in once a day very motivating and keeps me on track.
My group 100% kept me accountable. I logged my workout and shakes and encouraged others while they encouraged me as well.
Michael's Life, After
I have energy, I sleep well, I'm calm, I'm happy and I'm really enjoying life.
I know my kids are proud of me. Beachbody has given me my life back; I can't even put it into words. I've spent the past 1.5 years transforming, both inside and out.
It's been quite the journey and it's only just begun. Today I am happier, healthier, fitter, and more at peace than I ever been, all because of this journey.