Meet the Beachbody Challenge Winners of 2021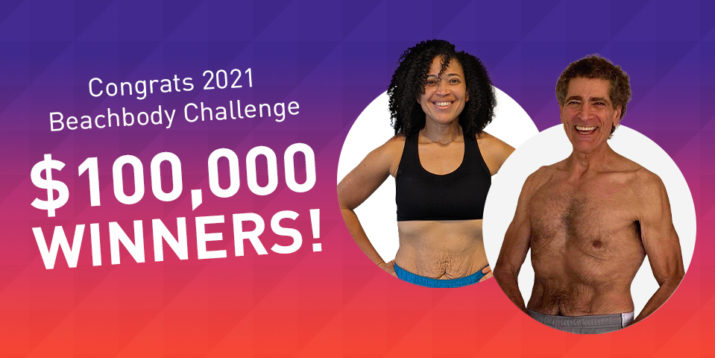 Meet the grand prize winners of the 2021 Beachbody Challenge contest: Adrienne Moses and Frank Del Pizzo!
These well-deserving winners receive $100,000 each and the title of "Grand Prize Champion."
With hard work, support from the Beachbody community, and lots of grit, Adrienne and Frank began a new chapter in their lives in which they are thriving — physically and emotionally.
Read on and get inspired!
Beachbody Challenge Grand Prize Champions
Adrienne Lost 96 Pounds in 16 Months†
Adrienne achieved her amazing results with Portion Fix, Shakeology, Beachbody Performance Energize, Recharge, and completing 21 Day Fix, Core De Force, Morning Meltdown 100, 6 Weeks of THE WORK, and other programs on Beachbody On Demand.
"The accessibility and affordability of these programs are what I love most. I also appreciate the flexibility in the nutrition plan. These things made it easier for me to incorporate health and fitness into my busy life as a stay-at-home mom of two.
Getting to the gym is not even an option for me. I like that I can hit play at any time and anywhere. With the forever-changing schedules of my little ones, I need something that is flexible, and Beachbody On Demand programs are that for me!
Now I have the energy and the physical mobility to do whatever my heart desires. What I love most is being able to run and play with my daughters without getting winded or feeling my joints ache. I feel more alert and focused.
Being connected with my Beachbody community has helped me stay mentally strong and has given me a place to connect with others.
This has been so important in helping with my mental and emotional health while postpartum, and I truly have Beachbody programs and my Fit Club to thank for that.
Being able to take care of myself physically has overwhelmingly poured over into my ability to take care of myself emotionally and mentally."
Read more about Adrienne's amazing story.
Frank Lost 93 Pounds in 10 Months†
Frank achieved his fitness and health goals with Portion Fix, Shakeology, Beachbody Performance Energize, Hydrate, Recharge, and completing 10 Rounds, INSANITY MAX:30, #mbf Muscle Burns Fat and #mbfa Muscle Burns Fat Advanced, and 9 Week Control Freak.
"On March 12, 2020, Covid-19 locked down the country and my business. I felt it was time to make a change.
I was 293 pounds, in pain from my back and knees, depressed, and could not stay awake. I had very low self-esteem, and my confidence level was to a very low point.
I was ashamed of how heavy I had gotten.
But I now have a physique! I am 57 years old and never thought that this could be possible for me. I stand taller. My shoulders are no longer hunched over. I am able to go up stairs without losing my breath.
I am in a much better state of mind. I have my health back. I am so thankful for that.
The thing that I am most proud of is becoming a Coach and I have had lots of people join me to start their fitness journey. I took my journey and am now changing other lives.
Thank you, Beachbody, for changing my life. I feel confident and comfortable in my own skin. For the first time in my life!"
Read more about Frank's amazing story.
†Results vary based on starting point and effort and following Beachbody's exercise and healthy eating plan. The winners featured are independent Team Beachbody Coaches.