Adrienne M. Lost 96 Pounds in 16 Months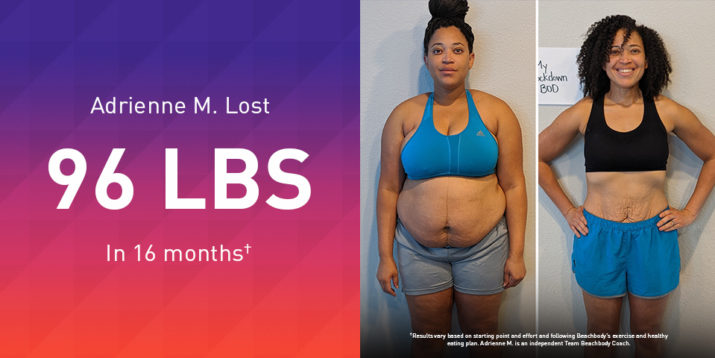 After the birth of her first daughter, Adrienne got healthy and fit with the help of Shakeology and Beachbody On Demand programs.
Fast-forward to pregnancy #2, during which she gained 80 pounds.
After giving birth to a second daughter, Adrienne knew she had the tools to get great results — again.
This time around, not only did Adrienne crush her goals, she won the 2021 Beachbody Challenge and picked up a cool $100,000!
Read more about her inspiring journey.
Adrienne's Life, Before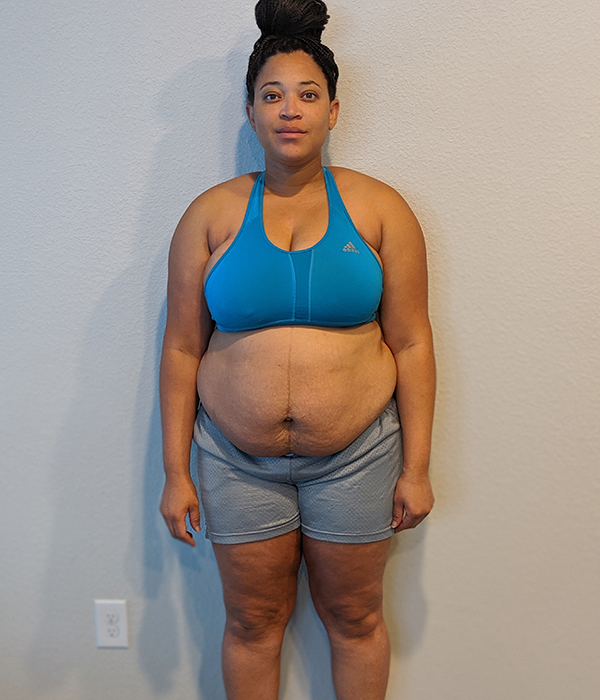 "Given my experience losing weight after my first pregnancy, it was pretty much a no-brainer that I would embark on my postpartum weight-loss journey using [Beachbody] programs again after I had my second daughter in October 2019.
I had gained over 80 pounds during both pregnancies. I achieved my goals the first go around using Beachbody.
I knew I could do it again with this last pregnancy.
While I know that my worth is not in my appearance, I was eager to invest in myself through the time and effort that it would take to lose the weight to get fit and to get healthy.
Another reason I was eager to get back on my fitness journey was because of how much it helped me to fight postpartum anxiety and depression after my first daughter.
Getting connected with the Beachbody programs and community saved me after my first baby, so I knew I needed to plug in immediately for my mental & emotional health!"
Adrienne's Transformation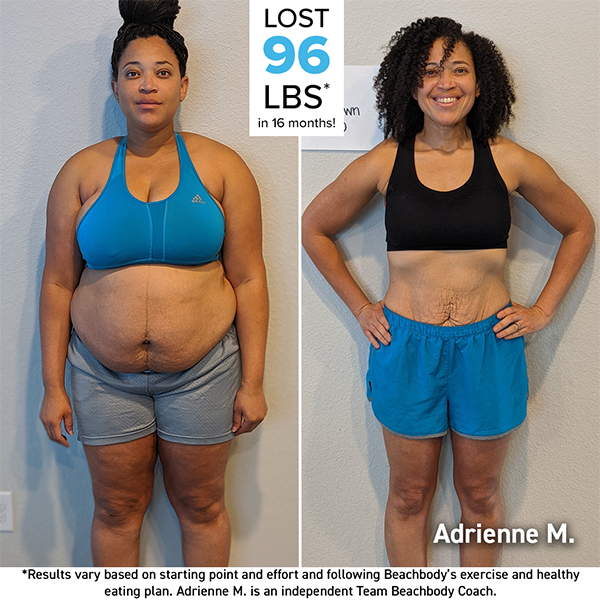 "I was determined to prove to myself that I could reach the physique I wanted as well as become healthier and more fit. I knew it'd be a struggle now with a baby and a toddler, but I was also very confident I had the right resources with my Beachbody workouts and nutritionals.
The accessibility and affordability of these programs are what I love most. I also appreciate the flexibility in the nutrition plan.
These things made it easier for me to incorporate health and fitness into my busy life as a stay-at-home mom of two. Getting to the gym is not even an option for me. I like that I can hit play at any time, anywhere.
I have more energy as I am losing weight and feeling stronger in my workouts. I'm also seeing some muscle definition and getting toned ALL OVER! I am stronger and lifting heavy weights.
Everything is slimmer — waist, hips, thighs, arms, face. I can fit clothes that I was wearing before I got pregnant!"
Adrienne's Life, After
"With losing the weight, I have the energy and the physical mobility to do whatever my heart desires. What I love most is being able to run and play with my daughters without getting winded or feeling my joints ache. I feel more alert and focused.
Being connected with my Beachbody community has helped me stay mentally strong and has given me a place to connect with, which I didn't really have right after my first daughter.
This has been so important in helping with my mental and emotional health while postpartum, and I truly have Beachbody programs and my Fit Club to thank for that.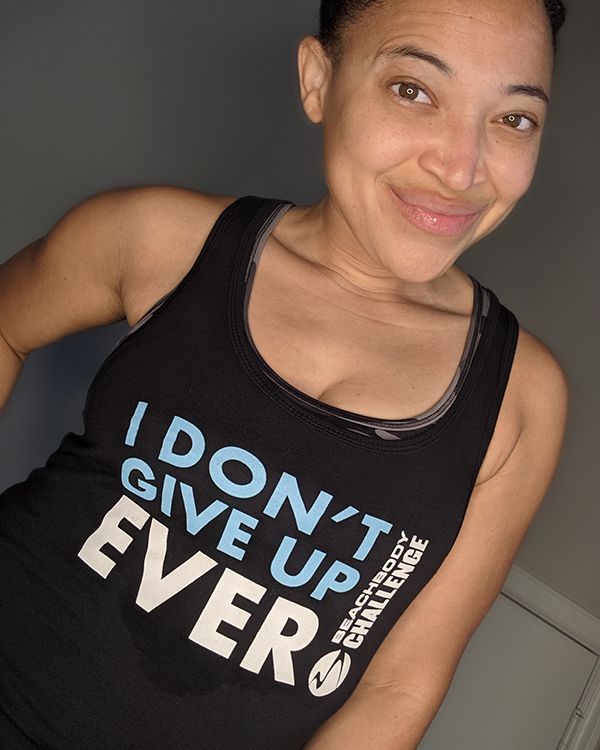 While the past year has certainly brought on its challenges: Learning how to be a mom of two; dusting off my old teaching skills to homeschool my eldest daughter; and striving to thrive in the midst of a pandemic; one thing that has been consistent for me is my health and fitness journey.
When so much around me felt chaotic and unpredictable, I have been able to commit to my home workouts (usually with the little ones climbing on or in between my legs) and to my nutrition.
I am most proud of my ability to commit to my health and that because of that commitment, I have been able to be an example to my girls and even to my husband.
I've completed several programs from start to finish since having my daughter; I'm at my lowest weight even before having babies. I honestly don't think I've weighed this much since I was in college over 10 years ago!
However, the greatest part of this transformation has been how great I've felt internally.
Being able to take care of myself physically has overwhelmingly poured over into my ability to take care of myself emotionally and mentally."
*Results vary based on starting point and effort and following Beachbody's exercise and healthy eating plan. Adrienne M. is an independent Team Beachbody Coach.