See the 21 Day Fix EXTREME Results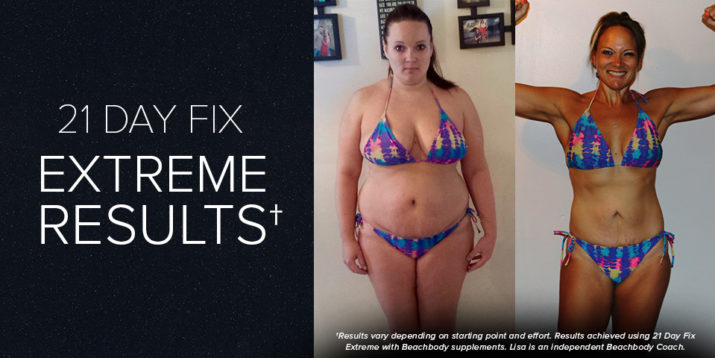 If you've already crushed 21 Day Fix — or any other Beachbody On Demand program — and you're looking for your next challenge, here it is: 21 Day Fix EXTREME.
Autumn dials up the intensity in the workouts in this program to help you get to the next level in your fitness and nutrition game.
To make sure you're getting the most out of her programs, check out Autumn's nutrition program, Ultimate Portion Fix.
The program includes 30 videos that feature in-depth discussions about portion control and healthy eating principles. You'll also get access to updated 21 Day Fix and 21 Day Fix EXTREME workouts.
In the meantime, see the incredible results people have experienced with 21 Day Fix EXTREME!
Pro tip: These results are from the original 21 Day Fix EXTREME workouts; learn more here about the real-time reshoots of 21 Day Fix and 21 Day Fix EXTREME workouts.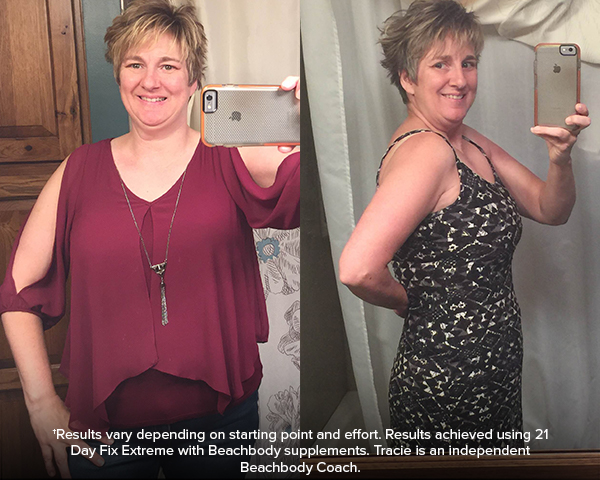 Tracie B. Lost 17 Pounds and 12 Inches in 11 Weeks
"I got amazing results with 21 Day Fix EXTREME! I saw the results in my midsection, back, and face and the mobility in my legs and hips was great.
I can definitely tell a difference if I have not had my Shakeology for the day, and then I go make one, and it's like instant satisfaction.
The portion-control containers are part of my everyday life; whether I'm on vacation or eating out, I am mentally tallying the containers.
I am definitely a different person than I was all those years ago. I'm more confident, more focused on what I want in life, and the most important part is, I have learned to love myself for who I am, and I am so proud of the person I am today, and it's all thanks to a 30-minute program."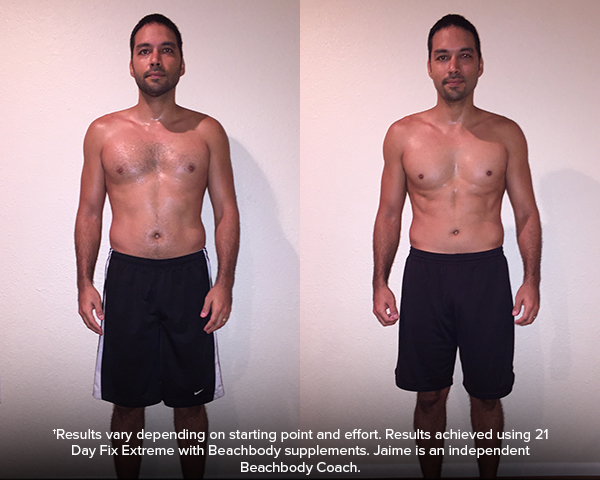 Jaime B. Lost 10.2 Pounds in 21 Days
"I was curious to see if this workout would really give me great results in such a short period of time.
But my ultimate goal was to get my nutrition on point. That's where the real struggle is. The containers are part of my lifestyle now. For me, it is about portion control.
I have never done a workout with a female trainer before; I was doubtful that I, a male, could really get great results.
Boy, was I wrong. I like that Autumn is a no-B.S. kind of girl. She tells it like it is and pushes you to complete the round.
I also love that my children see their mother and I setting goals to be better each day. They see us struggle with the workouts, but they never see us give up."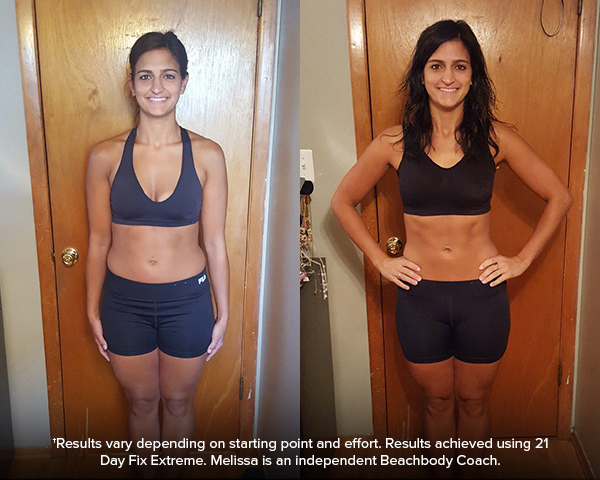 Melissa F. Lost 5 Pounds and 6.5 Inches in 21 Days
"Honestly, I didn't lose that many pounds or inches, but when I looked at my before and after pictures, I was stunned by the difference that happened in just 21 days.
I couldn't believe that was my body. I also loved the look of shock on other people's faces when I showed them my side-by-side before and after and told them that I did that in just 21 days!
However, my favorite results were the ones that happened on the inside. I feel much happier and more confident. I stopped being so hard on myself and learned to love myself. The happiness itself was worth every minute.
Autumn is my hero. She makes healthy food taste good and she makes workouts fun. She encourages you throughout the workouts and she changes things up so that you never get bored.
There are always options that you can take and new ways to push yourself.  It is so inspiring to see the difference that one woman made. Autumn changed my life."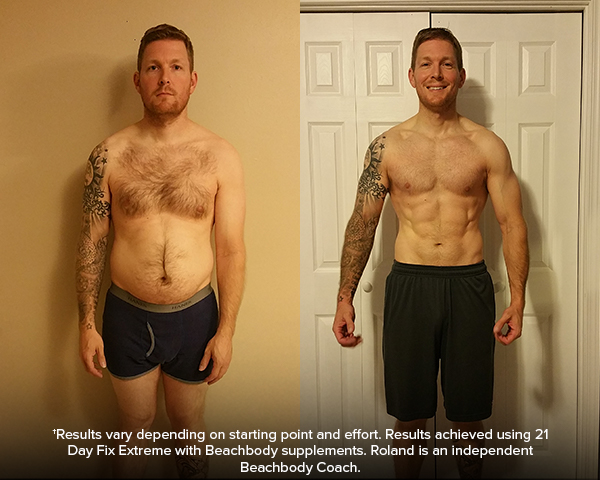 Roland H. Lost 30 Pounds and 4 Inches in 21 Days
"My goal was to lose 10 pounds and tone my body. I never expected to see the results I attained.
I thought I was in good shape before starting 21 Day Fix EXTREME. After doing the first week of exercises, I quickly realized how wrong I was about my fitness level and eating habits.
I saw huge results: increased energy, increased self-esteem. I was able to see muscles I couldn't see before, like my abs and shoulders. I had to buy smaller clothes and put a few extra notches in my belt!
The more results I saw, the more I wanted to work harder and it was extremely motivating."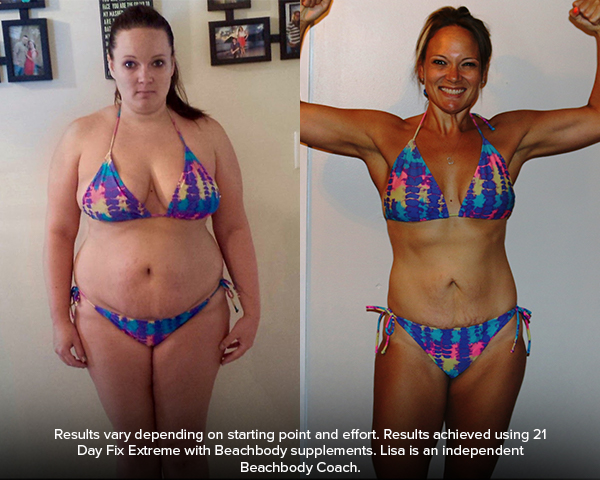 Lisa H. Lost 39.5 Pounds and 33.5 Inches in 9 Months
"My goal was to lose some of the 50 pounds I had gained during my pregnancy.
Instead of losing weight postpartum, I started to GAIN more. I wasn't able to even lift my son out of the bathtub without holding onto something.
Even when I thought I was eating healthy, I soon learned that I wasn't. The portion-control containers were a huge game-changer for me.
The beginning was TOUGH. I was out of shape and embarrassed at the way I looked.
But I started to notice small changes every week. More clothes were starting to fit and I was becoming more confident. I soon needed all new bras and workout pants!
The workouts were perfect to do at home, while my son slept soundly in his crib. I didn't have to find a babysitter and drive to a gym.
I like the combination of all types of workouts. I also found 21 Day Fix EXTREME very motivational and loved that there was a modifier to follow during the very tough times in the beginning.
I loved working out with Autumn! I think I have every motivational quote she uses during the workouts memorized. It was easy to relate to her, being a mom herself. She helped me throw all of my excuses out the window.
My goal was to get back to my pre-pregnancy weight —  I surpassed that goal and lost an extra 10 pounds!"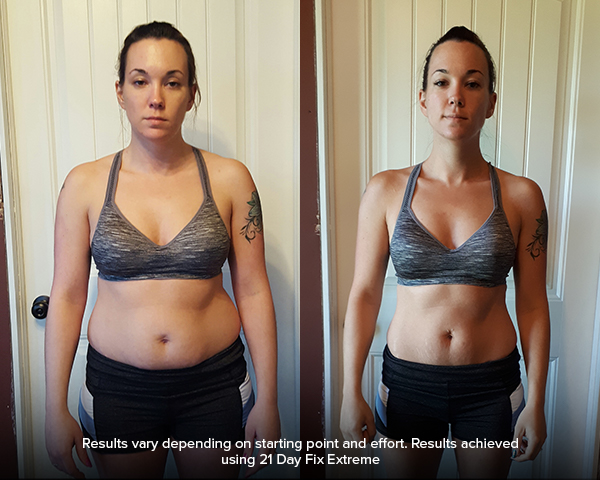 Tosha M. Lost 13.5 Pounds and 13 Inches in 2 Months
"I am so happy with how far I have come. I didn't notice how much I have changed until I looked at my before and after pictures just after one week!!
I feel great! No more late-night eating and no more feeling starving as soon as I wake up in the mornings.
I love how even though you're not in a class, Autumn really makes you push yourself. The workouts can be hard but there is always a modifier and the time goes by so fast!
It is true about what they say; it's not a diet, it's a lifestyle change."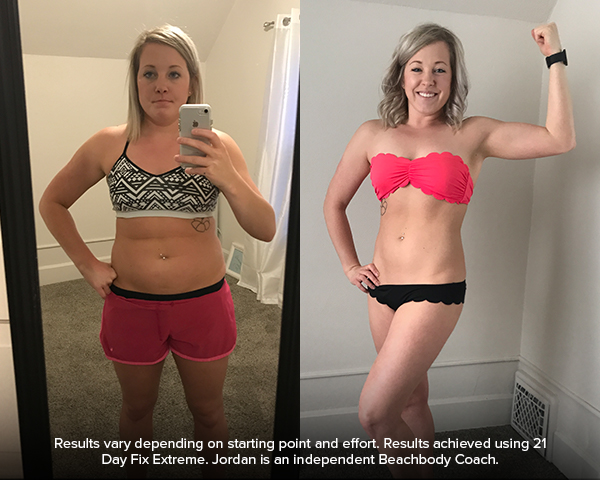 Jordan R. Lost 16 Pounds and 4 Inches in 3 Months
"I felt stagnant, uncomfortable in my body, and lacking in confidence. My initial goal was to lose weight. I wanted my clothes to be comfortable.
I have the biggest sweet tooth and whenever I start to crave cake, donuts, or chocolate, I have a Shakeology and it kicks those cravings right away!*
I love Autumn's style, enthusiasm, and motivation. It's like she's in my home watching me, because when I want to stop, she tells me to keep going!
Now I feel energized, light, and confident! It was like the weight had been holding me down and now it's gone."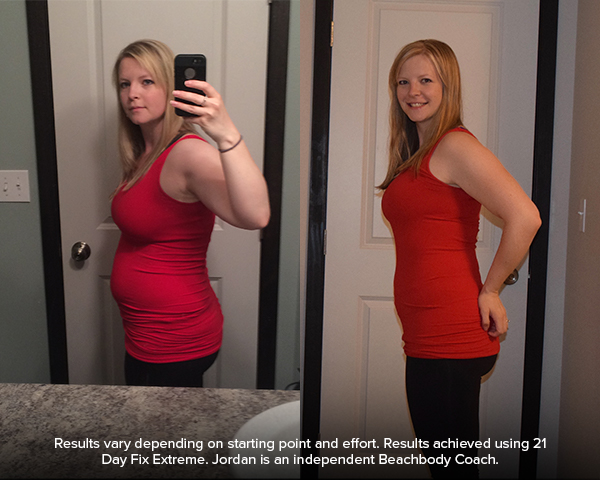 Brooke S. Lost 12.8 Pounds and 7.5 Inches in 21 Days†
"I completed a round of 21 Day Fix but decided I needed something new to motivate me to push even harder. That's why I chose 21 Day Fix EXTREME.
The eating guide and the knowledge I gained from these programs is what helped me get such amazing results.
And the results weren't just in the numbers. The number on the scale went down and that was good to see. My inches went down and it felt good to drop a pant size.
The real results were in how I felt about myself. I gained my confidence back! I felt more comfortable in my clothes and in everything that I did. Almost three of the inches I lost were in the belly area, the most self-conscious area on my body.
I feel strong again and confident in who I am. I feel beautiful — not that I wasn't when I was chubbier, but I didn't feel like I was — and free from that weight that was holding me down.
The fact that in 21 days I was able to get my fitness back on track and then continue to keep going toward my ultimate goal of reaching my pre-pregnancy weight after the program is amazing!"
*These statements have not been evaluated by the Food and Drug Administration. This product is not intended to diagnose, treat, cure, or prevent any disease.