20 Cosas Que No Sabías Sobre Amoila Cesar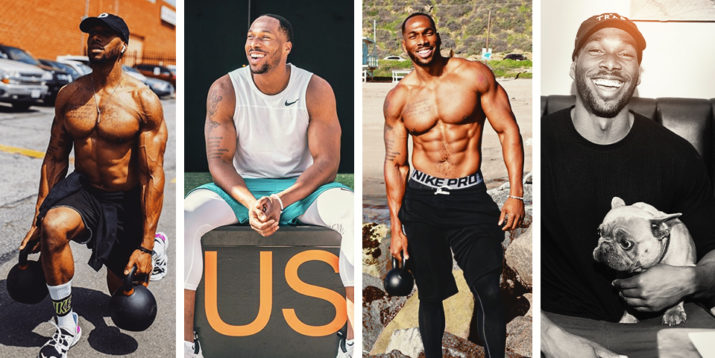 Amoila Cesar es uno de los especialistas en fuerza y transformación corporal más reconocidos entre los deportistas profesionales y las celebridades… y ahora te tiene a TI en la mira con su nuevo programa de Beachbody, 6 Weeks of THE WORK.
Amoila es conocido por su estilo rudo y firme, pero estás a punto de descubrir el lado más tierno del nuevo superentrenador de Beachbody. ¡Sigue leyendo!
Lo que no sabes sobre mí… por Amoila Cesar
1. Mi comida favorita: me encanta todo. Pero, si tuviera que elegir, diría que mi favorita es la cocina mediterránea.
2. La comida que menos me gusta: no me gustan los mariscos.
3. Mi plato ideal: ¡panqueques proteicos con helado de Halo Top!
4. Qué me motiva cuando no siento ganas de hacer ejercicio o de comer sano: me motivan mis hábitos de alimentación. Si no hago ejercicio, probablemente tenga un mal día. También me motiva ser el mejor.
5. Mis placeres culposos: la pizza y la pasta.
6. Cosas en las que soy muy bueno: entrenar y hacer ejercicio. También me encanta conversar y jugar al básquetbol.
7. Cosas en las que soy muy malo: béisbol y golf.
8. Cómo despejo la mente después de un día terrible: voy al gimnasio o a la playa.
8. La canción (o el tipo de música) que siempre me pone de buen humor: me encantan el hip hop y el R&B.
10. El talento que más me gustaría tener: me gustaría saber cantar.
11. A quién admiro y por qué: soy un gran fanático de Will Smith. Me encanta su trabajo y tenemos muchas cosas en común.
12. Las cualidades que más admiro en una persona: la honestidad y la autenticidad. Me encanta cuando las personas se muestran realmente como son.
13. Lo que más valoro de mis amigos: que seamos honestos, que nos motivemos y que nos apoyemos entre todos.
14. Tres cualidades que me trajeron adonde estoy ahora: diría que mis conocimientos y las ganas de seguir aprendiendo, la dedicación que pongo en mi trabajo y mi humor carismático.
15. El cambio que me gustaría ver en mi sector: me gustaría ver que más profesionales del fitness enseñaran a adoptar la mentalidad adecuada en lugar de compartir modas pasajeras y enfoques incompletos. También me gustaría ver que más profesionales del fitness trabajaran juntos para inspirar a las comunidades a moverse y transformarse, y para educar correctamente a las personas con respecto a la alimentación.
16. El mejor consejo que me han dado: ¡sé tu mismo! Fracasa pronto, fracasa seguido, y sigue avanzando. Aprende siempre de tus errores, sigue practicando y crece con cada experiencia.
17. El mejor consejo que podría dar: confía más en lo que sientes y menos en lo que dicen los demás. No tengas miedo de perseguir tus sueños.
18. Mi mayor logro: cuando mi mamá me dijo que está muy orgullosa del hombre en que me convertí. También estar en la televisión y volverme un entrenador famoso.
19. Mi día ideal: hacer senderismo en un lugar precioso, almorzar en la playa, salir a cenar e ir al cine. Sencillo pero perfecto.
20. ¿Qué aspecto tuyo sorprendería a la mayoría de las personas? creo que la mayoría de las personas no se imaginarían que sé tocar la viola. Empecé cuando estaba en la escuela primaria y seguí tocándola hasta el primer año de universidad. Tengo conocimientos de música clásica y toda mi educación fue en escuelas de arte. Hice la primaria en UB Kinsey Elementary, luego asistí a Bak Middle School of the Arts y terminé en la secundaria Dreyfoos School of the Arts.