They Achieved Their Goals and Won $100,000!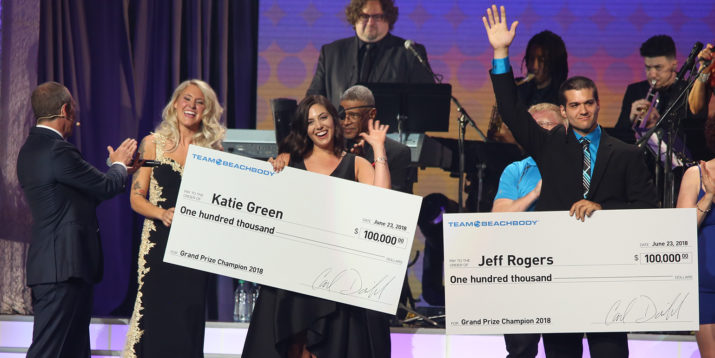 Meet the Grand Prize Champions of the Beachbody Challenge 2017–2018!
They achieved the most inspirational health and fitness transformations of the year with Beachbody's proven system of fitness, nutrition, and support, and your votes helped them win more than $100,000 each!
Indianapolis, Indiana (June 23rd, 2018) – The annual Grand Prize Champions of the Beachbody Challenge were announced this weekend in Indianapolis, live on stage at Lucas Oil Stadium. The $100,000 winners are Katie Green, age 25 from Sharpsburg, GA, and Jeff Rogers, age 29 from Medina, OH.
"The Beachbody Challenge helps inspire people to take charge of their lives with a proven system of world-class fitness programs, nutrition plans, and peer support to help them achieve their goals, and it offers rewards for meeting those goals and participating," said Jon Congdon, co-founder, President, and Chief Marketing Officer of Beachbody. "It's exciting to see people who change their lives and achieve awesome transformations with Beachbody programs. Katie and Jeff are two great examples of that journey!" See their stories…
---
Katie Green lost 115 pounds in 10 months and won $100,000!

Results vary based on effort and following Beachbody's healthy eating plan.
Katie Green started this journey at a whopping 276 pounds, and she was on the verge of developing type 2 diabetes. Her inspiration to get started ultimately came from her desire to have kids and become a mom.
"My husband and I were ready to start a family," says Green, "and I knew that being extremely overweight would put me at high risk for many complications during pregnancy. I needed to get a grasp on my weight and become healthier before trying to conceive."
Her first step was reaching out to her Team Beachbody Coach, who set her up with a proven program for beginners, 21 Day Fix, which includes workouts you can do at home and a simple, portion-controlled nutrition plan.
"The first few weeks were the hardest, because I was sore and hurting all over," says Green. "As I pushed through each and every workout I found myself getting stronger, and the accountability of my Beachbody Challenge groups really helped me to overcome my obstacles. My Coach and fellow challengers motivated me and cheered me on throughout the entire length of the challenge. They taught me that it was okay to slip up, but instead of allowing it to defeat me, I had to get up and keep moving on."
After completing several rounds of 21 Day Fix, and witnessing the results on the scale and in her energy levels, Katie advanced to a variety of other programs on Beachbody On Demand. After 10 months of hard work and dedication to her healthy new lifestyle, Katie lost a total of 115 pounds and 8 dress sizes!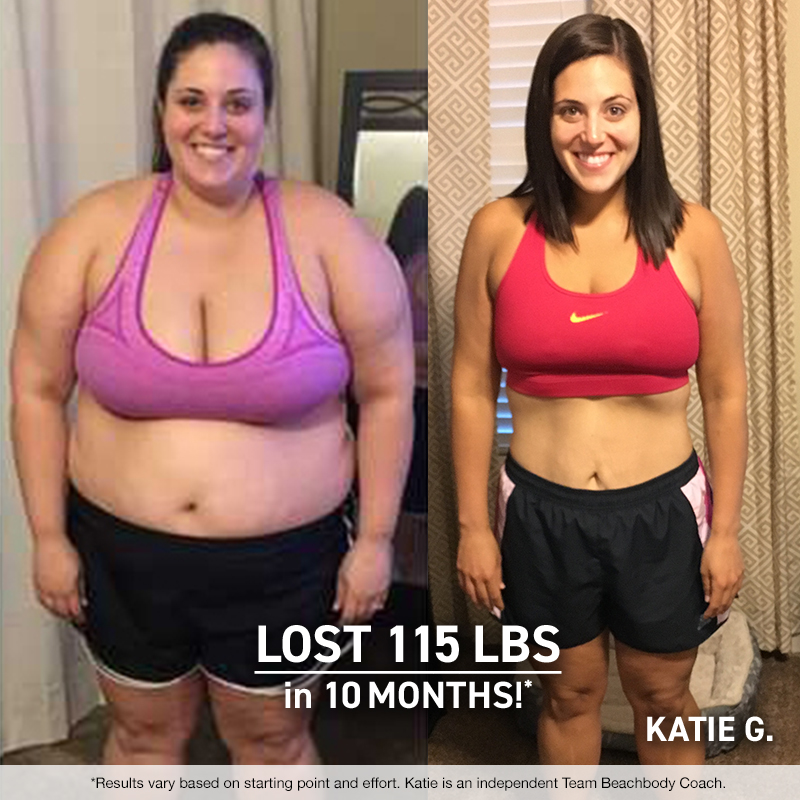 "Beachbody has helped me to lose 115 lbs., and I could not be happier. I love what I see when I look in the mirror and no longer hate shopping for clothes! I am so proud to say that I am no longer at risk for diabetes, and my doctor states that I am overall very healthy and cleared to begin trying to conceive a child, which was my original motivating factor. I am excited to continue this lifestyle and maintain it through pregnancy and beyond. I would like to be a healthy role model for my future children so that they do not have to face the same struggles that I did."
---
Jeff Rogers lost 185 pounds in 13 months and won $100,000!

Results vary based on effort and following Beachbody's healthy eating plan.
When Jeff Rogers started this transformation journey, he was morbidly obese, tipping the scale at 380 pounds. His inspiration to get started was his two kids. He wanted to be a good role model for them and a more active participant in their lives. "I was tired of being a 'sideline dad,'" says Rogers. "I decided I was going to stop choosing to be morbidly obese. I decided that, no matter what it took, I was going to give it my all and change my life."
But, he admits that he was a total novice when it comes to exercise. He wouldn't have known where to start, he says, if it weren't for an old set of workout DVDs that had been collecting dust in his closet for years. That program was none other than P90X, famous for its muscle-confusing variety of extreme, in-home workouts combined with a detailed but flexible nutrition plan.
"I couldn't even do a single push-up when I started P90X," says Rogers, "but, I was comforted by Tony [Horton] many times, because he would constantly say 'just do your best, and forget the rest.' So, that's what I told myself… The workouts are strenuous, but they are made so all levels of users will achieve great results!"
After 9 months of P90X (completing the program 3 times), Jeff had lost an astonishing 155 pounds! But he didn't stop there. He doubled down on his effort by connecting with a Team Beachbody Coach, who plugged him into a community of support, Shakeology, and a variety of new programs to choose from on Beachbody On Demand. Overall, in 13 months, Jeff lost a total of 185 pounds and almost 20 inches off his waist!
"My quality of life has just skyrocketed! I'm overall a happier person. I can finally say I'm being a good role model for my children. I'm showing them an example of what happens when times get tough and you don't quit; you just push through the obstacles. I blew myself away, because I've unleashed my potential, and there's no going back now."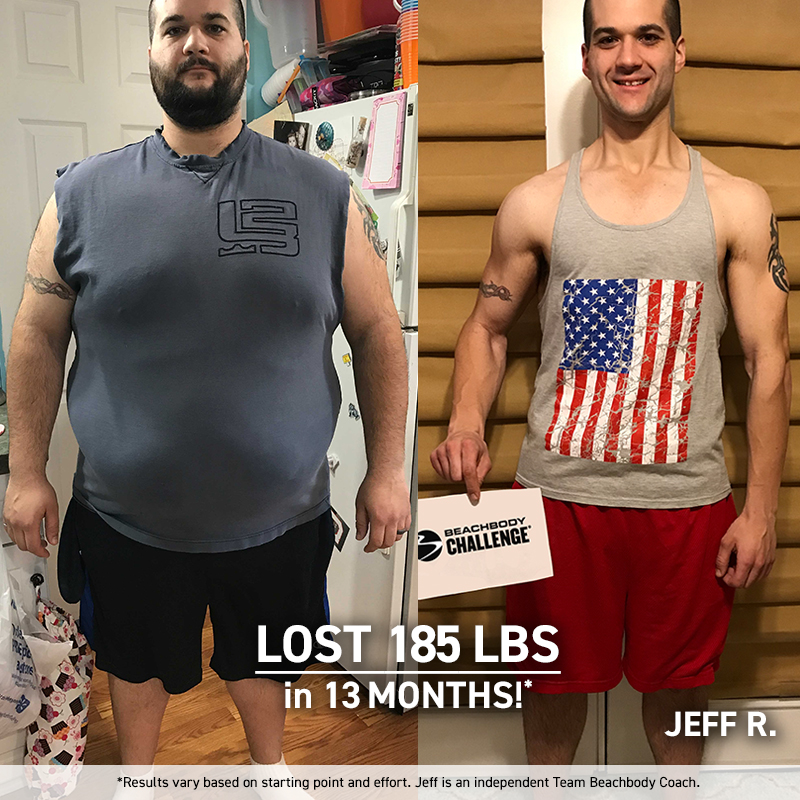 In addition to his stunning physical transformation, Jeff remarks upon some of his biggest non-scale victories: "I can play with my children and not be winded, and I can enjoy outdoor activities that I couldn't physically handle before. I am extremely excited to ride rollercoasters for the first time in over a decade! Perhaps the biggest change has been my state of mind. I have gained huge amounts of confidence, and my outlook on life has completely changed. I am so excited for the future!"
---
The Grand Prize Champions were selected from more than 60,000 contest submissions from satisfied customers who achieved their health and fitness goals. The decision was made, in part, based on the results of an online community vote.
*Results vary based on effort and Beachbody's healthy eating plan. Katie and Jeff are both independent Team Beachbody Coaches.