See the 6 Weeks of THE WORK Results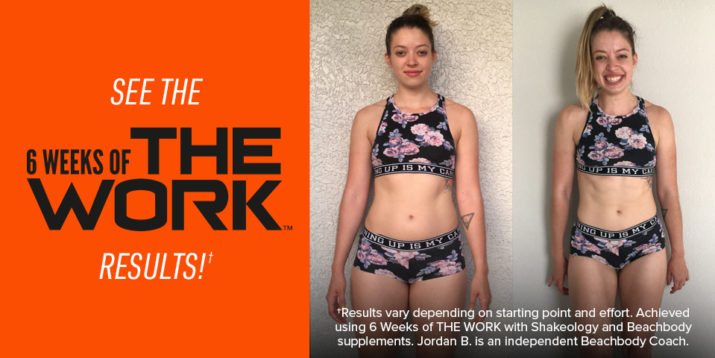 If you're struggling to decide if you should do 6 Weeks of THE WORK with Amoila Cesar, check out these amazing before and after success stories.
Amoila put them to WORK and the results speak for themselves.
Check them out and then commit to THE WORK!
6 Weeks of THE WORK Before and Afters
Bethany B. Lost 6.1 Pounds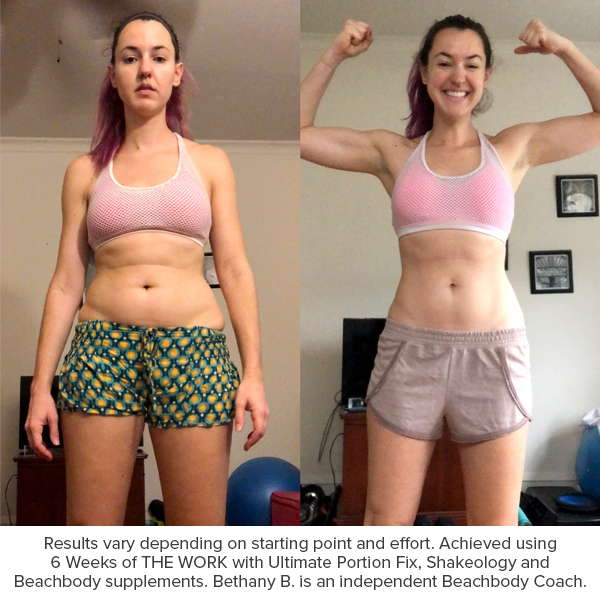 "6 Weeks of THE WORK really leveled up my personal fitness and helped me break through my plateau.
Now I feel like a true athlete. I can do full push-ups on my toes. I can lift heavy weights, I can do crazy HIIT moves and keep them up for a freakishly long time. Mentally, I know there is nothing I can't handle.
Amoila is fantastic! I love how he encouraged us to be great all the way until the end of the program. It never got boring and it was always new and exciting every day.
With Ultimate Portion Fix, I'm actually eating more food than before, but it's all such good, nutritious food.
Being healthy isn't about being deprived; it's about making better choices.
I (almost) never eat ice cream anymore because I have a Shakeology every day!"
Joseph C. Lost 19 Pounds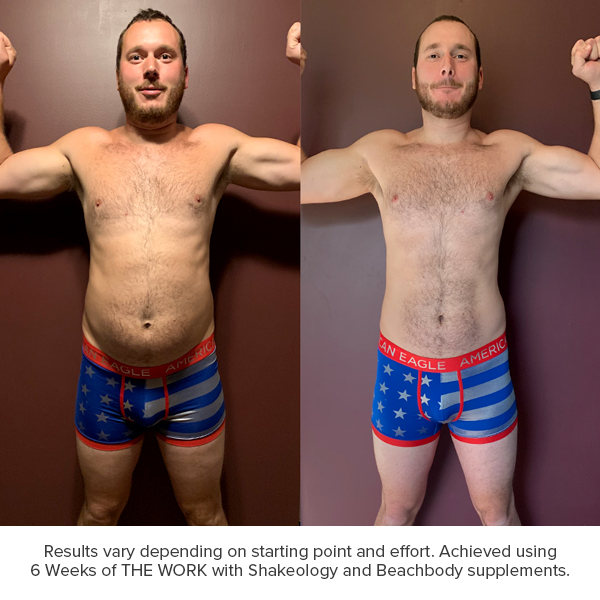 "I was motivated by my wonderful wife. She asked me to do this workout with her. At first, I wasn't feeling it at all. I liked to come home from work, have a couple of beers, eat whatever and play with the kids.
I thought I was in great shape — I didn't need to work out!
I was totally wrong. When we started Day 1, I could hardly do 10 push-ups.
Amoila is a bad-ass in my book! No beating around the bush. I feel like I have the same attitude as Amoila: Don't waste your time, you're here to the work.
I never cared about the scale and still don't. It doesn't define how I feel at the end of the day. I feel amazing. I feel so much stronger.
One thing that I learned about the nutrition part of the program was how much unhealthy food I was eating. It had a big effect on the way I view food. I will most definitely keep applying this to my everyday lifestyle.
My favorite thing about Shakeology is the taste — I love mixing in a banana or strawberries!"
Kelsey I. Lost 14 Pounds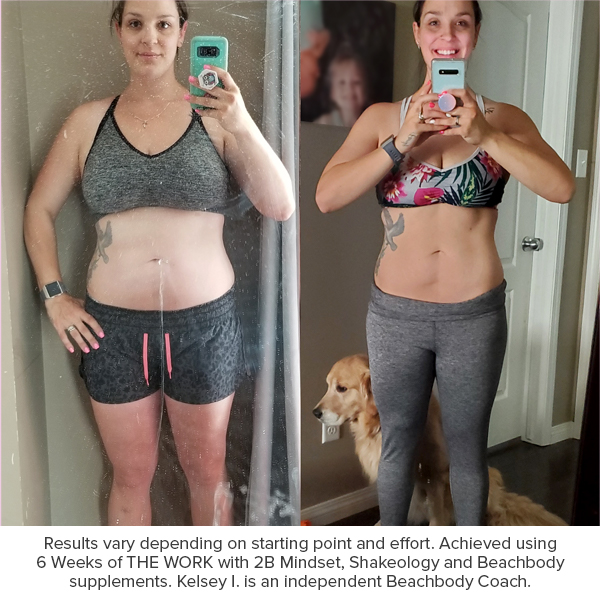 "My motivation was to get fit and healthy for my kids. I have a very active 4-year-old daughter and 2-year-old son. I need to be able to keep up with them!
6 Weeks of THE WORK helped transform my body and get me closer to my pre-pregnancy body. I'm so much stronger now than I was before.
This was hands down EXACTLY what I needed. I love Amoila's no-BS attitude. He's a tough trainer, but incredibly encouraging.
I'm also a much more conscious eater. 2B Mindset helped me with my relationship with food. I don't consider it following a meal plan; it has been a complete lifestyle change.
There are so many delicious "dessert" recipes I've been able to make with Vegan Plant-Based Shakeology; making things like Peanut Butter Chocolate Shakeology Cups has helped me not crave unhealthy snacks or sweets as much."
Tanya A. Lost 4 Pounds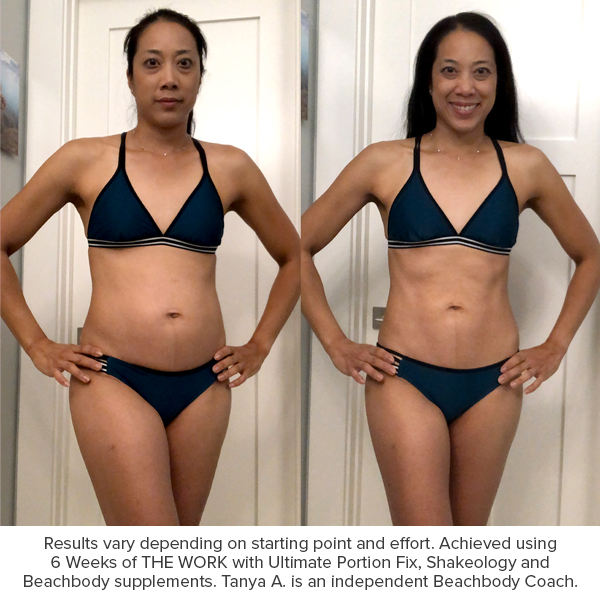 "Honestly, I was intimidated by 6 Weeks of THE WORK and Amoila.
Amoila is an incredible trainer. He's tough, but he has a caring and supportive nature and that's what got me through some of the toughest moves.
You can tell he genuinely wants you to be healthier and to know that you are capable of doing difficult things.
I felt stronger mentally and physically. I can now do three full chin-ups unassisted, and for me, that's amazing! I've always struggled with upper-body strength — now I've got rockin' arms and abs!
When I committed to 6 Weeks of THE WORK, I also committed to Ultimate Portion Fix. I truly believe that nutrition was a huge factor in helping me get results.
I definitely realized that my portions were so much bigger than they should be. It was so wonderful to see my children picking up healthier eating habits.
My favorite thing about Shakeology is all the nutrients packed into one shake. I drink Shakeology around 3pm every afternoon when I have my toughest cravings. It helps me get through it by filling me up."
Lauren N. Lost 13.8 Pounds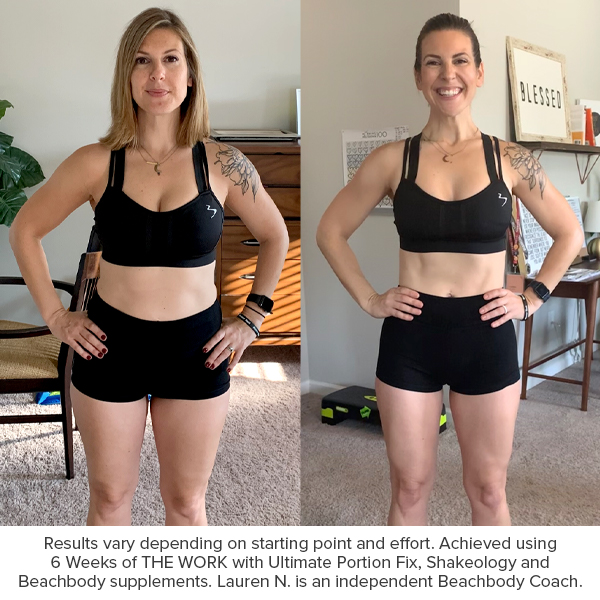 "After completing 6 Weeks of THE WORK, I feel absolutely INCREDIBLE! I am not only physically stronger but also mentally stronger from this program.
There were days when I wanted to quit and dive face-first into a pizza, but I pushed past it and kept going. It was the first time I actually stuck with a program for the duration. I felt so much pride knowing that I could do that.
Amoila was incredibly motivating. He has a way of giving you tough love, but making you feel like a total rock star at the same time!
I truly believe it was the combination of THE WORK and nutrition.
I followed Ultimate Portion Fix for the first time. The fitness part was physically challenging and pushed me to my limits, but I wouldn't have been able to show up for my workouts the way I did if I didn't fuel my body properly.
Shakeology saved me from my afternoon snack attacks. That time between getting home from work and dinner has always been my downfall. Now I have something that I can grab quickly to get me through until dinner.
I used to use being busy as an excuse to make poor food choices. I've learned that eating healthy doesn't have to be complicated. It's not punishment. It's not deprivation. Turns out, it feels really good to feel healthy!"
Jordan B. Lost 11.7 Pounds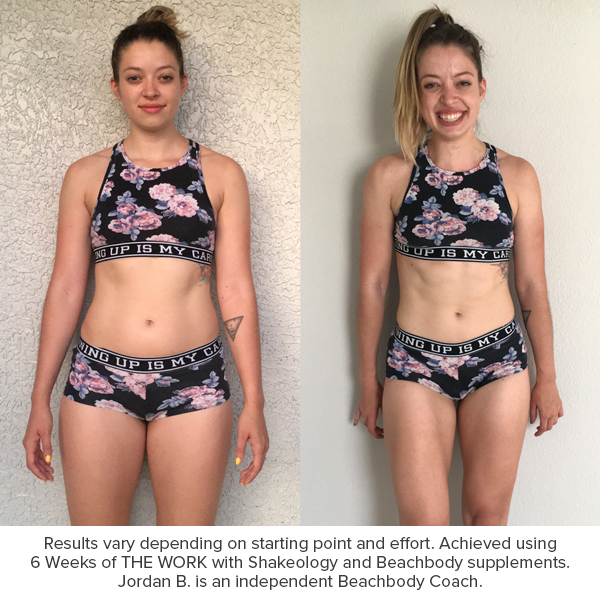 "Prior to starting 6 Weeks of THE WORK, I had gained close to 12 pounds and I was feeling sluggish and unconfident. I needed something to kick my butt back in gear.
After six weeks, I had gained back my strength and stamina! I love Amoila's no-bull attitude. I needed someone to be as tough on me as I can be on myself.
I followed the program Nutrition Guide and was able to dial back on my portions and get back to healthy eating. I will always use the Portion-Control Containers — they're easy and effective.
My favorite thing about Shakeology is that it tastes like a milkshake — but it's healthy! I drink my Shakeology at night when I want chocolate or late-night sweets and it kicks that craving."
Ruben R. Lost 2 Pounds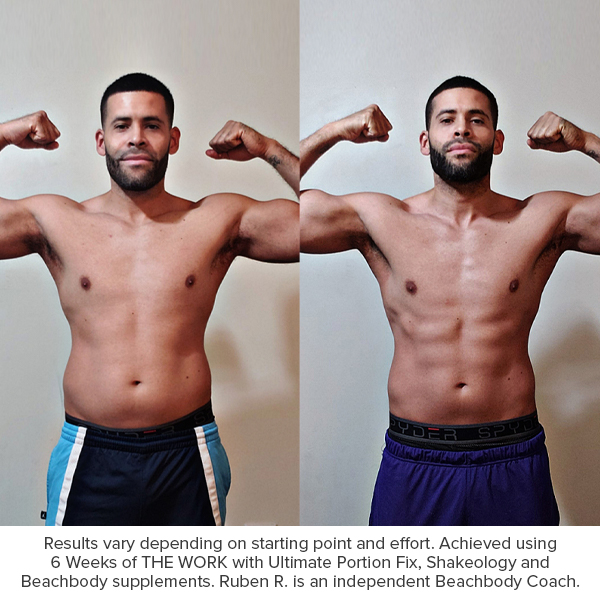 "Before I started 6 Weeks of THE WORK, I wasn't feeling comfortable physically. Now my confidence is back! I feel and look great — it's an overall boost, physically and mentally.
Amoila is an amazing motivator and helped push me to finish the program. He always talks about pushing yourself and to believe in yourself.
Ultimate Porton Fix helped me stay on track and I learned that I was actually overeating and not fueling my body with the right nutrients. I love the recipes and knowing I'm eating what's good for my body.
Shakeology plays a huge role in my nutrition. It helps calm my sweets cravings and helps me feel full. My favorite thing about drinking Shakeology is knowing I'm consuming the best nutrients for my body — and I'm addicted to the flavor!"