21 Day Fix Results: Heather Lost 21 Pounds in Two Months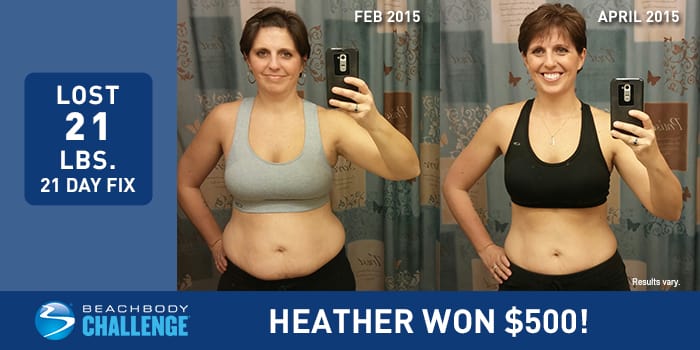 Meet Heather K. She lost 21 pounds in 2 months with 21 Day Fix. She entered her results into The Beachbody Challenge, and won the $500 Daily Prize for July 1st!
Tell us about your life before you started the program. How did you feel about yourself and your body?
Before I started the program, I had a lot of doubts and no confidence in myself. I really didn't think I would get through the 21 days because I always managed to self sabotage any previous efforts I had made in the past. I was in such a routine/rut of snacking after the kids went to bed, and it was comforting to me. I thought it was anyways, until the next day when I would get dressed for work and would have to deal with my clothes not fitting and being embarrassed about how I looked…again.
What inspired you to change your life and begin your transformation journey?
I was inspired by posts I had seen from Shelley Hinterlong on Facebook about 21 Day Fix and how great she looked. I also watched the infomercials with Autumn every time I noticed they were on. I'm always looking for the "Catch", but there wasn't really a catch with this. Just eat clean and watch your portions. I didn't have to weigh my food or count my calories and there weren't any types of foods that were restricted, like a no carb diet or all protein, etc. This really seemed like a lifestyle change. Something I could do and control. No crazy pills or chemicals, just food and exercise. The good old fashion way.
What is the greatest challenge you faced before beginning the program? How did the program and Beachbody® help you overcome that challenge?
My greatest challenge actually came 10 days into my first round of 21 Day Fix, when I lost my job. Staff reduction. Not my fault and out of my control, but still a huge blow to the self esteem. I wanted to come home and curl up on the couch with a bag of chips and just give up. But I reached out to my Coach, Shelley Hinterlong, and also to the wonderful women who are in our 21 Day Fix group on Facebook, and I got the encouragement that I needed and I realized that although I can't control everything in my life, I can take control of my health and my choices. I chose to continue my 21 Day Fix journey and let go of the things I couldn't control. I wouldn't have gotten through that without the Beachbody community that I have completely embraced.
What in particular did you like about the program you chose?
I chose the 21 Day Fix because I didn't have to count calories and I didn't have to eliminate any types of foods. I love my carbs and with the 21 Day Fix, I still can have a 1/2 English muffin at breakfast or my whole grain pasta at dinner. I don't have to deprive myself of the foods I love, I just make them the healthy way now.
Describe the results you achieved with your Beachbody program. Which achievements are you proud of?
With the 21 Day Fix, I have lost over 20 pounds and 13.375 inches. I can now hold a fore-arm plank for a full minute and I can fit into a size 8! I am most proud of the fact that I did it. I didn't give up and I stayed strong. My biggest achievement is finishing and starting another round. That is huge for me.
How has your life changed since completing your Beachbody program?
I can now keep up with my boys and be a fun mommy instead of the one on the side watching. I don't use my rescue inhaler as often as I did, and I finally know what "Comfortable" really means. I am happy in my skin. I'm not ashamed or embarrassed with how I look and who I am. I have so much more confidence, and I smile a whole lot more than I did. I not longer have those "angry" PMS days where anything would set me off. I am much calmer and happier and my kids notice and appreciate that. My life has completely changed since completing the 21 Day Fix and I don't want to go back to the old ways for anything!
How did your Team Beachbody® Coach support you on your journey?
Shelley was amazingly patient and helpful to me through out my entire journey. I could always come to her with questions or with any hurdles I would come to. She always knew just what to say to help me overcome the obstacles in my brain and never made me feel like I was bothering her or a pain. She is super sweet and very encouraging. I will always be grateful to her for her support throughout my journey.
You can change your life, too. Take the Beachbody Challenge for the tools you need to Decide, Commit, and Succeed! Complete any Beachbody program, and enter your results for a free gift and a chance to win cash and prizes.