20 Choses Que Vous Ignorez Sur Amoila Cesar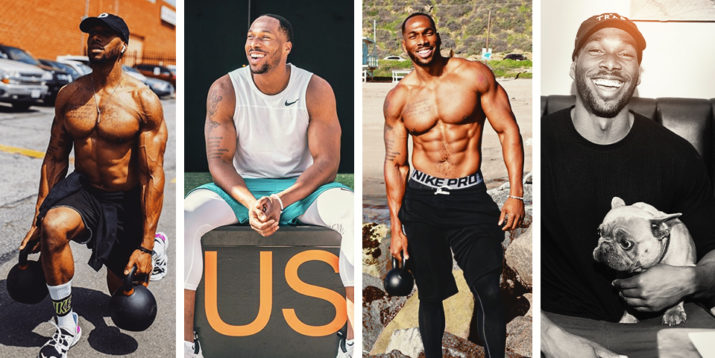 N.B. Cet article est destiné à nos clients français.
---
Amoila Cesar est le spécialiste incontournable de la musculation et de la transformation des athlètes professionnels et des célébrités. Mais aujourd'hui, il est là pour VOUS avec son programme Beachbody, 6 Weeks of THE WORK.
Il est connu pour son style d'entraînement brut et dur, mais voici l'occasion pour vous de découvrir le côté plus tendre de ce Super Trainer!
Ce que vous ignorez à mon propos… par Amoila Cesar
1. Le plat que je préfère : J'aime tout, mais je dirais que j'ai un faible pour la nourriture méditerranéenne.
2. Le plat que je déteste : Je n'aime pas les fruits de mer.
3. Mon repas idéal : De la glace Halo Top et des pancakes aux protéines !
4. Ma motivation quand je n'ai pas envie de m'entraîner ou de manger sainement : Je suis motivé par mon désir d'être le meilleur.
5. Mes plaisirs coupables : La pizza et les pâtes.
6. Mon point fort : Faire de l'exercice et m'entraîner. Et le basketball !
7. Mon point faible : Le baseball et le golf.
8. Comment je me change les idées après une mauvaise journée : Je vais à la salle de gym ou à la plage.
9. La chanson ou le style de musique qui me met toujours de bonne humeur : J'aime le hip-hop et le R&B.
10. Le talent que j'aimerais avoir : J'aimerais savoir chanter.
11. Qui j'admire et pourquoi : Je suis un très grand fan de Will Smith : j'aime tout ce qu'il fait et nous avons beaucoup de similitudes.
12. Les qualités que j'admire le plus chez une personne : L'honnêteté et le fait d'être authentique envers soi-même. J'aime voir ce que les gens sont réellement.
13. Ce que je valorise le plus chez mes amis : J'aime notre honnêteté. Nous nous motivons et nous nous aidons les uns les autres.
14. Trois qualités qui ont fait de moi la personne que je suis aujourd'hui : Je dirais mon savoir et ma soif d'apprendre, mon dévouement au travail et mon humour charismatique.
15. Les changements que j'aimerais voir dans mon secteur : J'aimerais voir les professionnels du fitness encourager davantage un bon état d'esprit au lieu d'enseigner des modes, des tendances et des approches unilatérales. J'aimerais aussi voir davantage de professionnels du fitness travailler ensemble pour inspirer du changement dans la communauté et pour éduquer correctement les gens à propos de la nutrition.
16. Le meilleur conseil que l'on m'ait donné : Sois toi-même ! Échoue vite, échoue souvent, échoue pour mieux avancer. Apprends toujours de tes erreurs, pratique sans cesse et sers-toi de chaque expérience pour t'élever.
17. Le meilleur conseil que je donnerais à quelqu'un : Il est temps d'avoir confiance en ce que vous avez en vous et non en ce que les autres vous disent. N'ayez pas peur de poursuivre vos rêves.
18. Ma plus grande réussite : Ma mère me disant qu'elle était très fière de l'homme que je suis devenu. Également le fait de passer à la télé et d'être devenu un entraîneur de stars.
19. Ma journée idéale : Faire une randonnée dans un bel endroit, déjeuner sur la plage, puis dîner et regarder un film. Simple, mais idéale !
20. Que pourraient apprendre les gens de vous qui les surprenne ? Je sais jouer de l'alto : peu de personnes imagineraient ça de moi. J'ai commencé à en jouer quand j'étais à l'école primaire et j'ai persisté jusqu'à ma première année d'université. J'ai reçu une formation classique et suis allé aux écoles d'arts suivantes : UB Kinsey Elementary, Bak Middle School of the Arts et Dreyfoos School of the Arts.