Xtend Barre Express: Quick Body-Sculpting Barre Workouts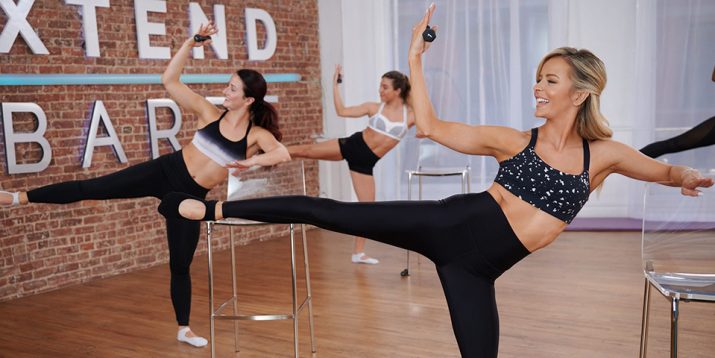 The original Xtend Barre program is the fitness phenomenon from trainer Andrea Rogers.
Since its launch in 2019, the Xtend Barre program has helped countless people lose weight, feel better, and build strength without bulking up.
If you're short on time, you can do Xtend Barre Express — efficient, effective 15-minute workouts that are high-energy and low-impact.
Like Xtend Barre, the workouts blend cardio, Pilates, and ballet fundamentals together to help you sculpt a lean, strong physique. They just do it in a shorter amount of time!
And, as with Xtend Barre, no equipment is required. Plus, you can do all of the workouts right at home.
What Are the Xtend Barre Express Workouts?
In Xtend Barre Express, Andrea will lead you through eight 15-minute workout routines.
Xtend Signature Express: Andrea's signature low-impact, total-body class in just 15 minutes. Hit every muscle group with barre and Pilates moves that leave you feeling strong, refreshed, and energized.
Cardio Express: Cardio the Xtend Barre way. Grab your weights and a barre (or chair) to get your sweat on, torch calories, and sculpt a strong, lean body.
Ballet Sculpt Express: Grab a pair of light hand weights to build the lean, sexy legs of a dancer with this challenging barre routine that also strengthens and sculpts your upper body.
Flexibility & Balance Express: A restorative mix of ballet moves and Pilates stretches. This relaxing recovery session is an ideal way to keep your body supple, graceful, and lean.
Booty Express: Target your glutes and legs with exercises designed specifically to help you sculpt a firm, lifted backside.
Legs Express: Sculpt strong, lean legs with exercises that target your lower half while helping you slim down all over.
Core Express: Start with ballet-inspired exercises and then move to the floor for Pilates progressions to strengthen and define your entire core—especially your abs.
Sculpt & Define Express: Sculpt stronger, more defined shoulders, arms, and back with high reps of lighter weights in this upper-body-focused workout.
Can 15-minute Workouts Actually Deliver Results?
"Studies show that short, high-intensity workouts can provide many — if not all — of the benefits of longer workouts in a fraction of the time," says Trevor Thieme, C.S.C.S., BODi's executive director of fitness and nutrition content.
"Many people think that the longer they work out, the more muscle they'll build, the more fat they'll burn, and the more endurance they'll gain," he adds.
But studies suggest that isn't always the case.
Who Is Andrea Rogers?
Ever since she was a child, Andrea Rogers has craved movement. She took up ballet at the age of three and by 16 she had already choreographed her first dance.
After spending years as a professional dancer, her love of movement and passion for teaching led her to pursue a career as a classical Pilates instructor.
Over time, she began to incorporate her ballet and dance background into her Pilates routines.
When her students got great results and kept asking her "Hey, can we do more of that barre stuff?" she knew she was onto something.
In 2008, Andrea officially began teaching Xtend Barre in Florida, and to this day, her students keep the classes packed.