The Super Versatile Skillet You Should Be Using
While the cast-iron skillet may seem like the much heavier, more cumbersome great-grandpa of your high-tech, non-stick cookware, it's time to give this magical workhorse its due.
Check out the benefits of using cast-iron cookware, plus ways to keep your skillet looking great and producing delicious steaks, roasted veggies, healthy desserts, and more for decades.
Cast-iron Skillets May Be Good for You
Rather than relying on a chemical coating like Teflon to keep your food from sticking to the pan, cast-iron's non-stick technology is food-based. Cooking oils and other fats from the food you cook build up, creating a natural non-stick coating, also known as the "seasoning." (More on that in a bit).
"Cooking with cast-iron allows you to have a natural non-stick surface so you can cook with less oil," says Tanya Zuckerbrot, a registered dietitian and author.
In fact, there may actually be a health benefit to this cookware that's right in the name: Several studies suggest that cooking food in a cast-iron skillet can increase the food's iron content. (But obviously, eating whole foods rich in iron is probably an easier way to get this crucial mineral into your diet!)
You Can Pass Them on to Your Kids (and Grandkids)
Compared to other cookware, cast iron is relatively inexpensive; a 12-inch cast-iron skillet will run you around $30. But that's $30 well-spent: According to Lodge Manufacturing, which has been making cast-iron cookware for more than a century, cast-iron pans can last 100 years or more. Non-stick pans, on the other hand, can't be repaired once the coating gets scratched or starts to peel or flake.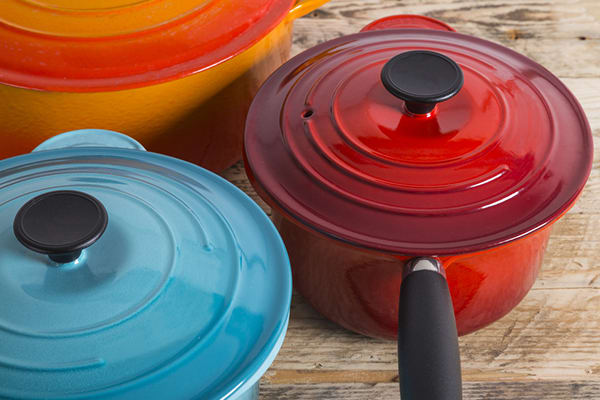 Cast-iron Can Multi-task Like a Pro
Cast-iron skillets and Dutch ovens (a deep, lidded cast-iron pot) are at home on any heat source: stovetop, oven, backyard grill, even over a campfire. And because it's so versatile, cooking with cast iron means fewer pots and pans to wash. (Win!)
A cast-iron skillet can also double as a chafing dish, so you can end the reign of lukewarm/cold food sitting in serving dishes. When cast iron gets hot, it stays blazingly hot, so you can pop that pot or pan right on your dinner table. Bonus? Many cast-iron cookware lines have enameled exteriors in an array of Instagram-ready colors.
How to Season a Cast-Iron Skillet
The "seasoning" is actually the natural non-stick coating created by baking cooking oil onto cast iron at a high temperature. Many cast-iron items come pre-seasoned, but if food sticks to the surface or you notice a dull, gray finish, it's a good idea to re-season. Here are some easy tips for seasoning your skillet:
1. Heat your oven to 325°F. Position one rack in the center position, and another rack below.
2. Wash the pan thoroughly with soap and a sponge or brush. Rinse.
3. Dry the pan thoroughly with towels or place over a lit burner or in a hot oven for several minutes. Allow the pan to cool for safe handling.
4. Pour about a tablespoon of oil into the pan (any cooking oil will do) and use a clean cloth or paper towel to spread it around the entire inner and outer surface of the pan, even the handle.
5. Place the pan upside down on the oven's top rack, and place a sheet pan or aluminum foil on the rack below to catch any drips.
6. Leave the pan in the oven for an hour and then turn off the oven. Let the pan cool completely in the oven before removing.
How to Clean Your Cast Iron
Follow these tips to keep your cast-iron pieces in tip-top condition:
1. Clean cast iron while it is still warm.
2. Dry pans thoroughly.
3. Oil your pans after drying to prevent rust.
4. Don't leave your pans to soak in water. And never wash them in the dishwasher.
If you're new to cast iron, give it a go with an 8- or 9-inch skillet and see what you think before investing in bigger, pricier items.