How to Loosen Tight Hamstrings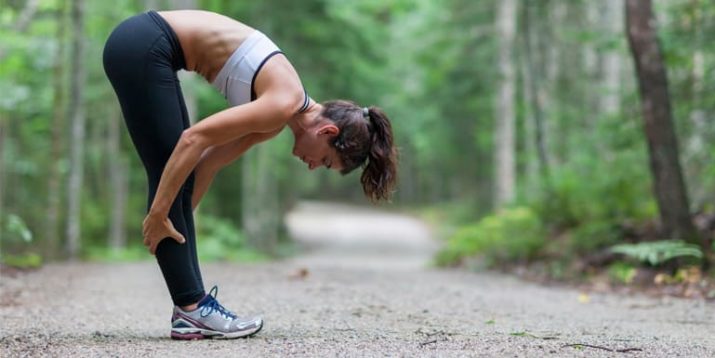 You may be able to sprint 100 meters in under 12 seconds, but there's one movement that will humble even the fittest of fanatics: bending at the waist and reaching for the ground.
You want your fingers to reach the floor, but frustratingly, they probably stop short around your ankles, your shins, or even your knees.
One reason for this: tight hamstrings.
First things first: "Hamstrings" refers to the three muscles on the back of your thigh — the semitendinosus, semimembranosus, and biceps femoris.
Physiologically speaking, tight hamstrings refers to the anatomical shortening of the muscle belly — the center or "meat" of the muscle, explains physical therapist Rob Ziegelbaum, D.P.T., clinical director of Wall Street Physical Therapy in Long Island, NY.
Because the muscle belly has been shortened, there's increased tension on the tendons, he says.
This leads to less flexibility in your hamstrings, and less range of motion in the surrounding joints—the hip and the knee.
How Do Your Muscles and Tendons Shorten?
Think of your muscle and tendons like rubber bands. Like rubber bands, tendons and muscles come with different levels of elasticity, and this is mainly thanks to genetics.
"Some people are born with limited elasticity in their muscles and are, therefore, naturally less flexible," says Ziegelbaum.
Women, incidentally, tend to be more flexible in general than men, and young children are more flexible than most adults, he says.
But everyone can train to improve their flexibility as part of a well-balanced training regimen, according to the American College of Sports Medicine.
Genetically speaking, muscle length, tendon length, relative muscle and tendon length, tendon attachment points, and skeletal segment length all can play a role [in how flexible you are], says exercise physiologist Janet Hamilton, C.S.C.S., owner of Running Strong Professional Coaching in Atlanta.
All muscles and tendons have the potential to become more elastic and supple. The key to any stretching program is regularity.
"For example, a gymnast who constantly does splits on a balance beam will adapt in such a way as to have relatively more flexibility than a long-distance runner who works at a desk for a living," says Hamilton.
How Can Running Cause So Much Muscular Tension?
One of the most common culprits for tightening those hamstrings? Running.
"I often see long-distance runners who gradually lose flexibility in hamstrings and calves," says Hamilton.
Why is running so rough? Well, researchers aren't actually entirely sure.
Hamilton's guess is that it stems from weak gluteal muscles since the glutes and hamstrings work in synergy to propel you forward over the ground.
"If one member of the team isn't contributing as much as they should, then the other member of that team has to contribute more," she adds. "This potentially leads to overuse and might be to blame for what we interpret as tightness."
However, tight hamstrings and their attachments are not limited to runners.
Pretty much every athlete (amateur or elite) that trains for athletic performance but doesn't stretch thoroughly and effectively post-workout probably has tight hamstrings.
"During and after a workout, our muscles tighten up in part to protect our joints and in part because of the depletion of water since dehydration tightens muscles," Ziegelbaum says.
It's not just the type of physical activity you do that determines how tight or loose your hamstrings will be; it's also what you do throughout the day.
"Tight hamstrings are a result of this adaptive shortening. If someone sits at a desk for prolonged periods, knees bent, hamstrings contracted, the muscle effectively changes to the required length, which is shorter than that of a person who is standing or stretching regularly," Ziegelbaum explains.
Tight Hamstrings Often Lead to Lower Back Pain
Well,  the obvious scaremongering answer is that it increases your risk of an incredibly painful partial or full tear of the hamstrings.
But the bigger problem, Ziegelbaum says, isn't actually in your hamstrings, but in those surrounding muscles.
Hamilton agrees.
"Things in the human body are intricately related to one another. Movement at one segment often depends on something happening in another segment. If your hamstrings are tight, that's going to affect the biomechanics of the two connecting joints, the knee and the hip (knee pain and tight hips). Tight hamstrings are often associated with a whole host of injuries, including various low back pain syndromes, knee injuries, and even plantar fasciitis," Hamilton says.
In fact, a study published in the journal Foot & Ankle Specialist, researchers found that having tight hamstrings makes you nearly nine times as likely to suffer from plantar fasciitis.
Plus, tight hammies can actually hurt your athletic performance.
"Muscles that are 'tight' are often weak as well," Hamilton says.
"If a muscle is weak, you'll have to recruit more motor units to accomplish a task, which may increase fatigue… and a fatigued muscle cannot produce force as well as one that is not," she adds.
How to Tend to Your Tight Hamstrings
You can increase your flexibility by standing up and stretching more often. Even better, upgrade to a standing desk if possible — but make sure it's set up ergonomically or you risk adding posture problems and neck pain to your ailments, Ziegelbaum warns.
Exploring more formal and lengthy mobility work like yoga or Pilates classes is always a good idea.
At the very least, though, you need to be stretching pre- and post-workout, say these experts.
A dynamic (moving) stretch routine before you start sweating can help maintain muscle elasticity during the workout, and a longer stretch afterward can help counteract the activity-induced tightening, Ziegelbaum explains.
"I often encourage my athletes to do a variety of drills in their warm-ups, similar to what you might see the Olympic track and field athletes doing prior to competitions: skips, hops, high-knees — anything that mimics the motion you're about to do — but at a lower intensity," Hamilton says.
The most effective stretches otherwise?
Studies from the National Institutes of Health found that active stretches (long-held postures through full range of motion) can help increase hamstring length in just 6-8 weeks.
There are dozens of safe, do-anywhere hamstring-lengthening stretches to perform after every workout or before bedtime.
Try a few after your next big workout!