6 Weird Things Triathletes Eat During Races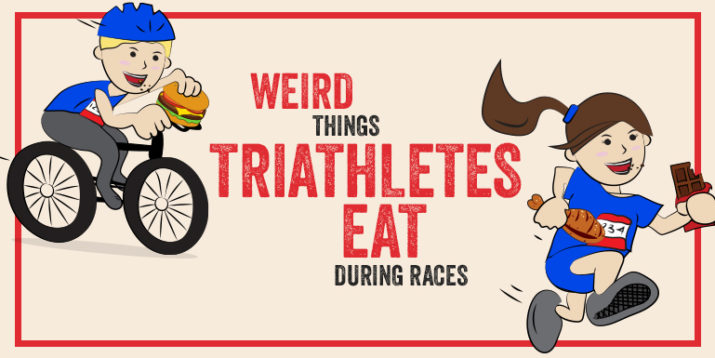 Proper fuel is essential during any endurance race, and especially during an Ironman triathlon, which consists of a 2.4-mile swim, a 112-mile bicycle ride, and a 26.2-mile run. It takes more than half a day to complete (the fastest Ironman time holds at 7:44:29), and if competitors don't hydrate and eat regularly, they're sure to bonk. So what do triathletes eat to maintain their energy levels?
For one, they consume plenty of sports gels and drinks during triathlon races. The body easily breaks down these simple carbohydrates, which provide readily available fuel to keep the competitors going and going (and going). The gels and drinks also provide electrolytes, which are lost with sweat. It's key to replenish these, as electrolytes help with fluid balance, and if things are out of whack, performance will suffer.
But occasionally triathletes need something different than the store-bought gels and drinks that only come in limited flavors. Their taste buds get bored of the same thing after a few hours, and sometimes they just want to chew something! Even the bite-sized gel blocks start to have a strange consistency after a while.
So what else is on the menu besides the standard fuel options? We talked to several top professional Ironman athletes to learn what they consume during a race to keep their energy up and their stomachs happy. This isn't what most people think of as "sports nutrition," and most of this stuff might not be recommended for an average Joe running a few miles, but it keeps these Ironman competitors going for hours on end. You never know what you'll see these triathletes snacking on, but if they're craving it and if their body tolerates it, then they'll probably consume it.
What Do Triathletes Eat During Races?
1. Candy Bars
Any chocolate lovers out there? Several triathletes like to enjoy candy bars during the bike portion of the race.
"Besides tasting great, a Snickers bar packs a lot of calories," explains Leon Griffin, winner of the 2006 ITU Duathlon World Championship and full-time triathlete since 2012. "When I'm out on long training rides, this is what I grab at the gas station, so [at my last Ironman race] I wanted to keep the familiarity. Nothing new on race day!"
He's not the only one who reaches for chocolate. "I love Snickers or Milky Way bars!" says Rebekah Keat, who holds the record for the fifth fastest female time in Ironman history. "The last thing I want to do is try and eat a gel. I don't like them and I find them hard to swallow." She turns to candy bars for the calories, carbs, and quick energy from the simple sugars. "Milky Way is better [than Snickers], as it has egg whites and is easier to swallow and chew when you're breathing hard — it just doesn't taste quite as good!" she adds.
The only issue is that chocolate tends to melt after a few hours in the sun. Griffin avoids this by freezing his candy bars and storing them in a water bottle. That way when his craving hits, the bars are unfrozen but still cold, and not a gooey mess.
2. Gummy Worms
"I personally love sour gummy worms. I like the change in texture," says Michellie Jones, winner of two ITU Triathlon World Championships and an Olympic triathlon silver medal in Sydney 2000. The Australian triathlete also added that she's shared them with fellow athletes who were struggling to keep their energy up. "Towards the end of a ride when you are getting depleted of calories, gummy worms have saved the day. The fact they are calorie-dense is probably the reason they have saved fellow training partners from bonking."
Griffin also uses gummy worms, in particular Allen's Snakes, which are his favorite. "They pack a good punch of calories, are easy to chew and digest, and taste great," he explains. "You need to look forward to the things you'll be consuming on the bike, otherwise you'll get sick of eating whatever it is, skip some, and that will be detrimental later in the race."
3. Cheeseburgers
"I heard that one athlete I know would put a cheeseburger in her special-needs bag on the bike," Jones says. "I personally wouldn't do that, as that's a lot to digest when you're racing, but it is sometimes interesting what you crave when you're out on your bike. And if you are craving something, it's usually your body telling you what you need."
4. Roasted Chicken
"I remember a story about Colleen Cannon, a triathlete many years ago, who was craving a rotisserie chicken. So when she got to a town, she ran into the store, bought a rotisserie chicken, stuffed it in her back pocket, and ate it on the way back to transition!" says Siri Lindley, coach and two-time Triathlon World Champion. "I love this idea and have often craved something like that, but I would never have had the guts to do it."
5. Chicken Broth
Other athletes skip the bird and just have some broth. "Chicken broth is quite common, especially [during races that] might get cold," says Joe Gambles, who has been competing at an elite level since the age of 16. "When you're 8 hours into a race, [an] electrolyte drink starts tasting too sweet, but you still need sodium to keep your body balanced and stay hydrated." So triathletes turn to chicken broth for a savory, easy-to-consume alternative.
6. Cake
"I once witnessed someone eat a cake after the swim just because she made it [through the swim] and it was her reward," Jones says. While she wouldn't personally stop to do that, preferring to speed through the transition from swimming to biking, motivating yourself with food seems to be a common practice.
Ironman triathlon competitors certainly have a wide range of preferences when it comes to what they eat during a race, but one of the most important things is that it works for them. If you're looking for some sports nutrition that's a bit more conventional, check out the Beachbody Performance line. From the pre-workout Energize drink to Hydrate that will keep your fluids balanced during exercise, these supplements were designed with cutting-edge ingredients to improve performance for anyone who likes to work hard. There's also Recover to help reduce post-workout soreness. Just like the Ironman triathletes, find what works for you so you can train to your fullest potential.