A WEEK OF HARD LABOR: Our Toughest Weightlifting Workouts Yet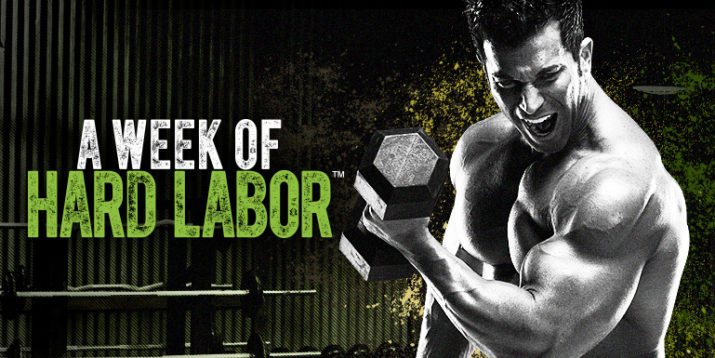 Body Beast's Sagi Kalev is back with five grueling days of intense weightlifting routines that will work your entire body to exhaustion. A WEEK OF HARD LABOR is BODi's toughest weightlifting workout series to date, so you can get the results you want — as long as you've got a "whatever it takes" attitude.
When you've crushed your first round of A WEEK OF HARD LABOR you'll be glad it's over, but Sagi knows you'll be back for more. These five routines can be used for a lifetime — do them over and over again, or add them à la carte to your workout regimen to target whichever goal you're focusing on that day.
You'll need a few sets of dumbbells, a bench or stability ball, a pull-up bar or door attachment kit, and a resistance band. Get ready to work right after Labor Day weekend, exclusively on the BODi app.
Who Is A WEEK OF HARD LABOR for?
• Those who want to start getting ripped, toned, and add muscle.
• Those who want to start losing weight.
• Women who are looking to add some curves.
• Body Beast fans.
• Sagi fans.
• Fitness fans who want a hard-hitting, classic weightlifting workout.
Will I really get a good workout in only one week?
A WEEK OF HARD LABOR is a challenge — possibly the hardest weightlifting routines you've experienced, and they're designed to create results.
Is there an eating plan?
Yes! There is a five-day eating plan that keeps your nutrition clean and optimized for performance. It includes sample menus, so you can see how easy it is to eat right, as well as variety-packed food lists. It also explains the best ways to use Beachbody Performance and, of course, Shakeology to get results!
Sounds really hard. Can I actually do this?
One week is a manageable commitment. Sagi's right there with you every step of the way — but be sure to listen to your body and only push to your own limits.
Does this require equipment?
Weights. How much weight depends on you. Someone who has never weight-trained likely won't need a lot, but Sagi would use a ton (maybe literally). For the most flexibility in your weight selection, we recommend a 50-lb. adjustable set to start.
If you want a low-cost place to start, we recommend getting a set of each range of dumbbells: light (3 lb.–5 lb.), medium (10 lb.–20 lb.), and heavy (25 lb.+). Then adjust your weight assortment based on your ability and progression in the program.
You will also need a bench or stability ball and a pull-up bar or resistance bands with a door attachment.
How long are the workouts?
Four 45-minute workouts and one 25-minute ab workout designed to work your entire body focusing on different muscle groups each day:
• Chest & Back
• Legs
• Shoulders & Arms
• Total Body
• Core
Who Is Sagi Kalev?
Sagi Kalev is a respected trainer who has proven that he can deliver jaw-dropping, transformative results with Body Beast and The Master's Hammer and Chisel.
The two-time Mr. Israel is more than a big, muscular guy. He's an expert on how the human body operates. He's appeared on the cover of dozens of bodybuilding magazines, including Muscle & Fitness an amazing 11 times. He's a Master Professional Personal Trainer and an IFBB Propta Hall of Famer.
What Is BODi?
If you found your way to this exciting A WEEK OF HARD LABOR announcement but aren't really sure what BODi is, here's a brief explanation.
BODi is a platform that allows you to stream Body Beast, P90X, INSANITY, 21 Day Fix, Xtend Barre, Fire and Flow, 3 Week Yoga Retreat, or any of over 600 world-famous BODi workouts that have helped millions transform their lives.
Inside, you'll find the program nutrition guides, workout calendars, and exclusives like Morning Meltdown 100 and FIXATE, Autumn Calabrese's healthy cooking show.
No matter where you are in the world — whether you're in your house, at the gym, or on vacation — you can access your program guides, your workouts, and more on your laptop, smartphone, or tablet.
As long as you can connect to the Internet, you can work out with BODi. What are you waiting for? Sign up now!