Ultimate Reset Results: Merry Lost 21 Pounds in 21 Days!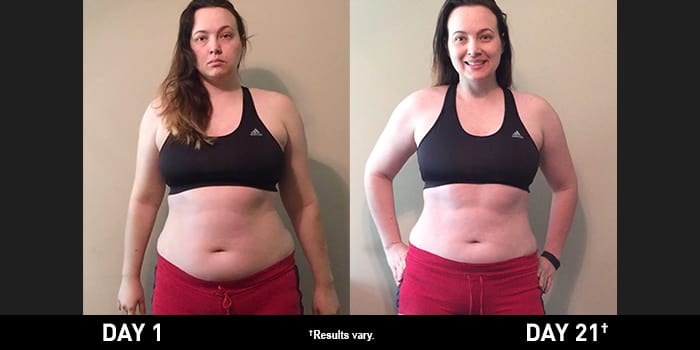 Merry Cain, age 32, lost 21.5 lbs in 21 days with Ultimate Reset and Shakeology. She entered her results into The Beachbody Challenge and won $1,000!
Tell us about your life before you started the program. How did you feel about yourself and your body?
I felt worthless, numb, lacking, despair, undeserving, lost, overweight, drowning, unlovable, unhealthy, self hate, scared, addicted to food, and that's just the first layer. I was filling the voids in my life through emotional eating. Fast food became a daily companion as well as a stop at Sonic or Dairy Queen for ice cream. I didn't want to get out of bed. I didn't want to be alive. I even considered walking away from Coaching. I no longer felt like I was in a place where I could help others because I couldn't even help myself. It's been a very long time since my sadness consumed me so much. I was lost and unsure how to make a change. I had completely hit rock bottom emotionally and my health went right along with it.
What inspired you to change your life and begin your transformation journey?
I walked through the motions of life trying to keep my head above water for two reasons – my husband and my daughter. It had been over a year since I saw a therapist, but I knew that I could no longer survive this battle on my own. I reached out to my psychiatrist at and expressed my need for help. I began seeing a new therapist and trying to find simple changes I could make in the right direction, but still I had no energy. I knew my biggest issue was what I putting into my body, but felt lost on how to get myself back on track. When I stepped on the scale in April at my heaviest weight ever and officially in the "obese" category I knew something had to give. Also in April it was announced that Darin Olien was going to be doing the Ultimate Reset in May, and he was inviting others to join him. What a coincidence that this happened right around the same time, and I told myself… What do I have to lose? I ordered it that day.
What is the greatest challenge you faced before beginning the program? How did the program and Beachbody® help you overcome that challenge?
I had no energy to workout or cook. Fueling my body with crap. I could drink pre-workouts and caffeine non stop, all it did was fuel my exhaustion. I couldn't fall asleep. I would toss and turn for hours then struggle to get up in the morning. My body wasn't meant to work on 4 hours or less of sleep. Then I would find myself sleeping entire weekends away trying to play catch up. I had heard of the Ultimate Reset before, but never thought it would be something I could commit to. It was so far out of my comfort zone, and felt completely unachievable for me. There isn't 1 challenge that I've mentioned that this program hasn't helped me with. It took me back to being a challenger. I had the creator doing it with us, 2 friends in a private group doing it, commitment to sharing my journey on social media, Beachbody groups for each phase for support, and the Ultimate Reset website that provides everything from daily updates to cooking videos for every recipe. I surrounded myself with every reason to succeed.
What in particular did you like about the program you chose?
I loved how everything was set for you. It took me back to when I was in the military. You drink and take your supplements at specific times, and then you eat 30 minutes later. I felt like the support provided by Beachbody was amazing. I used the website every day and watched a lot of the cooking videos. It was so incredibly helpful and convenient to have those accessible to me everywhere. The meal plan and shopping lists were easy to follow, although I had to google a lot of ingredients, because I had never heard of them. Once I started I loved the routine and how nice it was to step away from my usual routine. I also love the results!
Describe the results you achieved with your Beachbody program. Which achievements are you proud of?
I am so proud of myself for completing this program. I was able to avoid temptations at work, home, and out. That even includes my 8-year-old waving cookies under my nose and refusing to give in. Before I could eat an entire package in one sitting, and I was able to walk away from Oreos, cupcakes, and more. I am a recovering sugar addict. It sounds crazy saying that, but I believe it to be true. Now I know how to find healthy substitutes or I drink my Shakeology. The thing is though… my sugar cravings are gone.2 That alone to me is pretty amazing! I didn't cheat once on this program. I have always had some "cheats" but I made it through the Ultimate Reset without doing it once! I'm proud of my results and excited about the future!
How has your life changed since completing your Beachbody program?
I'm falling asleep immediately and having some of the best sleep of my life. I have energy now to live. It's a new form of energy I haven't felt in years! I'm more interactive with my family and the world around me. My feelings of sadness still has a grip on me like it has my entire life, but I'm on the upswing. That feels amazing. I find myself being more positive and living in the moment, yet optimistic and planning for the future. The passion I had lost has come back full force. I have more self worth now and discipline. My sugar cravings are gone. I'm not longer craving the junk I was before. Other life changes – improved digestion, so many new fruits, vegetables, and grains that I love, new found appreciation for what goes in my body. I've learned how my body responds to certain foods and what to avoid. Ohh yeah! I forgot to mention the fact that I lost 21.5 lbs and 14.5 inches, and am no longer obese! Days later and I'm still on track!
How did participating in a Challenge Group help you reach your goals? How did your group support you and keep you accountable?
I was in the Beachbody Challenge Groups which were a great place to look to for support when I needed to see what others who were farther along had felt. It helped give me perspective. I hosted a small Challenge Group for myself a few other Coaches. We posted every day and that truly helped me stay on track. Our friendships have grown and we are still talking in that group about how we are feeling after the program.
You can change your life, too. Take the Beachbody Challenge for the tools you need to Decide, Commit, and Succeed! Complete any Beachbody program, and enter your results for a free gift and a chance to win cash and prizes. What program are you committing to next?

†Results vary depending on starting point, goals, and effort.
2These statements have not been evaluated by the Food and Drug Administration. This product is not intended to diagnose, treat, cure, or prevent any disease.