Ultimate Reset Results: Amy Lost 20 Pounds in 21 Days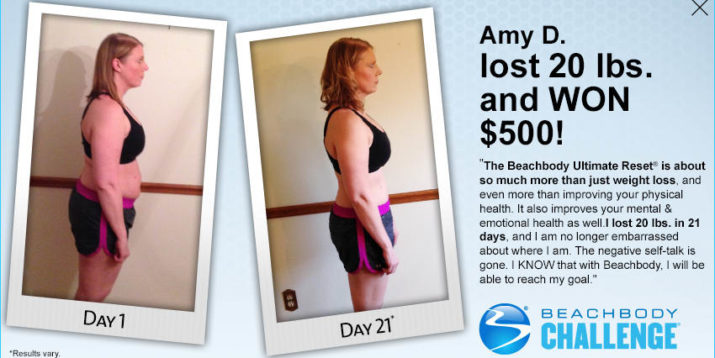 Results vary depending on starting point and effort. Amy is an Independent Team Beachbody Coach.
Amy Davidson lost 20 pounds in 21 days with Ultimate Reset. She participated in The Beachbody Challenge and won the $500 Daily Prize for October 19th!
Tell us about your life before you started the program. How did you feel about yourself and your body?
In the beginning of 2013, I had been in good health other than battling endometriosis for years.3 In August of 2013, it had became so severe that my workouts were becoming harder, and I was no longer able to do normal activities. I had days that I was having to stay in bed due to the pain. In November, I had surgery for a hysterectomy.3 After surgery, I had ballooned up to my highest weight ever. I was frustrated because I wasn't able to workout. I was embarrassed because of my increased weight that was very obvious especially in my abdomen after surgery. Surgery had helped with my pain, but had created other issues with my digestion. I was suffering from insomnia every night. I felt exhausted, and I wasn't able to lose the weight even when I was allowed to workout again.
What inspired you to change your life and begin your transformation journey?
After battling with losing five pounds for a month making no progress, I heard about Carl and Isabelle starting the Spring Cleaning. I had contemplated the Ultimate Reset. When a friend also mentioned that she was thinking about it, we decided to go ahead. Not wanting to continue with the sleepless nights and all the medications, I didn't want to wait any longer, and started the next week. I was tired of complaining and complaining, and knew I had to do some to make a change. It was time to take back control of my health.
What is the greatest challenge you faced before beginning the program? How did the program and Beachbody® help you overcome that challenge?
My biggest challenge was battling my negative thoughts about how far I was from getting back to where I once was. The Ultimate Reset helped by not only helping me lose weight, but also by helping me cleanse my life of any negatives including the negative self talk. The Ultimate Reset is about so much more than just weight loss and physical health. It also improves your mental and emotional health.2 Beachbody helped me immensely by having the weekly video chats with Carl and Isabelle.
Describe the results you achieved with your Beachbody program. Which achievements are you proud of?
I lost 20 lbs and several inches in 21 days. The knee pain that I had since gaining the weight is gone now that I've lost it. I started sleeping well and waking refreshed. I was able to fit in jeans that I couldn't even pull up before I started. Most of all, although I'm not at my goal weight yet, I am no longer embarrassed about where I am. The negative self talk is gone, and I know that by continuing with a Beachbody workout I will be able to reach my goal.
How has your life changed since completing your Beachbody program?
I am now more conscious about the foods I eat. I am paying very close attention to the foods that cause me distress. Before, I wasn't consciously eating. Now, I take my time to eat, and I am very aware of how my body responds to the foods. I have started the Body Beast program, and I have started it with a confidence like I have never had before to be able to reach the goals I have for myself. I feel stronger, and I recover quicker from my workouts. I feel like my body utilizes the fuel from the foods I am eating much better than it did prior to the Ultimate Reset. I'm actually sleeping through the night which I hadn't done since my surgery in November.
You can change your life, too. Take the Beachbody Challenge, for the ultimate motivation to get fit! Select any Beachbody program and once you complete it, share your results for your chance to win cash and prizes.
3Always consult with your physician about your unique medical needs before starting any fitness program or nutrition product.
2These statements have not been evaluated by the Food and Drug Administration. This product is not intended to diagnose, treat, cure, or prevent any disease.