See the Ultimate Portion Fix Results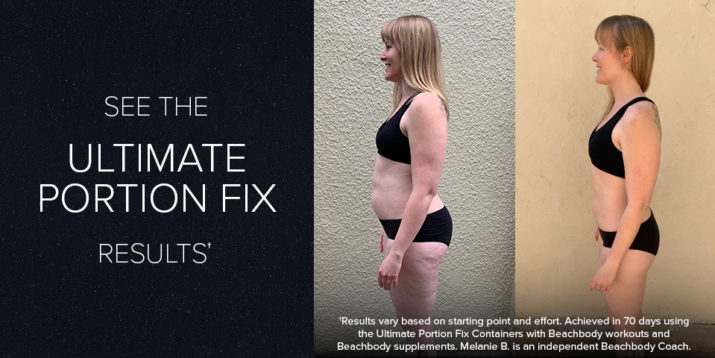 Portion control is a key part of eating healthy.
But what does a healthy portion look like? Is it different for proteins, fats, and carbs? And what about treats?!
All excellent questions and Ultimate Portion Fix can help you get answers for those questions and more. And here's visual proof of what Ultimate Portion Fix can help you achieve!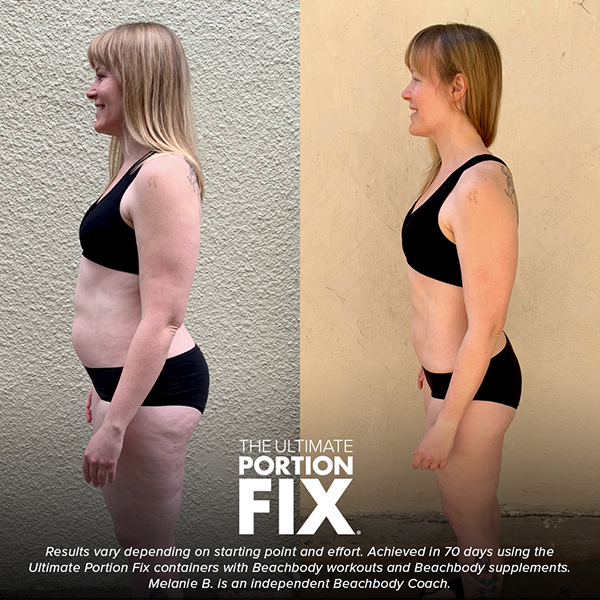 Melanie B. Lost 12 Pounds†
"I am an emotional eater and I've often gotten to the point where I'd overeat as a way to punish myself. I'd also go for long hours without eating, and then gorge myself to the point of being in pain physically.
The Ultimate Portion Fix videos are gold. There is a lot of negativity surrounding the word 'diet,' so I like that Autumn works to change your mindset about what a diet means and what a diet consists of.
Autumn really cemented the reasons WHY it's important to eat a balanced diet and experience the joy in preparing food for yourself and others in your life.
Ultimate Portion Fix has helped me find a healthy, balanced relationship with food, leaving me feeling in control, happy, and enjoying food again."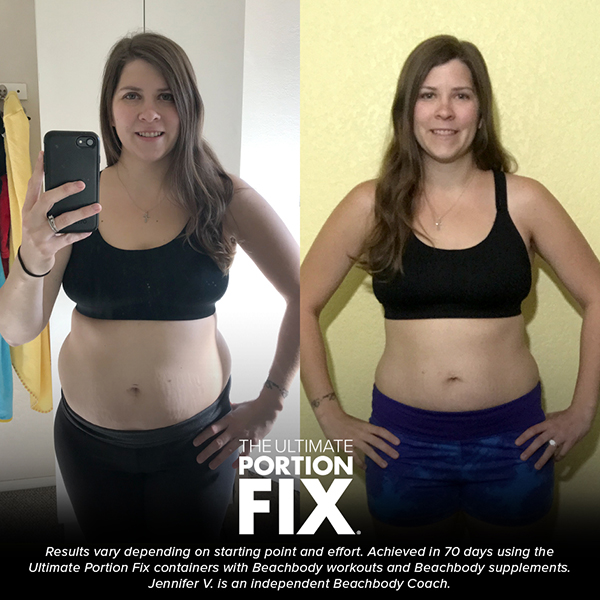 Jennifer V. Lost 11.6 Pounds†
"I was eating way too much per meal before Ultimate Portion Fix. Besides eating more than one recommended serving on a box of processed food, I simply wanted to have it all.
With the portion-control containers, I've learned that a full serving of healthy food is more than an adequate serving per meal.
To me this is not just a program, it's a healthier way to choose your daily intake of food. Realizing when you can properly fuel your body throughout the day without unnecessary sweets, sodas, or coffee.
I have my Shakeology first thing in the morning with fruit, just shaken in a bottle with unsweetened almond milk. Simple and delicious!"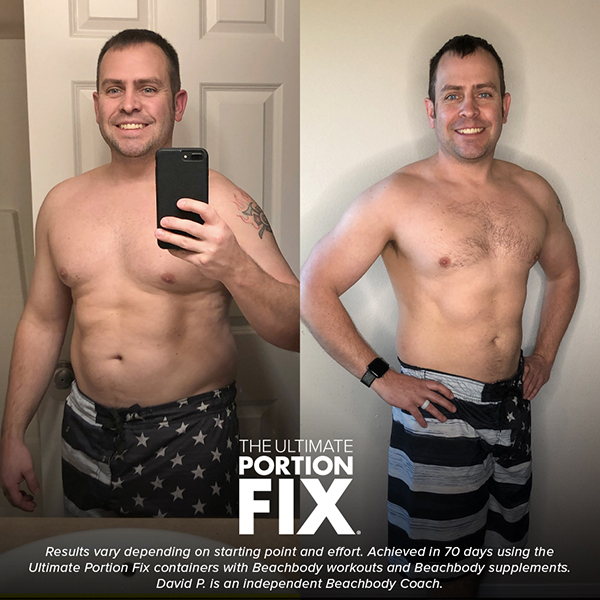 David P. Lost 16 Pounds†
"I realized I was overeating at every meal. With Ultimate Portion Fix, I found the right balance in almost every situation.
It gave me a simple plan to beat my unhealthy eating habits — mainly emotional eating. I really enjoyed how easy it was to follow. The information was simple and informative.
Ultimate Portion Fix is a game-changer. Finding a way to manage my portions then implement those same principles for the whole family is groundbreaking.
I have leaned out, gained muscle, and feel incredible."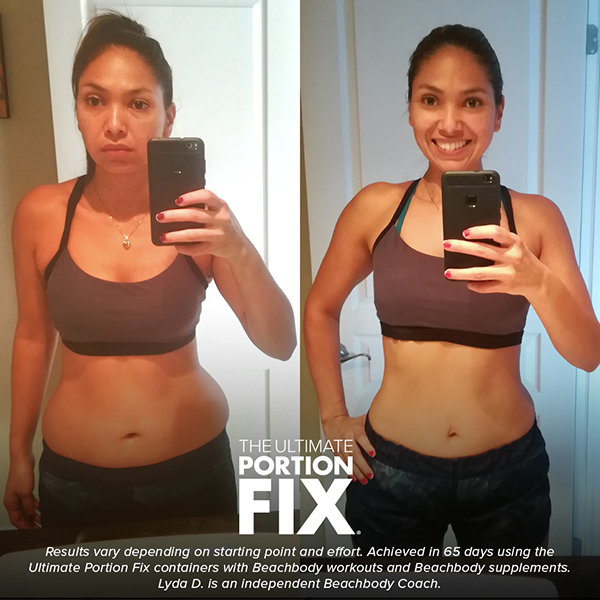 Lyda D. Lost 6 Pounds†
"When you learn to give your body what you need, you will learn to feed yourself correctly, enjoy the food, and lose weight in a simple way."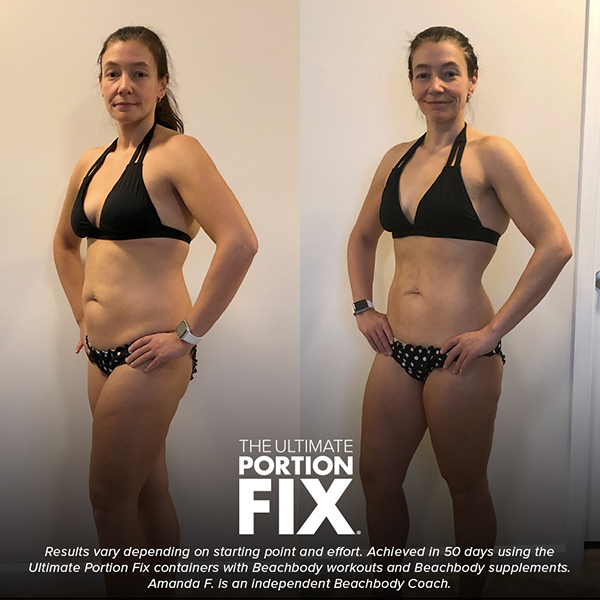 Amanda F. Lost 9.8 Pounds†
"Ultimate Portion Fix has helped me live a lifestyle instead of a diet.
It's been pretty easy to stay 100 percent on portions and the containers — portion sizes are everything!
I drink my Shakeology every morning with unsweetened vanilla almond milk and a banana. It gives me a jump-start to my morning!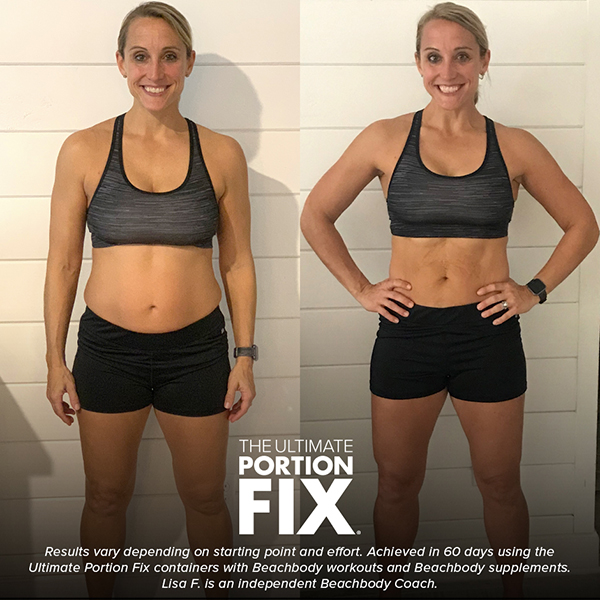 Lisa F. Lost 5.4 Pounds†
"I've always struggled with nutrition. So choosing a nutrition pathway first has helped me stay accountable with the portion-control containers.
I love that Ultimate Portion Fix still gives you flexibility and incorporates the whole family. I do a lot more self-reflection and tuning into my emotions than ever before. I am more aware of the decisions I am making surrounding food."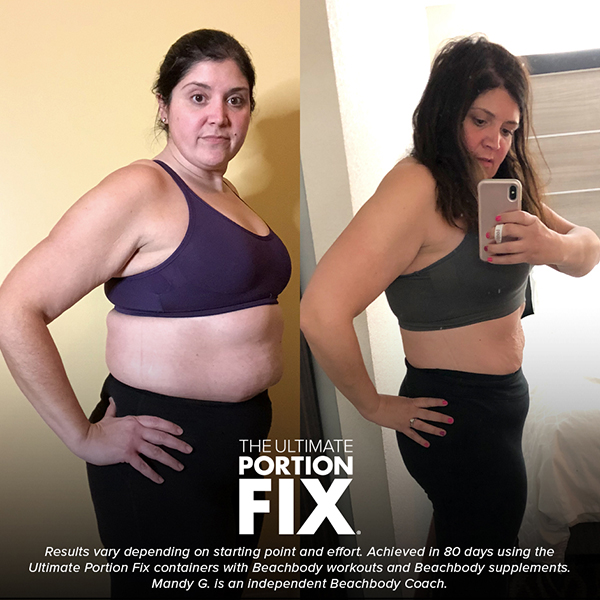 Mandy G. Lost 10 Pounds†
"I have lost 10 pounds and 8 inches! I LOVE Ultimate Portion Fix. I feel in control again — I'm much more observant and look at food differently.  I have Shakeology every day — it's so easy and quick. And it's my treat for the day!
I will stick to this plan — it just makes sense. I don't feel deprived. I feel in control. The portion-control containers are here to stay!"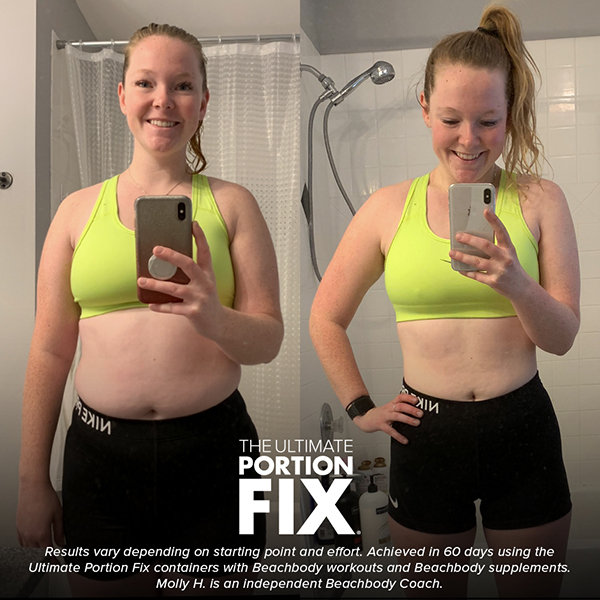 Molly H. Lost 11 Pounds†
"My body has changed in ways that I cannot explain. I feel AMAZING! I don't feel like I am on a diet; it truly has been a lifestyle change.
Ultimate Portion Fix made me aware of how important it is to incorporate all food groups. I never realized how many fruits and vegetables I should be eating. And I learned that I no longer have to be restrictive in my eating to see results.
I realized how much I was emotionally eating before. I used food as a coping mechanism so often in my life in the past.
I learned more about the 'why' instead of just 'here's what you're supposed to eat.'
I am legitimately a happier person today because I am not completely obsessed with food all the time. I'm not thinking about what treat I'll eat to make myself feel better — because I don't need to."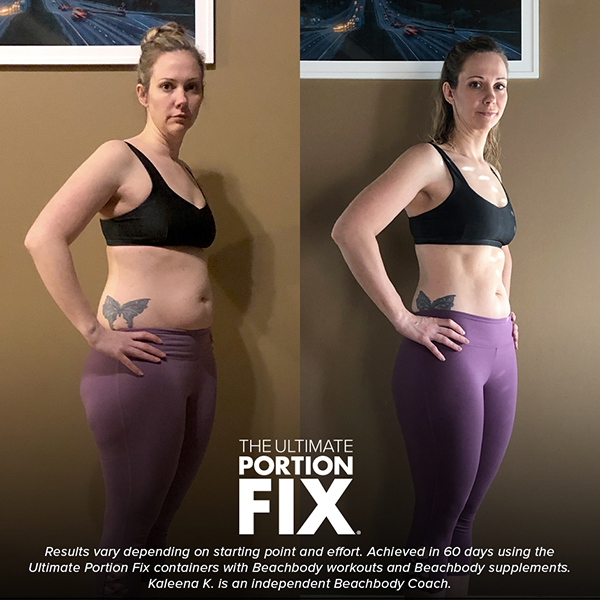 Kaleena K. Lost 13.4 Pounds†
"My biggest struggles with nutrition revolve around portion control, sugar cravings, and staying on-track with anything consistently with a constantly changing schedule.
Ultimate Portion Fix helped me cut out processed food and sugar. I very rarely have cravings anymore; this is a big deal because for as long as I can remember, I've always needed sweets after eating to feel satiated.
I used the portion-control containers with 80 Day Obsession, but Ultimate Portion Fix helped me understand the science behind it.
It really helped me understand portions, what they are, and why they are in these amounts. I have gotten better at knowing what each container looks like on a dish.
I have started to break that emotional tie to eating. I tend to eat my feelings and this program has changed that as well.
I've gone out to eat and been able to get the meals I order down to appropriate sizes after using the containers at home and seeing them out on a plate.
I absolutely feel like all the information in this program sets a person up to be successful. I love that the information is being presented in multiple ways — videos, the logbook, and the workbook.
Having references to look back on when clarification is needed is part of what makes this program so unique.
This isn't a diet. It is learning how to take control of your eating for a lifetime of taking better care of yourself. It's sustainable and something you can do all the time, with or without any workout program.
I'll be using Ultimate Portion Fix to help teach my kids to have a healthy relationship with food. I love that now I know how to fuel my body.
While the weight loss has been great, the best part is how I feel!"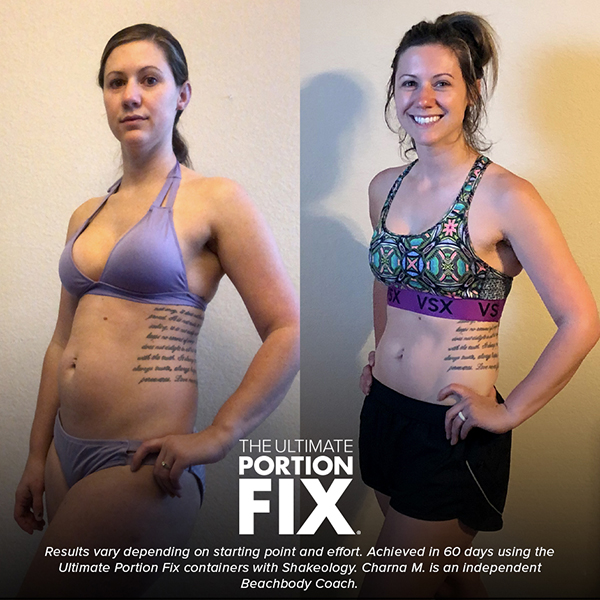 Charna M. Lost 12 Pounds†
"One of my biggest struggles is being an overeater and loving sweets. But I honestly can't believe how differently I'm eating now. Like, who am I??
I am BLOWN away! Even with 'slip-ups,' I am improving so much.
And the weight is starting to feel like it's falling off! I don't feel like I'm working for this. It's all starting to feel like a natural process and an actual lifestyle.
Being mindful of what's going into my body has been making the biggest difference.
Spending time using the portion-control containers and having an actual visual of what I should be eating and has made me realize that I'm eating too much of some things (peanut butter) but not enough of others (fruits).
Drinking Shakeology was an easy way to sneak in a fruit and extra greens, and the best part was using it to attack my late-night cravings by pretending it was ice cream!
This is something my family and I will continue to do in our everyday lives and an important lesson I'll continue to teach my children!
I'm so grateful to have learned this while they're still young so I can break the cycle of bad eating that was passed down to me!"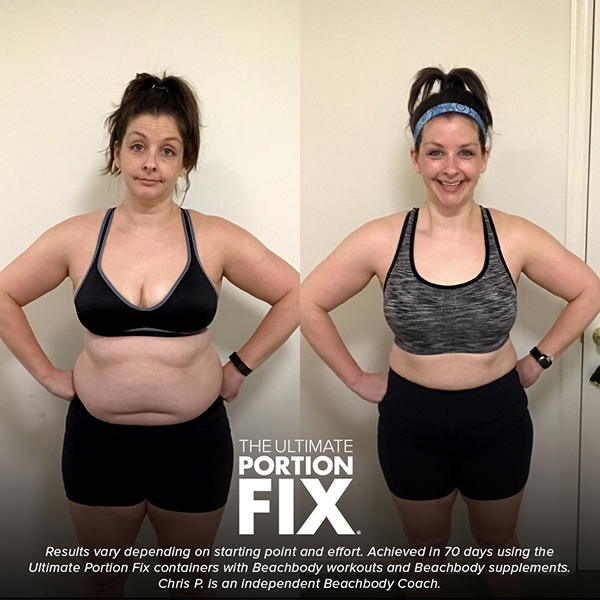 Chris P. Lost 17 Pounds†
"My biggest struggle was the mental understanding and connection to my nutrition and Ultimate Portion Fix nailed it out of the gate.
I am making more healthy choices now because I want to. I'm more mentally aware of 'why' I am doing something and it feels amazing to be at peace like this!
I am so in love with the way the program is presented! Ultimate Portion Fix is broken down into really simple terms for anybody to be able to understand AND implement.
If you are a control freak like me, 'trust the process' is scary. Fear of 'missing out' is scary, but knowing you need a change and fear you will always feel the way you are feeling is even scarier. Stop for one minute and ask yourself: What if it works?
I love, love, love Shakeology. It's a really quick, healthy way to start my day. I also use it to get in extra containers/servings too, by adding frozen berries and sometimes spinach.
I learned cool nutrition tips like adding in riced cauliflower! It's an awesome healthy hack that I've passed on to my kids. #momwinning!"
†Results vary depending on starting point and effort. Exercise and proper diet are necessary to achieve and maintain weight loss and muscle definition. The testimonials featured may have used more than one Beachbody product or extended the program to achieve their maximum results.