Transformation Tuesday: Zoila Lost 28.8 Pounds With TurboFire!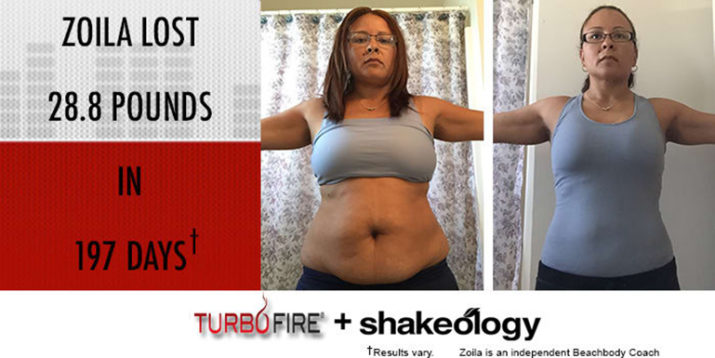 Zoila was disappointed in her appearance and how her clothes were fitting. She discovered TurboFire and immediately knew that the program would work for her. She was right! She lost 28.8 pounds and 15.9 inches after 197 consecutive days of the program. Read about her experience below:
"I was out of shape and feeling unhappy about the way my clothes were fitting me. I've always enjoyed cardio workouts, so I wanted a program that would get me moving. When I found TurboFire, I knew it was the right program for me. I wanted to lose weight and it seemed like a high-energy workout, so it was just what I was looking for.
I enjoyed the variety of workouts in TurboFire. Even on days that didn't include cardio, I enjoyed it. I liked the short HIIT workouts and Chalene's high energy. She broke down the moves during each workout so it was easy to learn, and having the modifier was very helpful.
The Fire Nutrition Guide has helped me to figure out my calorie intake and make better nutrition choices. The TurboFire class schedule was key to obtaining my results since it took the guesswork out of what exactly to do. As a result, I was able to lose weight and inches, and I can now get into a smaller dress size!
Before TurboFire, I could only endure 10 minutes of moderate cardio. Now I can do an hour of high-intensity cardio. I've also developed upper body strength where I previously could only do 2–3 push-ups. Now I'm doing several sets!
Since completing the program, I feel happier, and I love the way my clothes fit. I'm so thankful to Beachbody for providing me with the tools for success. It was all designed for me to do it in the comfort of my own home!"
†Results vary depending on starting point and effort.
---
You can change your life, too. Take the Beachbody Challenge for the tools you need to Decide, Commit, and Succeed! Complete any Beachbody program, and enter your results for a free gift and a chance to win cash and prizes. What program are you committing to next?

Save