TurboFire Results: 31 Pounds in 120 Days!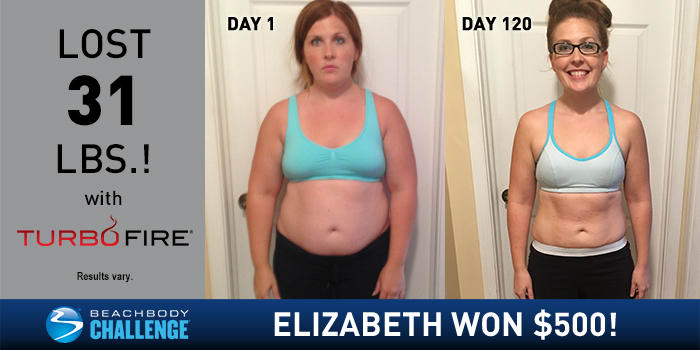 Elizabeth Golla lost 31 lbs. in 120 days with TurboFire. She entered her results into the Beachbody Challenge, and won the $500 Daily Prize for January 13th!
Elizabeth is an Independent Beachbody Coach.
Tell us about your life before you started the program. How did you feel about yourself and your body?
Before starting with Beachbody, I had previously given birth to my two children, each by means of different C-sections. I had been used to working out in the past, but always stayed my same overweight self for several years. I had just recently had my second child a couple of months prior, and felt disgusting and ugly. I did P90X3 and had gotten toned, but still wasn't losing all the extra weight that I really wanted to lose. I was having heart palpitations. I was really worried about my overall health, and if I would be able to continue to be there for my children or not. I felt discouraged, even after doing a program, and thought that I would always be heavy. I felt lost and alone.
What inspired you to change your life and begin your transformation journey?
My whole life I struggled being overweight, and I saw my husband and my two-year-old also overweight and heading down that path. I knew I needed to step up to take control of my life and be a model for my family. I do not want my children going through what I went through. I want them to learn young how important it is to take care of your body and be healthy. I met a Coach at a Yoga training I went to, and she inspired me to take a chance on myself. I decided to do TurboFire, because I wanted something to jump-start my weight loss and kick my butt in gear. Having chest pains and being in the hospital scared me and pushed me harder.
What is the greatest challenge you faced before beginning the program? How did the program and Beachbody help you overcome that challenge?
My greatest challenges were the lack of support from my family and always having those bad habits as part of my life. I had never learned how to eat healthy and be consistent. Beachbody helped me to learn how and what to eat while working out. I was always eating too little or too much. Finding the right balance, along with having support, is key. The greatest challenge I faced prior was that I was my own worst enemy. I would find excuses for myself and blame it on others rather than taking ownership in my own health and control of my body. Beachbody helped me by pushing me and motivating me to do this for me.
What in particular did you like about the program you chose?
I loved that TurboFire was fun! I enjoyed it, and actually looked forward to working out. Who does that? Right? Yeah, me! For one, I was excited to work out, and couldn't wait to see what Chalene had in store for the next day.
Describe the results you achieved with your Beachbody program. Which achievements are you proud of?
I have lost, in total, 31 pounds and 20-some inches. I feel confident in my body, and am amazed at the strength that I've got. For the first time in my life, I can do a push-up and even attempt a pull-up! It brought my husband and I closer and more intimate, because I am confident in myself and he is happy with the results. My children have seen my attitude switch, and now get excited to work out with mommy. I am so happy to be a model for my entire family, and inspire others big and small. I love the questions I get about what I am doing. I am so proud of myself now that the cardiologist tells me I am in awesome shape!
How has your life changed since completing your Beachbody program?
My life has changed in that I have a much more positive outlook and get excited to try new programs. I like to tell others that "if I can do it, you can do it." I love being able to play with my children, and that they get excited for mommy to do Beachbody. I am able to cook for my family in a more healthy way. We can do more things that we were not able to do before, because I had no energy or didn't feel confident in myself.
How did participating in a Challenge Group help you reach your goals? How did your group support you and keep you accountable?
It was great having several people from all over be in the group together from several Coaches under one team. It wasn't a competition, just a place for us all to be in it together.
How did your Team Beachbody Coach support you on your journey?
She let me do it more on my own, but was great at helping me initially get set up, and helping me learn how to set up my initial Coach start-up.
How did a Beachbody supplement, nutritional product, or program (such as Shakeology or Beachbody Ultimate Reset) support your transformation? What are the greatest benefits you gained? Did you see benefits to your energy, sleep, mood/mental clarity, or digestion/regularity?
Shakeology is amazing! It helps me to feel fuller longer and concentrate more in my day, as well as have more energy. I notice when I don't drink it, I end up eating several snacks. I enjoy knowing I am getting my vitamins and nutrients, and my immune system thanks me too. I was always the person that got sick every month. Since drinking Shakeology, I rarely get sick and when/if I do, it is nothing compared to what the rest of my family had. It is so nice knowing I am truly healthy.
How did a Beachbody supplement, nutritional product, or program affect any existing health conditions you have?
I had issues always getting sick, whether it was the flu, a cold, or sinus infection. Since drinking Shakeology, I am rarely sick. I am so happy my immune system has been boosted. I used to get kidney stones, and haven't since. I also used to have issues with constipation and diverticulitis, and haven't since. I am so happy to be comfortable!
Did you achieve any other measurable improvements with a Beachbody supplement, nutritional product, or program (e.g. blood pressure, blood sugar, triglycerides, etc.)?
My heart and blood pressure had raised while I was pregnant with my daughter. I was hospitalized several times because of it. Since drinking Shakeology, all of those symptoms have subsided+. My blood pressure has been fantastic, and I have not had any heart palpitations+.
You can change your life, too. Take the Beachbody Challenge for the tools you need to Decide, Commit, and Succeed! Complete any Beachbody program, and enter your results for a free gift and a chance to win cash and prizes.

*Results vary depending on starting point, goals, and effort.
+These statements have not been evaluated by the Food and Drug Administration. Beachbody products are not intended to diagnose, treat, cure, or prevent any disease.