"I Was Treating My Body Horribly"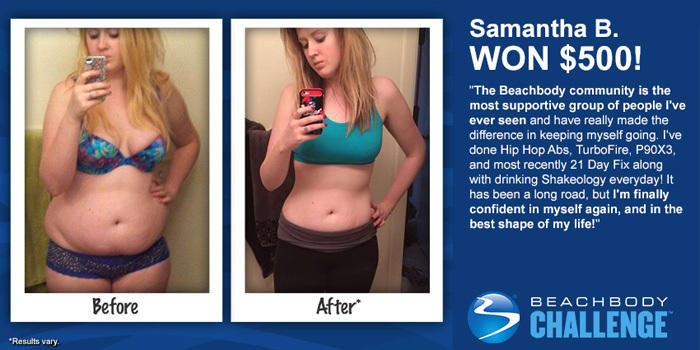 †Results vary depending on starting point and effort. Samantha is an independent Beachbody Coach.
Meet Samantha B.! She participated in The Beachbody Challenge and won the $500 Daily Prize for August 5!
Tell us about your life before you started the program. How did you feel about yourself and your body?
Before starting, I was tired, overweight, and miserable. I'd often avoid mirrors and was so upset with myself for letting my weight get so out of control. In March 2013, I broke my ankle. I was so put of shape that I couldn't use my crutches at first because I wasn't strong enough. I had to rely completely on my mom to do everything for me because I couldn't even crutch across the room without feeling winded and having to stop. It was a huge low point in my life, but also a blessing from God. If I hadn't broken my ankle I don't know that I wouldn't come to the realization that my weight was out of control, and that I was treating my body horribly. After getting the ok to start working out from my doctor I started Hip Hop Abs.1 I loved the program so much that I tried out other programs. I've done TurboFire, P90x3, and most recently, the 21 Day Fix, and I drink Shakeology every day! It has been a long road but I'm finally confident in myself again and am in the best shape of my life!
What in particular did you like about the program you chose?
The 21 Day Fix is great because it really helped me control my portions which is a huge obstacle for me. It made me really think about the foods I was eating. Not to mention the workouts totally kick my booty into shape! I lost 10 lbs with this program alone.
You can change your life, too. Take the Beachbody Challenge, for the ultimate motivation to get fit! Select any Beachbody program and once you complete it, share your results for your chance to win cash and prizes.
1Always consult with your physician about your unique medical needs before commencing any fitness program or nutritional product.