Transformation Tuesday: Trevor Lost 14 Pounds With PiYo!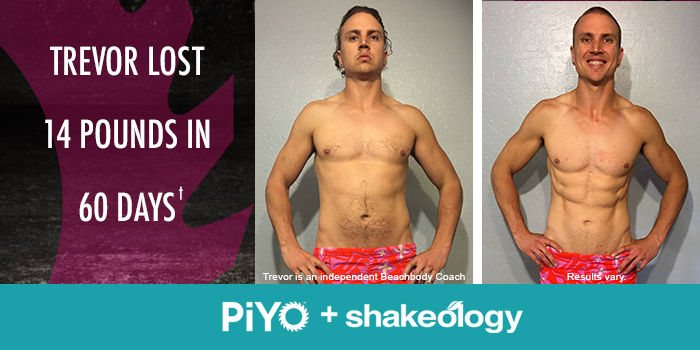 Trevor had been working out, but he wasn't seeing the dramatic results he wanted. He decided to try a Beachbody program with his girlfriend and chose PiYo. He had no idea he would see such amazing results! After just one round, he lost 14 pounds! Read about his experience in his own words below:
My girlfriend and I wanted to start a program together. Before I started, I had been working out here and there but wasn't satisfied with the way I looked. I felt okay, but I was ready to feel awesome and take my training to the next level. The most appealing thing to me about PiYo was the chance to be more flexible. 
I loved the fact that PiYo was fun and challenging. It didn't require equipment, so there was less hassle, and it was still very effective. The workouts were great! I didn't know that low-impact workouts could be so effective. I also felt like the workout moves were very easy to learn. 
PiYo was definitely a game changer for me. My body has completely transformed! I've lost a bunch of weight, and some of those pounds came from very troublesome areas, like my belly. I have abs now! Being 6'3″, I was never able to touch my toes. Now that I've finished PiYo, I am able to touch my toes and so much more! 
I am a lot more confident now. All my friends and family can't believe my results. They are all so impressed with my transformation and compliment my physique. Beachbody has changed my life, and for that I am very thankful. I feel absolutely amazing, and I plan to make this my new lifestyle!
† Results vary depending on starting point, goals, and effort.
---
You can change your life, too. Take the Beachbody Challenge for the tools you need to Decide, Commit, and Succeed! Complete any Beachbody program, and enter your results for a free gift and a chance to win cash and prizes.