Transformation Tuesday: Travis Lost 32 Pounds with INSANITY and Beachbody Performance!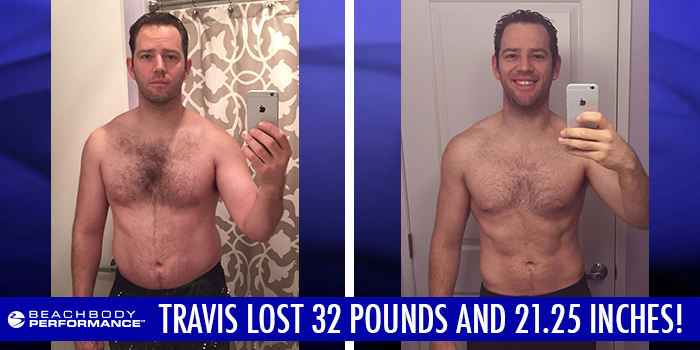 Meet Travis G.! He completed 60 days of INSANITY while using Beachbody Performance supplements. He lost an impressive 32 pounds and 21.25 inches! Here's what he has to say about some of the supplements:
Since taking the Beachbody Performance Line, I definitely noticed a huge gain in my cardio endurance and the speed in which I recover after my workouts. I'm able to keep up the intensity of my workouts for much longer. 
When taking Energize, I had much more energy during my workouts, which really helped me raise the level of intensity I've been able to work out at. 
Since taking Recharge, I've been sleeping much better. I'm able to wake up and get my day and my workout going without needing to hit the snooze button anymore. 
I definitely noticed that I was recovering a lot faster after my workouts while taking Recover, which helped me not feel fatigued during the rest of the day after I worked out. Recover has been my overall favorite. It tastes great and it helps me feel replenished from my workout almost immediately after taking it. 
---
You can change your life, too. Take the Beachbody Challenge for the tools you need to Decide, Commit, and Succeed! Complete any Beachbody program, and enter your results for a free gift and a chance to win cash and prizes.