Transformation Tuesday: Tiffany Lost 56 Pounds with PiYo!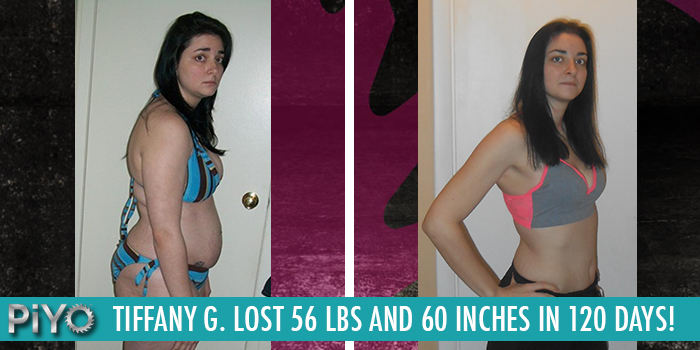 After suffering a trauma in her life, Tiffany G. started gaining weight and couldn't do anything to lose it and keep it off. She found PiYo and after two rounds has lost 56 pounds and 60 inches! Read on to hear her story in her own words:
In 2009, I had my handsome baby boy. I gained a lot of weight with my pregnancy. I felt depressed, I hated myself and I was very unhappy with my body. I tried to lose the weight. I tried the "healthy" frozen meals, going to the gym, miracle pills and I actually tried a doctor-prescribed medicine. Nothing worked for me. I would lose maybe 10 pounds, then gain it right back. 
Then in 2012, I survived a horrific life-altering event. I ended up suffering from severe PTSD. I shut myself in the house away from family and friends. I ate out of comfort and stress. I ended up weighing 200 pounds. I was slowly destroying myself and hurting the relationship I have with my husband.
Then one day I had to take my son to the dentist for a check up. The dentist started talking to me about my son's nutrition and that led into talking about my nutrition and my weight and health problems. I told him I wanted to make a change in my life and set a good example for my son. He finally suggested Beachbody. I started doing some research and I found PiYo. I asked him if he thought that was a good fit for me. He said he thought it was perfect and he suggested that I also drink Shakeology. 
I ordered PiYo. Let me tell you what, it changed my life! I started exercising and drinking Shakeology. The pounds just started to melt off. I did 2 rounds of PiYo and I lost 58 pounds and 60 inches. I feel so much more confident in myself. I started leaving the house and spending more time with my family and the relationship with my husband. I honestly can't say enough good things about PiYo! I just want to thank Chalene and her team! They gave me my life back! 
---
You can change your life, too. Take the Beachbody Challenge for the tools you need to Decide, Commit, and Succeed! Complete any Beachbody program, and enter your results for a free gift and a chance to win cash and prizes.