Transformation Tuesday: Tanya Lost 16 Pounds with INSANITY MAX:30!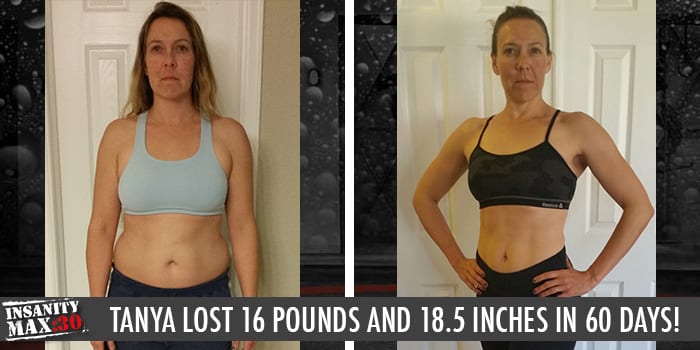 Tanya N. was always fit as a high school and college athlete, but after having her first child she could never quite get back to the athletic body she once had. When she turned 40, she told herself it was time to get back in shape. She completed 60 days of INSANITY MAX:30 and lost 16 pounds and 18.5 inches! Read about her success in her own words right here:
Before I began INSANITY MAX:30, I was very depressed. I thought that food was the only thing that could take my pain away. I would look in the mirror and feel hopeless. I knew that I could make changes if I really wanted to put forth the effort, but I wasn't sure if I could keep it up on my own. I was stuck in the perfectionist cycle where I would want to do it perfectly by having all the right foods ready before I started and would need to start on a Monday. If I thought I might have to miss a workout day during the week or had an event that would make it hard to eat, well, then I should wait and start next Monday. Well, that perfect Monday never came!
A friend who is a Beachbody coach posted on facebook that he would be putting together a challenge group for a new Beachbody product and I thought this might be what I needed to get the ball rolling. I contacted him and ordered my Shakeology and INSANITY MAX:30 program.
I started on the very next Monday and new that perfectionism was my nemesis. I decided that I knew I wasn't going to be perfect, but I would do my best every day and that it didn't need to look perfect.
Knowing that I was expected to post my workout and max out time in my challenge group everyday helped me "push play." I liked knowing that other members struggled with some of the same moves and eating challenges. The greatest challenge I faced before beginning the program was my perfectionism and fear that I would never match the image I had in my head of my best self. In the past, I would get frustrated and feel hopeless when changes weren't happening fast enough.
It might sound a little cheesy and simple, but the phrases that I heard over and over in the Beachbody programs, "Just hit play" and "Do what you can, this is your body," are what continually played in my head when the alarm went off in the morning. I stopped thinking that if I couldn't do it perfectly then it wasn't beneficial and a waste of my time. It is not a waste of your time!
Every time you press play or do that extra repetition you are getting stronger and every time you make a healthy food choice your body is changing for the better and thanks you for it. I have finally developed a new habit that makes me happier and stronger. I am excited to continue on this journey of loving myself and not expecting perfection!
I liked that it was only 30 minutes. No equipment. I could do the modifier moves until I was strong enough. My body shrunk, and I feel happy and strong. I have a more positive outlook on life and I do so much more for my family with the energy I have!
---
You can change your life, too. Take the Beachbody Challenge for the tools you need to Decide, Commit, and Succeed! Complete any Beachbody program, and enter your results for a free gift and a chance to win cash and prizes.