Transformation Tuesday: Mayra Lost 10 Pounds With 21 Day Fix!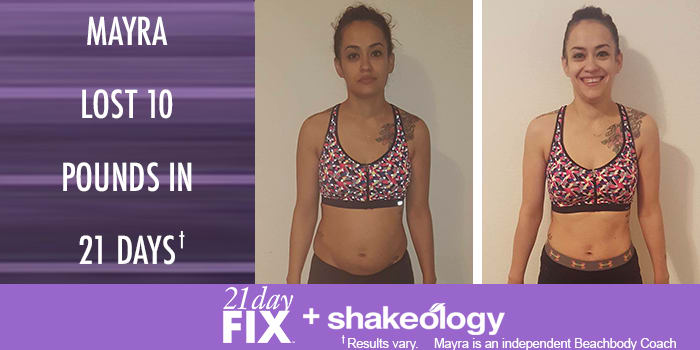 Mayra G. began 21 Day Fix so she could become a healthy role model for her kids. In 21 days, she lost 10 pounds! Read her story in her own words below:
"My children motivated me to begin 21 Day Fix. I wanted to be a healthier version of me for not only myself but them.
Before 21 Day Fix, I would eat until I couldn't breathe. I would eat anything at any time of the day.
I love that the workouts are only 30 minutes. I'm a mother of two, so having enough time to squeeze in a longer workout was usually hard.
After completing 21 Day Fix, I feel lighter on my feet. I do not run out of breath as easily. I have more energy throughout the day. I saw the results I wanted. I lost 6 inches off my waist! My stomach toned up.
People have noticed my results. They tell me I look great for having two kids. They get really amazed!"
†Results vary depending on starting point, goals, and effort.
---
You can change your life, too. Take the Beachbody Challenge for the tools you need to Decide, Commit, and Succeed! Complete any Beachbody program, and enter your results for a free gift and a chance to win cash and prizes.