Transformation Tuesday: Kristen Lost 23 Pounds with ASYLUM!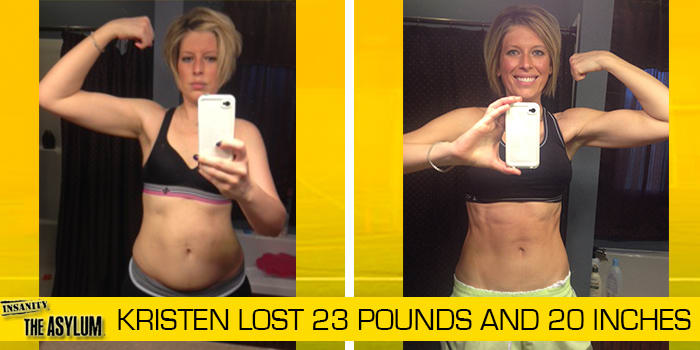 Kristen K. has a very busy life, and was excited by the idea of INSANITY: THE ASYLUM, a program so tough her coach said people could barely even finish it. She finished it—twice! She lost 23 pounds and 20 inches over two rounds of ASYLUM. Here's her story, in her own words:
I have a 2 year old son and a 9 month old daughter so my life is very busy. I had been a coach for 2 years and decided after the birth of my daughter I needed to get in shape again. I was told I had to wait 6 weeks before doing any workout program since I had a c-section. It was very hard for me to look in the mirror and see the extra weight that I had gained, but I knew with motivation and determination through Beachbody I would be able to achieve my goals.
In two years I had two surgeries and I was told multiple times to rest and wait on any workout program. I wanted to change my lifestyle and when I was given the "go-ahead" to start working out, I was beyond ready.
Getting up and pushing play was the hardest since sleep was lacking with a baby, but after I started to see results in the mirror and my clothes were fitting again it became easier. It took a year to lose the weight after my first child, but my eating plans and workout challenges made this weight loss easier!
I was given INSANITY: ASYLUM Vol. 1 by my coach and was told, "Here, try this 30 day challenge. Just to let you know, most don't finish the program." Well, I was going to show my coach- I was going to finish this challenge, and I did! I loved it, so I purchased INSANITY: ASYLUM Vol. 2! I love having a schedule to follow and needed to start something new since I was in this workout routine. My husband, who is in great shape, started working out with me at 5:15 AM everyday because he could see the difference in how I felt and looked!
This is a fast-paced challenge. I love the way you feel after working out and the sweat dripping off your face knowing "Wow, did I just do that!" The name "INSANITY" comes not from being able to do the insane moves, but from how it takes over your body and mind and makes you want to workout!
I love my stomach! I had a baby 9 months ago via c-section, and look at my definition and without doing hundreds of sit-ups daily. My arms show that multiple push-ups pay off. Who knew that push-ups would be the easiest part of the program?
I have confidence in myself now. I feel as though I can take on a challenge and actually complete it. The results are rewarding. When others ask me how I lost the weight so fast I reply, "Beachbody and determination." I post pictures of my journey on my Facebook page and when the family goes out, people come up to me and say, "I have been following you and you are a big motivation for me!" My husband replied, "I didn't realize you had so many fans." This makes me feel good, knowing I am helping others too.
---
You can change your life, too. Take the Beachbody Challenge, for the ultimate motivation to get fit! Select any Beachbody program and once you complete it, share your results for your chance to win cash and prizes.