Transformation Tuesday: Jaimie Lost 62 Pounds With INSANITY!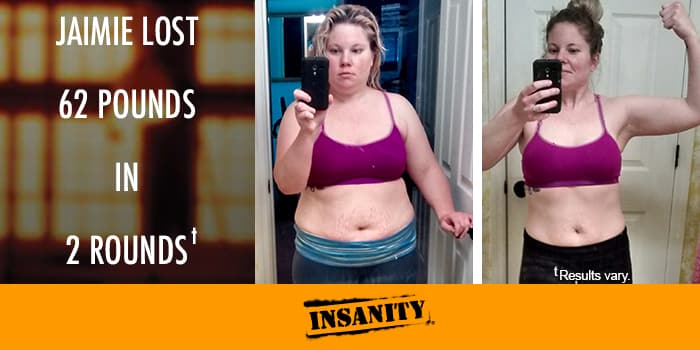 After her third pregnancy, Jaimie felt the heaviest she's ever been. She wanted to be a healthier version of herself for her sons and her husband. She decided to try INSANITY and saw immediate success! After just two rounds, she lost 62 pounds! Read about her success in her own words below.
"I wanted to lose the baby weight, and fast! After my 3rd pregnancy in three years and a huge weight gain, I was ready to get in shape for myself and my family. I have had gym memberships and tried awful detox diets. I never knew what I was doing at the gym — I never knew how long to use certain equipment to achieve the body I desired.
Prior to starting INSANITY, my body fat percentage was 35%. I was tired and covered in cellulite and stretch marks. I didn't want to be the 'fat mom.' I wanted my husband to be proud of having me on his arm. Ultimately, I wanted to really love myself. I first saw the INSANITY infomercials when I was up late at night feeding my newborn. I really felt inspired to try something that guaranteed results. I figured I would give it a shot. What did I have to lose? 
I have never been more impressed with a program. I am now an advocate for Shaun T. He is so motivating and kind, and he doesn't bark at or intimidate you. He makes the workouts fun. I really do owe all my success to him. I also loved the cardio and ab workouts. I could just feel my core getting stronger every time!
Now I feel comfortable in my skin again. I don't feel like the frumpy, overweight mom. I love that I'm able to keep up with my boys and to be a good example of health for them. I lost weight and my body fat percentage has dramatically decreased. I have more energy now than I did in my early 20s! Before kids, I never worked out because I never really had to, but I honestly believe I look better now then I did before kids. Even my husband says so!"
†Results vary depending on starting point, goals, and effort.
---
You can change your life, too. Take the Beachbody Challenge for the tools you need to Decide, Commit, and Succeed! Complete any Beachbody program, and enter your results for a free gift and a chance to win cash and prizes. What program are you committing to next?