Transformation Tuesday: Heidi Lost 12.3 Pounds With Ultimate Reset!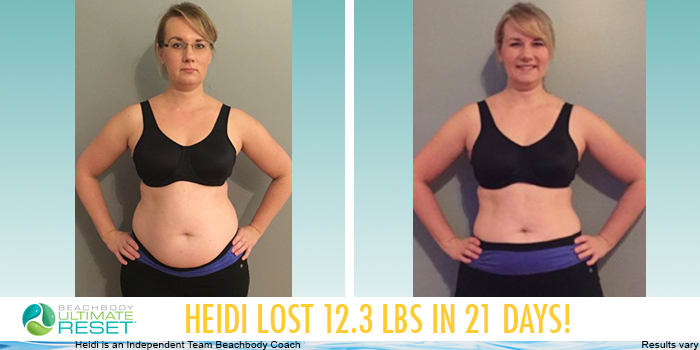 Heidi was going through challenging life changes, and her weight was slowly climbing. She wanted something to help get her back to where she once was and reintroduce her to healthy foods. She decided to reset her body with Ultimate Reset and lost 12.3 pounds in only 21 days! Read how she did it in her own words below:
Before doing Ultimate Reset, I was at one of the lowest points in my life. I had recently lost my father unexpectedly. I was in shock. In addition, we had bought a new house and moved my entire family an hour away, so we had to change schools for the kids. This meant lots of unpacking, expenses, and stress. I had gained back most of the weight back I had worked so hard over the past year to lose. That combined with the holidays led me to not eating as cleanly as I had been. I was extremely depressed and lacked confidence. I was crabby, had no energy, and I was short with my children. Most of all, I was disappointed that I let myself get to this point again.
I had been thinking of doing Ultimate Reset for quite some time. Starting after January 1st seemed perfect. I was ready to cleanse my body from all of the holiday indulgences.
I loved that it's all healthy, clean, real food. Plus, it detoxed my body of sugar and caffeine. I also loved how it got me back to cooking and prepping healthy veggies again. I had gotten away from eating my vegetables, and doing this program reintroduced them. There was also a spelled-out menu — no guessing what to eat. If I didn't feel like a particular dish, I could swap it for another within the same week, so the flexibility was nice.
I lost all the bloat from the holidays, and I lost weight in my mid-section. I have my energy back, and I feel alive again. Ultimate Reset has turned my life around 180 degrees! I loved it! I'm now back to working out daily like I used to before. I'm eating healthy again, drinking my water, and cutting back on caffeine. I owe it all to Ultimate Reset.
---
You can change your life, too. Take the Beachbody Challenge for the tools you need to Decide, Commit, and Succeed! Complete any Beachbody program, and enter your results for a free gift and a chance to win cash and prizes.