Transformation Tuesday: Gregory Lost 78 Pounds with P90X!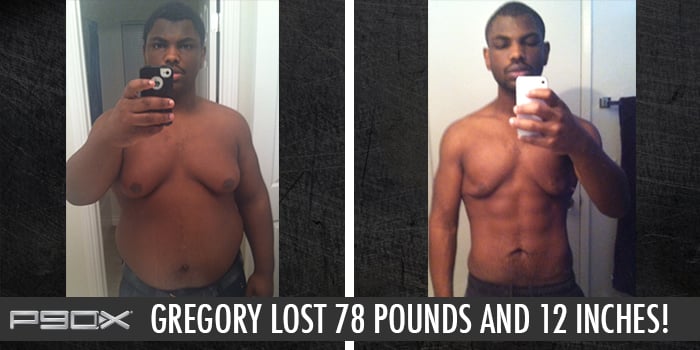 Gregory had always struggled with his weight, but he was inspired to make a lifestyle change after his family lost their home. He committed to P90X and lost 78 pounds and 12 inches in two rounds! Read his story in his own words here:
I've always been bigger, but the weight was starting to become too much. I've had problems with losing weight my whole life. Even in school I was known for being the boy with breasts. I did not have any health problems before starting P90X, but I knew I was setting myself up for some serious problems in the future. I felt tired all the time and never had enough energy to get anything done. There was never a time where I wanted to do anything more than to go to work and play video games. My self-esteem was low, and I was on the verge of depression. I remembered a late night infomercial for P90X, but at the time I did not have the income. After months of saving, I was able to make my first payment. I wanted to make a change and turn my negative feelings into something positive for my body. However, shortly after I bought P90X my family lost our house. We lived in a hotel room for 2 weeks until we were able to move into my aunt's house. I used all my sadness of losing the house to focus on losing my weight.
I wanted to lose the weight, and my goal was to get down under 200 pounds on my first round of P90X. I made it well under my goal and I did not want to stop there. Once I started to see changes in my body, I got addicted to the results and it kept me going. After completing 2 rounds of P90X, I've lost my overwhelming midline and my stamina has increased 10-fold. I actually have abs now! I never thought I would have the willpower to make such a drastic change to my diet and staying committed to working out every day.
My greatest challenge was trying to have better confidence. I am now able to bike an 8-mile uphill round trip to work without stopping. I could never before see myself work 5 days a week, 8 hours a day and still able to ride my bike to and from work. Now I push myself every day to see if I can beat my time. Beachbody gave me the tools to help get me in the best shape of my life and because of that I feel great whenever I look in the mirror! My family is proud of what I accomplished, and my friends were shocked when they saw me for the first time. They all ask me "how did you do it?" and I tell them it's all because of P90X. 
---
You can change your life, too. Take the Beachbody Challenge for the tools you need to Decide, Commit, and Succeed! Complete any Beachbody program, and enter your results for a free gift and a chance to win cash and prizes.