Transformation Tuesday: Dana Lost 16 Pounds with ChaLEAN Extreme!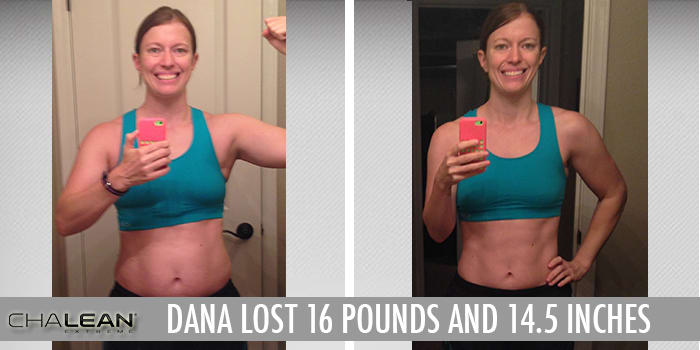 Dana has an extremely busy life as a graduate student and a single mom. After gaining weight, she wanted to make a change for her family so she could start enjoying outdoor activities once again. She decided on ChaLEAN Extreme and lost 16 pounds and 14.5 inches! Read her amazing story in her own words below:
I am a full-time graduate student working on my doctorate. At the same time, I am a full-time single mom. The stress from both caused me to put on 25 pounds. I felt awful. I hated looking at myself in the mirror. I was just so disgusted with how I had let myself go and what my body had become – my eating habits were out of control. I knew I needed to make a change, but I didn't know how. I wanted something that would really tone my body and give my muscles a cut look.  I glanced through the different programs Beachbody offered and saw reviews on ChaLEAN Extreme. I had completed PiYo in the past and loved Chalene from that, so I really wanted to do another workout she provided. 
My favorite workout from ChaLEAN Extreme was Lean Circuit 1. I love the workout my triceps get, as this is an area of my body that I have just never been able to tone before. I still can't believe how my arms look now. I  liked that Chalene kept reminding me that muscle burns fat and to eat lots of lean protein –  that it will not bulk me up. I was unsure at first, but of course she was right. I've never toned up like this while eating as much as I do. I also loved how much it was stressed to go slow. I had no idea how going so slow would build so much muscle! 
Now I am able to do everything! I am back into hiking and can do it without being completely out of breath! I tackled the hardest hike in the area, one that I never thought I would be able to do before. And I did it! I was also always into wakeboarding and I couldn't believe the strength I gained that enabled me to endure for such a long period of time. I even started running again. Just from the workouts I could run for a much longer time, and I gained tolerance that I didn't know I could have, all because of ChaLEAN Extreme. This program changed my body like no other program or gym ever has before. It has definitely got me on the path to where I want to be. 
Needless to say, my body was completely changed! Beachbody and Chalene Johnson have changed my life and there will be no turning back now, only moving forward to bigger dreams and bigger goals!
---
You can change your life, too. Take the Beachbody Challenge for the tools you need to Decide, Commit, and Succeed! Complete any Beachbody program, and enter your results for a free gift and a chance to win cash and prizes.