Transformation Tuesday: Cynthia Lost 58 Pounds with Body Beast!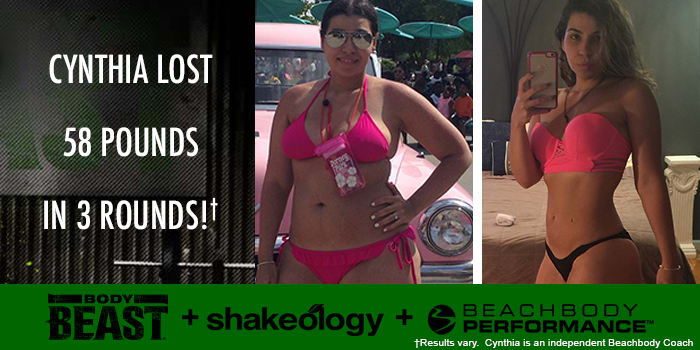 Cynthia was ready to step out of her comfort zone and try a new program. After she saw others getting great results from Body Beast, she decided to go for it! She completed three rounds and lost 58 pounds!
"I saw other people doing Body Beast getting great results, and I wanted to step outside my comfort zone and try something new. Before starting, I was nervous and excited. At first, I just wanted to tone up, but as I started doing Body Beast, my mentality started changing, and I now want to compete in a physique competition!
I saw major improvements in my thighs, my butt, my hamstrings and my waist. People have noticed my results and are beyond shocked. Because of my results, other people have started Body Beast! I feel stronger, healthier, happier, more confident, and my clothes fit me!
Body Beast was what I needed in my life, but I just didn't realize it. It was my "A-ha moment." I really like Sagi. He pushes me to be better and makes me laugh. He made me realize that I can do anything that I choose to do. Now I want to become a fitness model and compete in physique competitions. I became an INSANITY Live instructor, something I never thought possible. Sagi made me stronger physically, and also emotionally and mentally, and for that, I am forever grateful to him."
---
You can change your life, too. Take the Beachbody Challenge for the tools you need to Decide, Commit, and Succeed! Complete any Beachbody program, and enter your results for a free gift and a chance to win cash and prizes.