Transformation Tuesday: Christopher Lost 50 Pounds with P90X!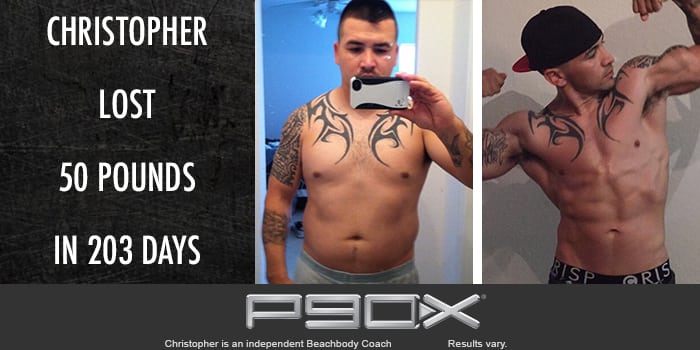 Christopher didn't feel good about his physique and wanted to get back into shape. Going to the gym was becoming expensive and time-consuming, so he decided to try P90X at home. He completed two rounds (and a little extra!) and lost 50 pounds in 203 days! Here's his story in his own words:
Before I began P90X, I felt horrible, out of shape, and lazy. I saw a commercial advertising the program. I like that P90X has a variety of workouts that hit every muscle. My goals were to lose weight, tone up, lean out, and build muscle.
I had an incredible transformation! I lost weight and gained lean muscle. I've seen results all over, specifically my chest and stomach. Tony is a great coach! He's very energetic, motivating, entertaining! He kept me focused and dedicated!
Now I can participate in sporting activities and I am very flexible and energetic. My friends and family were very impressed and happy for me. My transformation has motivated them to want to get in shape.
My P90X journey has been phenomenal and I can't thank Beachbody enough for the life-changing results! I'm in the best shape of my life and because of it, I have decided to pay it forward and become a Beachbody coach.
---
You can change your life, too. Take the Beachbody Challenge for the tools you need to Decide, Commit, and Succeed! Complete any Beachbody program, and enter your results for a free gift and a chance to win cash and prizes.