Transformation Tuesday: Chelsey Lost 21 Pounds With Brazil Butt Lift!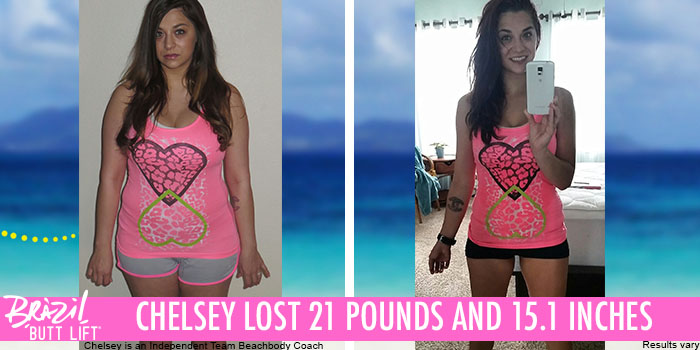 Chelsey had been struggling to lose weight after having her son. After seeing her weight fluctuate throughout her life, she was ready for a healthy, lasting lifestyle change. She tried Brazil Butt Lift and lost 21 pounds and 15.1 inches! Read how she did it in her own words:
"I have struggled with my weight my whole life. I have been 100 pounds at my lightest and 180 pounds at my heaviest. After my son was born, I was very ashamed of my body. I didn't even want to leave the house. I was too ashamed to go to the gym, so a friend of mine lent me her Brazil Butt Lift DVDs. I fell in love with the program and purchased it for myself. My goal was to pick my butt up off the ground! Pregnancy gave me a very saggy butt. I needed to add some muscle.
Brazil Butt Lift was so challenging at first but fun at the same time. The workouts were just fun! I feel like anyone can do them, and they are a great starting point for people who have never worked out before. Plus, Leandro is a hoot. He makes you feel like you're at a dance party. He's for sure my favorite Beachbody trainer.
I found my results came quickly! In just the first 3 weeks, I saw a dramatic change. Both my butt and thighs had the best results. After finishing Brazil butt Lift, I moved on to the Brazil Butt Lift's Master's Series. I was hooked!
Having used Brazil Butt Lift and getting such a great transformation, I was inspired to reach for the stars and not only lose my baby weight, but keep going and become the fit mom I knew I could be. I have became a healthier person, and I know that I can push forward and keep getting results. Brazil Butt Lift brought my booty back to life! For the first time, I was able to go to the beach without the coverup of shorts and just wear my bikini!"
Remember to consult your physician before beginning any fitness program or nutritional product if you are pregnant or post-partum. If you want to try the latest workout from Leandro, check out Carnivale, a Beachbody On Demand exclusive!
---
You can change your life, too. Take the Beachbody Challenge for the tools you need to Decide, Commit, and Succeed! Complete any Beachbody program, and enter your results for a free gift and a chance to win cash and prizes.