Transformation Tuesday: Carlos Lost 26 Pounds with PiYo!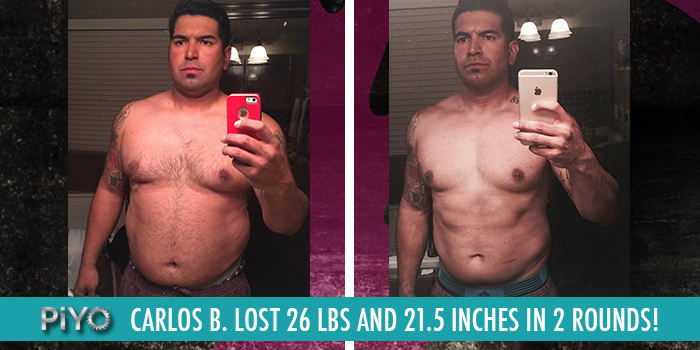 Carlos B. was looking for a way to get fit, and was encouraged by his friend to try PiYo. He completed two rounds of PiYo and lost 26 pounds and 21.5 inches! This is his story, in his own words:
My good friend was in the middle of doing PiYo and challenged me to do it with her. I'd been looking for something to get me into shape and to get my health back on track. I've never done Pilates or Yoga prior to trying PiYo. Being able to do it at home was nice. Using only your body weight and having low-impact moves was also very good! My favorite part about it was that it was challenging to complete.
I drank Shakeology in conjunction with doing PiYo. My cravings were down, my energy was up, and it kept me full – not to mention, it's delicious! I lost weight, gained flexibility, and lost inches. I'm a lot more flexible than I was before.
PiYo has become a cornerstone to fitness for me. It's change me, not only physically, but mentally, too. The physical changes it has helped me reach are amazing. Clothes that I haven't been able to fit into are not fitting. Putting on my socks is not a struggle anymore. My snoring has all but gone away.
Mentally, it has made me more determined in reached my fitness goals. The length of the program is not easy, but it shows you that it is possible to complete it with commitment, dedication, discipline, willpower and courage. I wasn't sure how I was going to complete all the workouts, but I always made the time for it. It helped me not to give up on myself – to "define myself."
---
You can change your life, too. Take the Beachbody Challenge for the tools you need to Decide, Commit, and Succeed! Complete any Beachbody program, and enter your results for a free gift and a chance to win cash and prizes.