Transformation Tuesday: Brandon Lost 22.5 Pounds with Body Beast!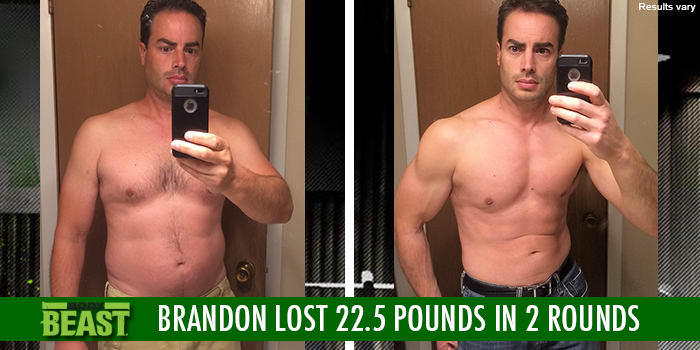 Brandon chose Body Beast to help him lose the "dad bod" and gain muscle. In two rounds, he lost 22.5 pounds and got some serious definition! Check out his story in his own words, right here:
My family told me I was getting a "dad bod", and I felt like I was out of shape, but I was excited to start Body Beast. My primary goals were to complete the program, lose belly fat, and gain muscle mass.
I feel like I have reached my goals. I have much more definition and added muscle in my chest, shoulders and arms. I've lost my belly fat. I've had to tighten my belt by four notches and buy new pants! To celebrate, I took my wife out to dinner and had my first "cheat" meal.
When I showed my family the before and after photos, they were extremely impressed. My son said, "Is that photoshopped?" I also think my wife is very pleased with my new look.
I am proud of myself for finishing Body Beast! I physically feel more energetic and strong.
I recently signed up to participate in a nationally known mud/obstacle course. I hear it's pretty "tough." I'm looking forward to challenging myself and continuing my workout routine, adding FOCUS T25 for cardio, and maintaining my progress so far by continuing with Body Beast.
---
You can change your life, too. Take the Beachbody Challenge for the tools you need to Decide, Commit, and Succeed! Complete any Beachbody program, and enter your results for a free gift and a chance to win cash and prizes.