Transformation Tuesday: Benjamin Lost 49 Pounds in 60 Days!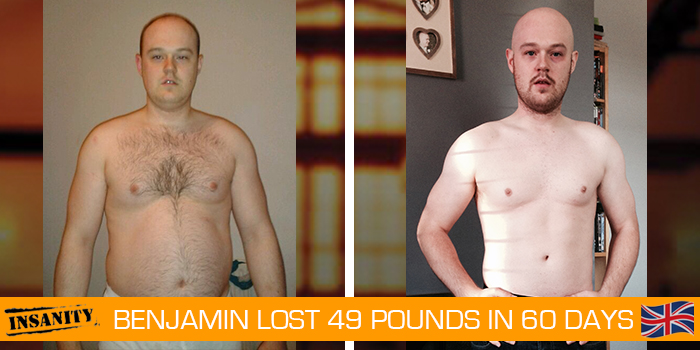 Benjamin G. is one of our testimonials from the UK! He had some amazing success with INSANITY, losing 49 pounds in just 60 days! Read his story in his own words to see how he did it:
From a young age I loved physical activity also I was part of the football team and rugby teams at high school and college. However when I got to the age of 22 I was struggling to get a job, so I took a job at McDonald's, and from that I started putting on the weight. Over a year into marriage and two kids I reached my heaviest of 16 stone [224 lbs], and really needed a change. I come from a family full of health problems; I felt it was the utmost importance to make a change. That's where INSANITY comes into it. I was watching TV and an advertisement came on, and I knew that this was the right thing. I needed fast results from something I could stick with even after the 60 days.
It started really hard, and after 60 days it's still hard but I can do so much more. It was the only program I used, and I stuck strictly to the calendar that came with it. The type of training is so unique – I have never been part of such a workout like INSANITY before! The scientific evidence definitely backs up his way of training. Usually when I have done cardio circuit usually you get moderate exercise and then about 30 secs of max training. I love the fact that Shaun T has flipped that – pushing yourself to the limit, with only 30 seconds of rest. That's what has gotten me results in such a short time. 
Every workout I feel my whole body has worked hard; not just my heart but also all my muscles. I feel great, I feel like I am getting back to the way I used to be when I was in college. I feel more confident, so much so that I feel inspired and am going to go into a career of personal training to inspire others like Shaun T has inspired me. My family were amazed at the results I achieved, all of them were asking about the program and wanted to get it. I am in the best shape I have been in for 3 years now. I didn't realize how big I was until I lost it. My thighs used to rub together when walking loads but now I have lost all that weight they don't rub anymore. I am more flexible, faster, stronger and I no longer have any joint problems in my knee which I have had problems with for a while. This is all thanks to Shaun T and INSANITY.