Transformation Tuesday: Alisha Lost 35.2 Pounds With PiYo!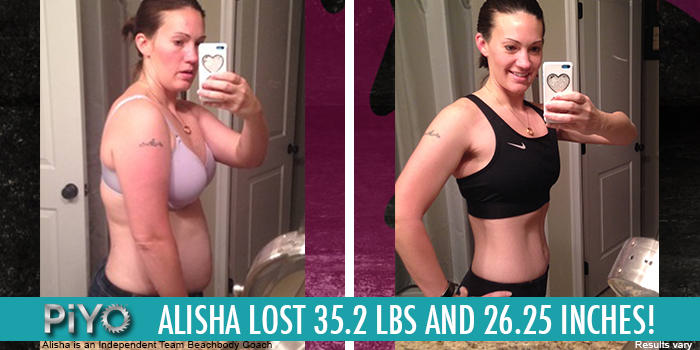 Alisha has spent her entire life struggling with her weight. Going through numerous tragic events caused her weight to drastically fluctuate, but it was words from her daughter that inspired her to make a lifestyle change for herself and her family. In two rounds of PiYo, she lost 35.2 pounds and 26.25 inches! Read her amazing story in her own words below:
I had been overweight since I was born — I remember being almost 150 pounds by the time I was 10. I eventually went through so much verbal abuse from kids at school that I turned to anorexia when I was 16. I was down to around 110 pounds, and at 5'8″, I was so thin and completely unhealthy. After a year of putting my body through that, I turned back to food for support. I gained everything back and was close to 200 pounds. After college, tragedy struck my life in the worst way. In a matter of 6 months, I had lost my son, my father, and my husband and I divorced. So again, I turned to food. I was steady around 190 pounds all through my second marriage, and after the birth of both of my girls, I was around 220 pounds. I was disgusted with myself.
One day, my kids took a picture of me and my 3-year-old said, "Mommy's a monster." That was enough to change my lifestyle and habits, so I ordered PiYo. I had no experience, and this was all new. I've always been very weak, so PiYo seemed like it was going to give me strength without jumping and hopping around. 
I love how PiYo has transformed my entire body! I'm strong and lean! Everything on a day to day basis has gotten so much easier to do. I can now do pushups and pullups. I challenge everyone to contests now — and I win! I feel so much more flexible every time I do PiYo. 
Now, I love being me. I'm proud to be a mommy of 2 precious girls, and I'm showing them what a real woman can do when she decides to change her life. I've never been so energized and confident. This summer will be the first ever that I wear a bikini! 
PiYo has honestly made me a better person. It's made me a better mom, a better wife, and a better me. My whole family now understands what it takes to be healthy, and my girls are so proud of mommy. This transformation will have a lasting impact on my children, and I am forever grateful.
---
You can change your life, too. Take the Beachbody Challenge for the tools you need to Decide, Commit, and Succeed! Complete any Beachbody program, and enter your results for a free gift and a chance to win cash and prizes.